while Governor of the State Bank of Vietnam (SBV) Nguyen Thi Hong noted the need to stay persistent in the target of keeping inflation under control and maintaining macro-economic stability.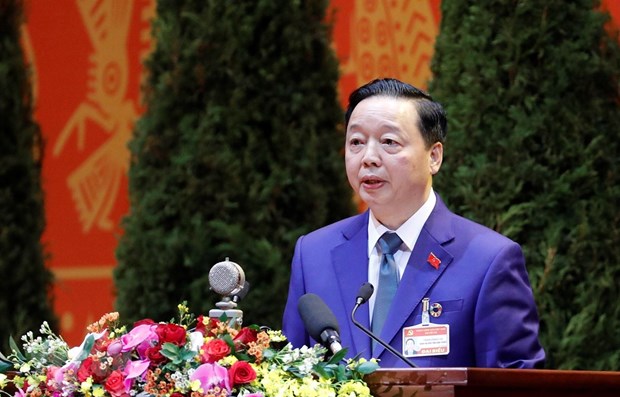 Minister of Natural Resources and Environment Tran Hong Ha addresses the 13th National Party Congress on January 27 (Photo: VNA)
In his speech at the 13th National Party Congress, Minister Ha underlined that a circular economy is becoming an inevitable trend to meet the requirement for sustainable development amid worsening resource degradation and exhaustion, environmental pollution, and climate change.
Building a circular economy is identified as one of the national development orientations for 2021 - 2030 in the draft documents submitted to the congress, he said.
Highlighting benefits of a circular economy, he pointed out that although after 35 years of "Doi moi" (Renewal), Vietnam has emerged to be a bright spot of growth in the region and the world, it is facing a number of challenges related to resource exhaustion, pollution, environmental degradation, and climate change, which requires the shift to a circular economy.
To promote the development of the circular economy, it is necessary to concertedly carry out solutions, including awareness improvement, institutional building, and enforcement, while capitalising on cooperation opportunities in accessing and receiving transferred technology to achieve sustainable development, the official said, adding that the State needs to perform well its facilitating role to help businesses and people bring into play their centrality in developing the circular economy.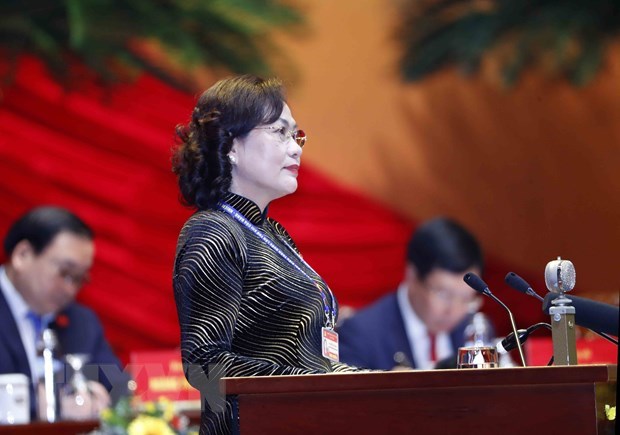 Governor of the State Bank of Vietnam (SBV) Nguyen Thi Hong speaks at the congress on January 27 (Photo: VNA)
For her part, SBV Governor Hong said as the international situation is expected to remain complex and unpredictable in the 2021 - 2025 tenure and the following years, to help successfully carry out the banking sector's political tasks and the congress's resolution, it is needed to stay persistent in the target of keeping inflation under control and maintaining macro-economic stability.
She stressed the importance of improving statistical, analysing, and forecasting activities; staying proactive, prudent, and flexible in using solutions and monetary policy tools; closely coordinating with other macro-economic policies, especially the fiscal one, so as to enhance the economy's flexibility and resilience in the face of global economic and monetary changes; and raising the State's foreign currency reserves.
It is also necessary to tackle difficulties facing enterprises and people, assist post-pandemic economic recovery, and boost lending for production and business activities as well as poor households and disadvantaged groups, Hong said.
The governor also underscored the need to enhance inspection and monitoring of credit institutions' operations; step up the building of technological infrastructure for sharing and supplying digital products; promote innovation and the application of the Fourth Industrial Revolution's achievements; work to improve the credit access index, the business climate, and national competitiveness; and bolster bilateral and multilateral cooperation in the banking sector.
With Vietnam's new stature and power, as well as the Party, National Assembly, and Government's attention and leadership, the banking sector is confident that it will overcome all difficulties and challenges and fulfill the political tasks assigned by the Party and State, thus achieving fast, comprehensive, effective, safe, and sustainable development and better meet requirements during the country's socio-economic development process, she added.
Finance sector contributes decisively to national achievements: Official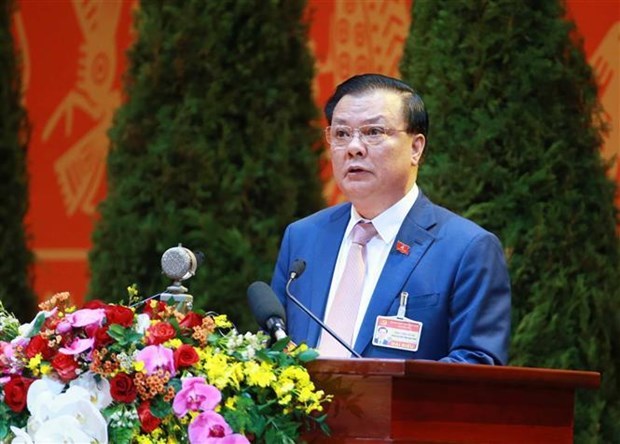 Member of the Party Central Committee and Minister of Finance Dinh Tien Dung

The national finance sector has recorded important developments and made decisive contributions to the country's achievements, according to member of the Party Central Committee and Minister of Finance Dinh Tien Dung.
Addressing a discussion within the framework of the 13th National Party Congress on January 27, Dung said the financial sector has implemented the policy of e-government development towards a digital government and digital economy, and promoted IT application and development.
Businesses now basically conduct all tax declarations, tax payments, tax refunds, and customs procedures via digital platforms.
The restructuring of the State budget and public debt in the 2016-2020 period helped strengthen national finances while mobilising more resources for COVID-19 prevention and control, supporting the national economy to avoid recession, helping Vietnam become one of the few economies posting positive growth in 2020, and creating an important foundation for the future.
Over the next five years, the sector will focus on completing and synchronously implementing policies on pricing, State finance, corporate finance, accounting, auditing, administrative reform, applying achievements from the Fourth Industrial Revolution, and allocating financial resources in accordance with market signals.
The sector will also give priority to attracting foreign investment, shifting from extensive investment to intensive investment, and fully implementing previous and new free trade agreements.

Dung said the finance sector will effectively implement the principle of spending within financial capacity and borrowing within repayment ability, and work to complete a database on revenues, expenditures, public debts, and public assets, while improving the efficiency of public financial management and administration at both the macro and micro scale, and promoting openness and transparency, as well as intensifying the fight against corruption and wastefulness.
The capacity and quality of financial inspection and supervision and auditing will be also strengthened through applying IT.
Activities in financial inspections and auditing will be expanded, while internal and remote monitoring will be boosted.
It will also closely coordinate with relevant sectors and localities to effectively handle the results of inspections and auditing, to fully recover any money and assets for the State, the minister added.
Party's inspection, supervision work debated at National Party Congress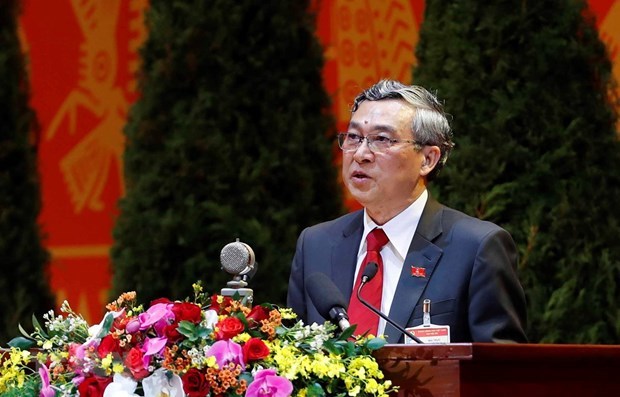 Mai Truc, Vice Chairman of the Party Central Committee's Inspection Commission 

The inspection and supervision work should match political tasks and Party building, as well as the reality in each locality and unit, delegates heard at the January 27 afternoon session of the 13th National Party Congress.
Mai Truc, Vice Chairman of the Party Central Committee's Inspection Commission, said that the legal system and regulations on corruption and wastefulness combat need to go in tandem with mechanisms on power control, Party disciplines and administrative fines.
He called for stronger determination and drastic actions in this regard, focusing on complex issues and "hot spots", as well as phenomena of degradation in political ideology, "self-evolution" and "self-transformation".
The official also highlighted the strict settlement of violations, without "off-limits areas", saying the results of settlement must be publicised in order to promote their education effects.
Truc said all-level Party committees and organisations, particularly heads of the Party committees, should pay attention to the inspection and supervision affairs in localities and units.
Moreover, the combination of inspection and supervision would help to enhance the efficiency, Truc suggested. "Supervision should be expanded, while focus is needed in inspection," he said.
Truc reported that during the 12th tenure, the Party Central Committee's Inspection Commission and all-level inspection boards inspected more than 15,000 Party organisations and over 47,000 Party members, ad supervised 183,000 Party organisations and some 528,000 Party members.
Disciplinary measures had been imposed on 1,300 Party organisations and nearly 70,000 Party members, including those who held high Party and State positions, local leaders and military officers./.VNA

Leaders of the Ministry of Public Security, the Ministry of National Defence, and the Supreme People's Court on January 27 stressed the importance of comprehensive reform