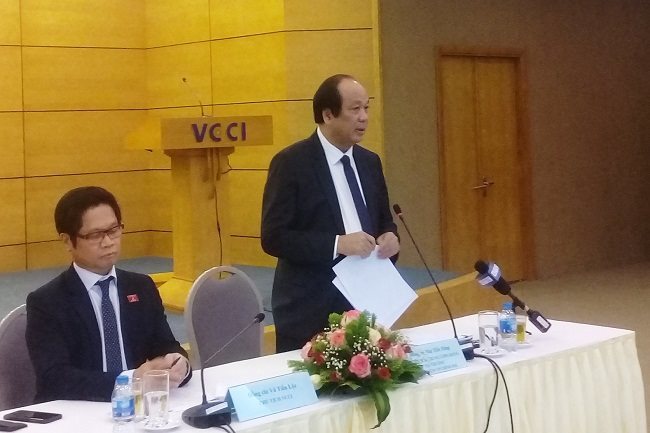 Minister and Chairman of the Government Office Mai Tien Dung speaks on November 15 at a meeting with the Vietnam Chamber of Commerce and Industry about trade and origin fraud – PHOTO: VGP
Minister and Chairman of the Government Office Mai Tien Dung held a session with the Vietnam Chamber of Commerce and Industry (VCCI) about the issuance of certificates of origin and the fight against trade fraud, reported the Government news website.
Minister Dung said the issuance of certificates of origin is meant to create favorable conditions for the business community. However, this practice could be abused by those seeking to commit trade and origin fraud, thereby affecting the manufacturing activities of law-abiding businesses, the prestige of Vietnamese goods, and the country's business environment.
"Our country must not become a trans-shipment hub of fraudulent goods," he stressed.
The Ministry of Industry and Trade and the VCCI have made it easier for businesses to receive certificates of origin. However, given the current circumstances, more measures need to be taken to crack down on trade fraud.
These include visits to manufacturing places to inspect their manufacturing and labeling stages, as well as documents regarding the origins of raw and input materials.
"Will the VCCI ensure the inspections of factories, their human resources and raw material inputs before the issuance of C/O, or (will the agency) only check their dossiers?" Dung asked.
"If a firm, which was set up a year ago with total capital of US$2 million, turns out shipments worth one billion U.S. dollars, we must take a close look," noted Minister Dung.
Between January and September this year, the VCCI reported that the agency had inspected 263 production facilities for export, which was five times higher from one year earlier.
As a result, the VCCI denied issuance of C/O for 30 types of products, since their production procedures fail to go beyond outsourcing and basic processing stages.
Tran Thi Thu Huong, director of VCCI's Center for Commercial Document Certification, said the center had issued more than 472,000 certificates of origin during the nine-month period, which is an increase of 2.4% against the previous year.
She noted that foreign-invested firms, especially those from China, had called for the non-preferential issuance of certificates of origin for their exports to the United States, which are worth US$7 billion.
Deputy Minister of Industry and Trade Tran Quoc Khanh said no violations in the issuance of certificates of origin have been recorded.
However, he revealed that foreign traders and firms were found to have created fake certificates of origin, so that their products could be exported to countries which have free trade agreements with Vietnam. These included 10 such incidents to Japan and 18 to China.
Also, foreign traders have taken advantage of Vietnamese firms that offer trans-shipment services to falsify their certificates of origin, making it more challenging for authorities, he said.
He added that a number of markets do not require firms to provide certificates of origin, while the coordination among ministries and agencies remains poor, thus complicating the issue.
"The current policy mechanism has problems," said Hoang Viet Cuong, deputy head of the General Department of Vietnam Customs.
Cuong suggested a comprehensive review of the relevant documents, statutes and procedures, as well as sanctions to create sufficient grounds for the regulatory framework.
Echoing this view, Minister Dung asked the concerned ministries and agencies to check regulations and issue a circular guiding the certification of origin for products on the local market, and a government resolution this month on a number of measures to curb origin fraud.
Also, a system of exchanging data among the trade ministry, the VCCI and the customs regulator needs to be set up soon. Early next month, the procedures for the issuance of certificates of origin will be provided on the National Public Service Portal, he said. SGT

After many exports to the US were found disguised with 'made in Vietnam' labels to try to evade anti-dumping duties, Vietnam has become more vigilant over origin fraud.

Ba Ria-Vung Tau Province's Customs Department had seized a suspicious aluminum shipment worth US$4 million that was heading to the US and other countries, a General Department of Viet Nam Customs official said.