Oil fields becoming depleted, difficulties lie ahead
Oil and gas companies are struggling to cope with falling prices, oil field depletion, and difficulties in seeking new fields.
Oil reserves
Vietsovpetro, a Vietnam-Russia joint venture, has exploited 237.7 million tons of crude oil since 1981, and collected and transmitted 35.7 billion cubic meters of associated gas ashore. The revenue from oil sales has reached $82.4 billion. The Vietnamese side has seen profit of $52.8 billion, while the Russians had $11.5 billion.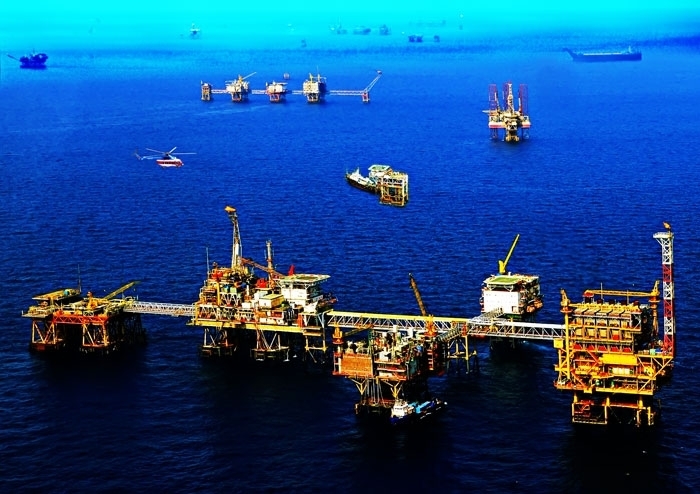 At Block 09-1, Vietsovpetro has been developing and exploiting five oil fields, namely Bach Ho (White Tiger), Rong (Dragon), Gau Trang (White Bear), White Rabbit and Nam Rong - Doi Moi.
However, the joint venture is facing a depletion of oil field reserves. It now can exploit over 3 million tons of oil each year, which is foreseeable.
The national oil and gas group PetroVietnam has many times warned of the decrease in oil fields' reserves in recent years. Meanwhile, it is very difficult to find and explore new fields.
PetroVietnam has failed to implement the development strategy of 28-42 million tons a year (20-30 million tons in Vietnam and 8-12 million tons overseas).
The exploitation at some main oil and gas fields has entered the period of output decrease with latent risks in exploitation conditions.
According to PetroVietnam, the crude oil price in the world market in October 2020 decreased sharply. Brent oil price was $40.5 per barrel on average. PetroVietnam's oil export price was $41.1 per barrel in the same month, a decrease of $2.58 per barrel from September.
The average export price in the first 10 months of the year was $43.9 per barrel, much lower than planned ($60 per barrel).
PetroVietnam said increasing oil and gas reserves to offset annual exploitation output and ensure sustainable development of the group is a 'very big challenge'.
Undiscovered oil and gas reserves are believed to be mostly located in deep offshore waters. However, the exploitation will need deep water drilling technology and heavy investments. There are also high risks.
A PetroVietnam report showed that the coefficient of increasing reserves to offset exploitation output is alarmingly low, at 0.54 (it was 1.5 in 2011-2015, the safety line for sustainable development). The figures were 0.65 in 2016 and 0.17 in 2017.

A PetroVietnam report showed that the coefficient of increasing reserves to offset exploitation output is alarmingly low, at 0.54 (it was 1.5 in 2011-2015, the safety line for sustainable development). The figures were 0.65 in 2016 and 0.17 in 2017.
Tran Cong Tin, deputy general director of Vietsovpetro, said the output is decreasing year after year.
"We are trying to expand the exploitation to other blocks, but the output is insignificant. The White Tiger is entering a period of decline," Tin said.
The joint venture has been developing other oil fields, but most are near Block 09.1 which other exploiters refuse because of high costs. Only Vietsovpetro can do this as it takes full advantage of the infrastructure nearby to maintain the operation.
According to Tin, in the short term, Vietsovpetro tries to obtain z stable output of 3 million tons per annum to maintain jobs and operation scale.
Wind power
Believing that the golden days of oil prices will never come back, a representative of Vietsovpetro said the company is seeking permission to develop offshore wind power.
It is still unclear if Vietsovpetro would be an investor or just a contractor. But Tin affirmed that this is the long-term development plan.
Vietsovpetro has experience in executing offshore projects. However, in order to turn this into reality, it will need permission from the two countries and more specialized machines and equipment.
"We cannot do this right away," Tin said.
"Installing onshore wind power plants is not our advantage. But we have advantages in installing offshore wind power thanks to experience in surveying seabeds and setting bases, and we have large manufacturing grounds," he said. "Investors also say we have potential in executing offshore wind power projects."
Vietsovpetro and exploiters are suffering from the reserve decreases and difficulties in finding new oil fields, but oil and gas technical service providers also are coping with difficulties.
According to Nguyen Huu Hai, deputy CEO of PetroVietnam Technical Services Corporation (PTSC), PTSC is not only implementing projects in Vietnam, but also projects overseas.
The company has won bids for many international projects, including MLS of Total E&P Borneo B.V (Brunei), Ghana OCTP Offshore FPSO (Ghana), Greater Enfield of Technip, and Daman of ONGC (India).
Of the projects PTSC is implementing, Gallaf (Al Shaheen) in Qatar has a big workload, valued at over $320 million.
According to Duong Hong Van, director of PTSC Offshore Services, the project in Qatar alone brought 700 jobs. 
Luong Bang

Once the proposal of the Ministry of Industry and Trade (MoIT) is approved, the petrol and oil trading scene may see more foreign players.

Vietnam has become an importer of coal, oil and gas, but experts have warned against a high reliance on imports.