Oil steady in quiet holiday season trade; supply cut deal to kick in Jan 1
Oil prices were little changed on Tuesday in light pre-New Year holiday trading with markets adopting a wait-and-see stance less than a week before the first output cut deal agreed between OPEC and non-OPEC members
Oil prices were little changed on Tuesday in light pre-New Year holiday trading with markets adopting a wait-and-see stance less than a week before the first output cut deal agreed between OPEC and non-OPEC members in 15 years is scheduled to kick in.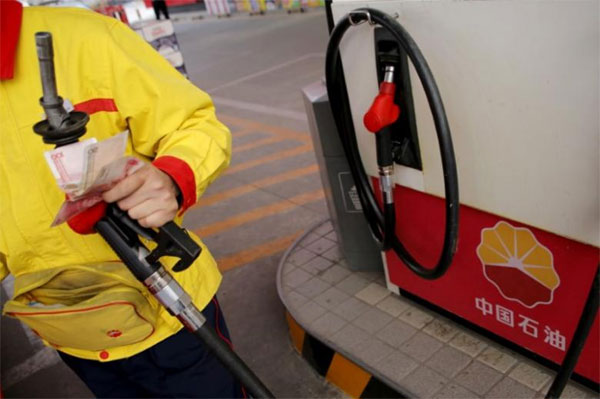 A gas station attendant pumps fuel into a customer's car at PetroChina's petrol station in Beijing, China, March 21, 2016.
London Brent crude for February delivery LCOc1 was down 1 cents at $55.15 a barrel by 0335 GMT (10.35 p.m. ET) after settling up 11 cents on Friday. Oil markets were closed on Monday after Christmas at the weekend.
NYMEX crude for February delivery CLc1 was up 10 cents at $53.12 a barrel, after closing at a 17-month high on Friday.
Jan. 1. bring the official start of the deal agreed by the Organization of Petroleum Exporting Countries and non-OPEC members to lower production by almost 1.8 million barrels per day (bpd). The accord is designed to bolster oil prices, squeezed for more than two years by a global supply glut.
"OPEC's output cuts are nearing, but because there's hardly any news on producers, the market is stuck in the doldrums," said Tomomichi Akuta, senior economist at Mitsubishi UFJ Research and Consulting in Tokyo.
While major OPEC members led by Saudi Arabia, will cut production, Libya and Nigeria - exempt because armed conflict has curbed their output - have been increasing production recently, Akuta said.
Libya has boosted production by about 22,000 barrels per day after major western pipelines were reopened and it could add 270,000 bpd within three months, the National Oil Corporation said.
"That raises concerns that despite the coordinated output cuts, the market may not tighten as much," Akuta said.
The U.S. Department of Energy expects to begin sales of roughly 8 million barrels of sweet crude from the country's emergency oil reserve in early to mid-January, according to a notice seen by Reuters on Friday.
Meanwhile Russia's oil exports would rise by almost 5 percent this year to 253.5 million tonnes and a "slight" increase was expected next year, Deputy Energy Minister Kirill Molodtsov said on Monday. Russia is among the non-OPEC countries who signed up to the production cut deal agreed with OPEC.
In China, end-November crude oil stocks fell 1.55 percent from the previous month to 29.89 million tonnes as domestic output shrank and winter demand grew, data from the official Xinhua news agency showed.
Hedge funds boosted bullish bets on U.S. crude oil for a third week in a row to a near 2-1/2 year high, data showed on Friday.
Source: Reuters