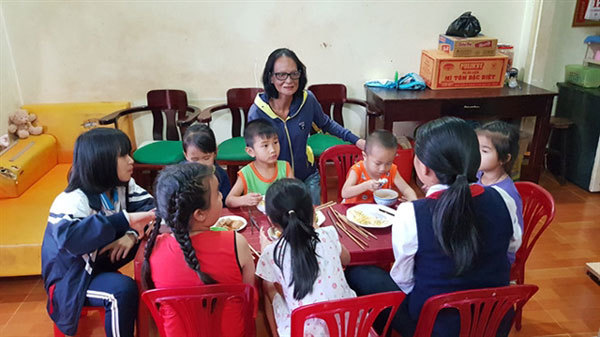 Thanh takes care of every meal for the children. — Photo thanhnien.vn
Thanh, 62, lives in a small alley on Nguyen Ba Ngoc Road, Lien Nghia Town, Duc Trong District in the Central Highlands province of Lam Dong.
She was born and grew up in the province's Da Lat City and was a teacher in several poor and remote communes in the province.
In 2000, after 22 years of working as a teacher, tragedy struck as her husband passed away in a traffic accident, Thanh told Thanh Niên (Young People) newspaper.
After her tragic loss, she returned to Da Lat and soon after, her work with orphans and poor children started.
On a very cold night in 2006, Thanh heard a newborn's cry near her house. When she opened the door, she found a newborn girl with her umbilical cord still attached lying in a box at the door.
The girl needed special care at hospital for two months and Thanh looked everywhere, but couldn't find any of her family, so she decided to bring up the girl.
Now the girl is an eighth grader and calls Thanh her grandmother and Thanh's son her father.
Thanh moved to Lien Nghia Town in 2009 and opened an art gallery. She earns her living by drawing pictures and writing stories for newspapers, before fate struck again.
On a rainy afternoon in March 2010, when she was drawing pictures in her gallery, two soaked girls and a boy sought shelter in her gallery.
Speaking to them, Thanh found out the children were aged between seven and 12. They did not know who their parents were, they were illiterate and earned their living by selling lottery tickets.
They did not dare return to their boarding house because they would be beaten by their employers for not selling enough tickets that day.
Feeling pity for the children, Thanh decided to take them in, and soon, more poor children came to her house as her reputation spread.
So far as many as 31 children have been brought up by Thanh. At present, nine of them are living with her. The youngest is four years old and the oldest 12.
To bring up the children, Thanh must work very hard and look for donations wherever she can find them.
Despite every obstacle, Thanh feels happy because all of the children are obedient, study well and help her with the housework.
"I'm older and older, I do not know how much longer I can live. But if more orphans come, I will feel happy to receive them into my house and take care of them," said Thanh.
Speaking to Thanh Niên, Nguyen Anh Duc, deputy chairman of the Lien Nghia Town People's Committee, praised Thanh for her kind heart.
Many children have grown up and gotten good jobs thanks to Thanh, he said, adding that local authorities had created good condition for Thanh to maintain her work.
Duc hope that more sponsors would support Thanh so that more orphans and poor children would be helped. — VNS

With the warm heart of a mother, Do Thi Nhi, owner of private special school Binh Minh in Tu Son Town, the northern province of Bac Ninh, has raised hundreds of children with autism, helping them gain confidence and lead a normal life.

An elderly couple in HCM City have decided to donate their assets worth a total VND100 billion (USD4.34 million) to orphaned children.  

Care for orphanages should come from love, devotion and enthusiasm, and that's exactly what 60-year-old Bui Cong Hiep from HCM City has in abundance.