Olympian Vinh may miss chance to defend title

Olympic gold medal shooter Hoang Xuan Vinh may miss his chance to defend his title in Tokyo after the last qualifications have been postponed.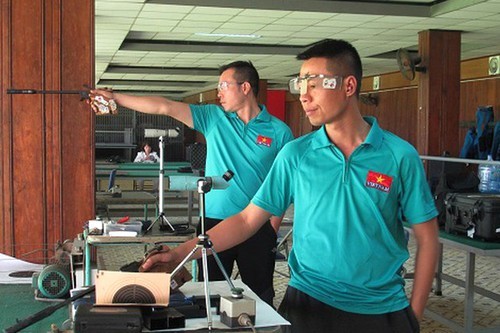 Olympic champion Hoang Xuan Vinh (left) is still seeking his chance to compete at the Tokyo Games. — Photo anninhthudo.vn
The International Shooting Sport Federation World Cup was scheduled for March 15 to 26 in rifle, pistol and shotgun at the Dr Karni Singh Range in Tughlakabad, India.
"The tournament in Delhi will now be held in two parts before the Olympic Games. Dates for the events will be announced shortly," a National Rifle Association of India (NRAI) official said.
The decision comes after the government imposed several restrictions on the entry of travellers from coronavirus affected countries such as China, Italy, South Korea, Japan and Iran.
The Indian tournament is the last qualifying round while Vinh has not earned his slot yet.
Vinh won a gold in the men's 10m air pistol and a silver in the 50m pistol events at the Rio de Janeiro Games in 2016.
Apart from shooting, chances to find Olympic berths for other teams have also been influenced because of the epidemic.
The taekwondo team could not take part in a qualifier in Belgium on March 13-15 and their practicing course in France on March 16-24 has been cancelled.
The judo crew failed to participate in a Grand Slam in Russia on March 11-18 while badminton players have cancelled their tournament in New Zealand and Poland later this month.
Việt Nam have set a target of about 20 athletes to qualify for the Olympics, but currently, only five have managed it. — VNS

The Vietnamese women's football team missed their chance to compete in the 2020 Tokyo Olympic Games following their 1-2 loss to Australia in the return leg of the event's play-off on March 11.

Boxer Nguyen Van Duong has become the fifth Vietnamese athlete qualified for competing in the coming Tokyo Olympics this summer.