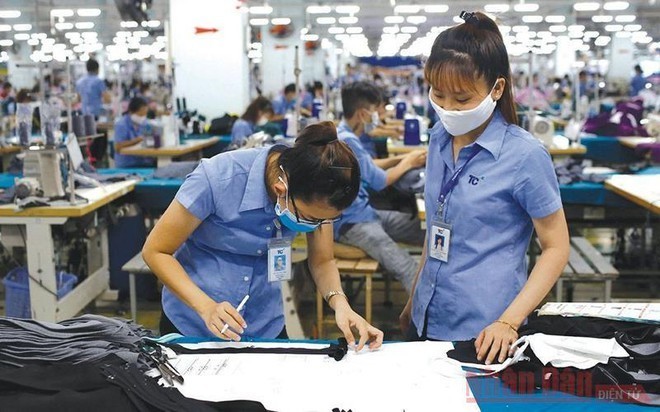 The report shows that after one year of implementing EVFTA, trade exchange and investment between Vietnam and the EU have obtained encouraging results despite difficulties caused by Covid-19.
Vietnam-EU total import and export turnover reached $54.6 billion, an increase of 11.9 percent over the same period last year.
Of this, Vietnam's export turnover to the EU was $38.5 billion, up by 11.3 percent, while its import turnover from the EU was $16.2 billion, up by 12.4 percent.
In the first seven months of 2021, the import and export turnover between Vietnam and the EU was $32.4 billion, an increase of 18 percent compared with the same period last year. If considering export turnover alone, the figure was $22.81 billion, an increase of 17 percent.

Meanwhile, Vietnam imported $9.61 billion worth of products from the EU during that time, up by 18.9 percent.
As of September 2021, the EU had 2,242 valid investment projects in Vietnam, an increase of 164 projects over the same period last year, registered by 26 out of 27 EU countries.
The projects have total investment capital of $22.24 billion, an increase of $483 million, accounting for 5.58 percent of total investment capital of all countries and territories which have FDI in Vietnam, and accounting for 6.57 percent of total number of projects.
Some large corporations from the EU are operating well in Vietnam, such as Shell Group (the Netherlands), Total Elf Fina (France – Belgium), Daimler Chrysler (Germany), Siemen and Alcatel Comvik (Sweden).
EU investors mostly invest in hi-tech industries. However, analysts have noticed a tendency of pouring capital into the service sector recently (post and telecommunications, finance, office for leasing and retail). They also inject money into the energy sector, supporting industries, food processing, hi-tech agriculture and pharmacy.
The Government predicts that the FDI from the EU will increase in the medium and long term with a high number of high-value projects.
However, the Government's report shows that some Vietnam key export items to the EU countries, such as textiles and garments, coffee and steel still have modest EVFTA C/O forms granted (15.7 percent of textiles and garments in the first seven months of 2021 and 9 percent of coffee and steel products).
To date, only 38 out of 63 cities/provinces have trade exchange with the EU, while others still focus on traditional markets and have not thought of boosting exports to the EU. Some localities have very large export turnover, but exports to the EU remain modest.
EVFTA was signed by the two sides on June 30, 2019. It officially took effect on August 1, 2020. 
Luong Bang

Chairman of the Vietnamese National Assembly (NA) Vuong Dinh Hue held talks with President of the European Parliament (EP) David Sassoli in Brussels, Belgium, on September 8.

Vietnam has taken various measures in a bid to protect the interest of Vietnamese products and exporters in the EU markets, according to the Trade Remedies Authority of Vietnam under the Ministry of Industry and Trade (MoIT).