Online fines for traffic violations still not applied on large scale
The police have begymun imposing fines online on traffic law violators following the launch by the Ministry of Public Security of the national population database system. However, this has not been done on a large scale.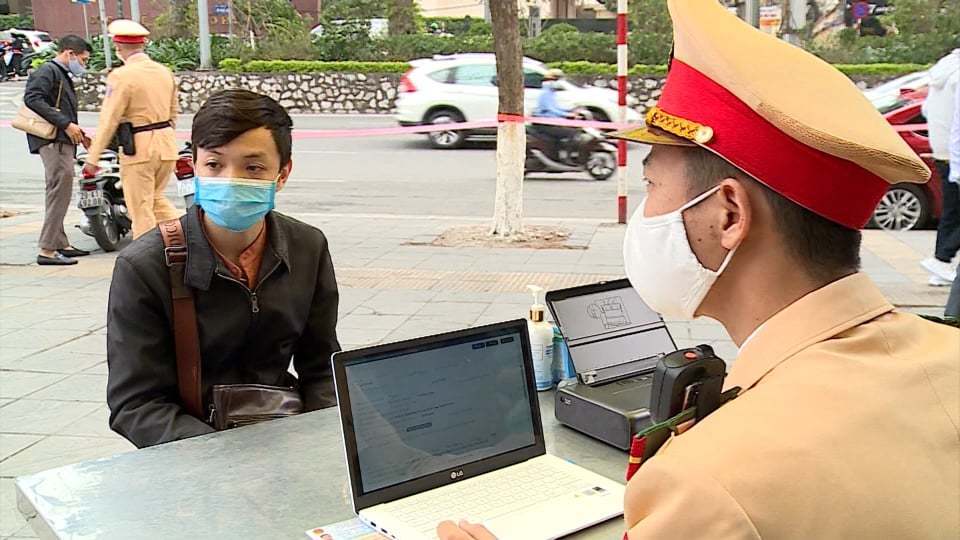 With the system, traffic policemen just need to enter violators' ID numbers into the system to see names, dates of birth and current residential addresses so they can make decisions on sanctions.
Violators can pay fines via a service system from the link guiding payments. The police will send back documents and complete the process of dealing with violations after they check the system and find if the violators have paid the fines.
Lieutenant Colonel Tran Quang Vinh from the Hanoi Traffic Police Division said that online fine payment is convenient for people and ensures transparency.
However, this has only been applied to the violators who have a chip in their citizen identity cards and bank accounts. These kind are of violations are subject to on-spot fine payment, under decision of the policemen on the site. The fines for the violations are below VND250,000 and policemen won't seize drivers' motorbikes and documents.
Only when all citizens have chip mounted citizen identity cards will the electronic signature system become operational. Then all violations will be dealt with online.
As for violations subject to heavier fines, to be determined by directors of provincial police departments or province chairs, this still cannot be applied because high-ranking officials are not always available to sign the decisions on sanctioning. And digital signatures are not accepted in these cases in accordance with the law on administrative violations.
If people commit serious violations and have their driving licenses revoked, they have five days to explain to appropriate agencies under the current laws.
Nguyen Van Thach from the Ministry of Transport said the online fining via citizen identity cards in connection with the national service portal is very convenient, which allows both violators and police to follow procedures quickly. Violators don't have to travel a lot to fulfill the payment procedure.
Colonel Do Thanh Binh, deputy head of the Traffic Police Department, said that previously, when dealing with traffic violations, policemen had to record information on paper, and decisions on sanctions were released seven days later. Violators had to go to agencies to pay the fine directly.
Now they can pay the fine immediately and do not have to go to the agencies to pay the fine.

Paperless sanctions will also help mitigate wrongdoings, because policemen will not be able to ignore violations. 
Vu Diep

More national highways were open to traffic in an effort to reduce traffic congestions in the Mekong Delta.

Regarding the Ministry of Public Security's proposal to install cameras and impose fines for traffic violations on highways, experts said this should have been done a long time ago.