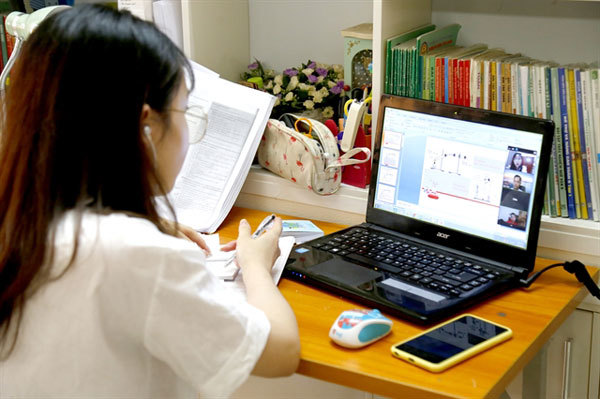 A high school student in the northern province of Tuyen Quang learning online. — VNA/VNS Photo Nam Suong
The limitations centre around the organisation and management of online tests.
Experts say that, along with building a common foundation for online teaching, schools also need to invest in digitising learning resources and building smart classrooms that are adaptable to both in-person and online teaching. The common platform must be suitable for different localities.
Teachers of the Dong Da Junior Secondary School in Dong Da District in Hanoi are familiar with teaching through applications such as Zoom, Google Meet and Microsoft Teams.
However, the management of learners and organising online tests to ensure quality and efficiency is a concern for teachers and the school managing board.
Dinh Thi Van Hong, principal of the school, said the school conducted first-semester exams online. For each subject, teachers in different classes used different online platforms, so the students' tests were also on different platforms, for example, LMS or Azota.
"It leads to the problem that there is no uniformity so we have difficulty in management," she said.
Currently, there are too many online applications used in schools across the country. For example, a lesson may be held on Zoom, checked on Google forms, then tests sent on Azota or Zalo.
Headteachers have a hard time managing and monitoring the number of students in each online class.
Therefore, a powerful online training software system that is suitable for general use is the desire of many schools.
Nguyen Quoc Binh, principal of the Luong The Binh Junior Secondary and High School in Hanoi, said that schools had to self-discover and self-research online teaching platforms and select the most suitable one.
Online teaching platforms have advantages, but also limitations.
"If only we had an identical online teaching and learning system, I think the quality of teaching and learning would be better," he said.
Education experts said that to overcome limitations and improve the quality of online training in the context of "flexibly and safely adapting to the pandemic", it would be necessary to unify the system.
Professor Nguyen Dinh Duc, from the Hanoi National University, said that first of all, Vietnam should build a public online teaching software platform for schools, and upgrade facilities and internet quality, so that teaching could be taught in any form.
"This online software is very important because we can build lessons. Based on that software, we can share experiences and we can control the learning process in a unified way. Managers and even parents can check and supervise," he said.
With many years of experience in organising and managing distance learning programmes, PhD Truong Tien Tung, former principal of the Hanoi Open University, said that the idea was to build software specifically for online training so that schools across the country could use it together.
It should be a long-term and national strategy, so that the educational sector could take advantage of the current online education platforms available and then design more appropriate features to make them more suitable to Vietnamese education.
The close combination of in-person and online training is considered a new teaching method in the "new normal" context. Experts say that, along with building a public platform for online teaching, schools also needed to invest in digitising learning resources and building smart classrooms that most effectively exploit these platforms.
Source: Vietnam News 

In a report answering National Assembly Deputies' inquiries, the Ministry of Education and Training (MOET) affirmed the efficiency of online teaching and learning, and fairness in accessing learning conditions among regions.