VietNamNet Bridge – The 140th anniversary celebration of Bizet's opera Carmen will be held at the HCM City Opera House next Sunday with a two-part performance, featuring excerpts from the opera and a ballet staged by P. A. Kim Quy.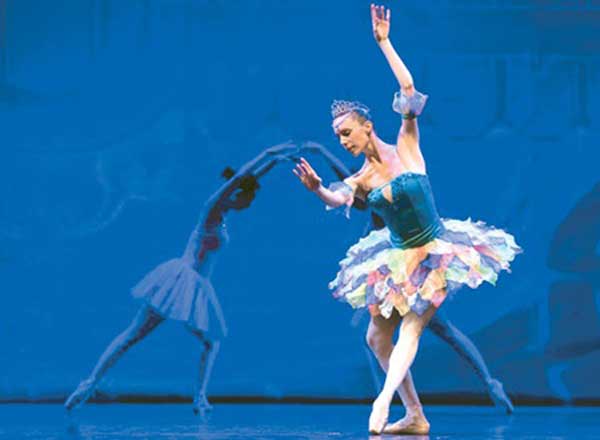 Striking poise: French ballet dancer Chloe Glemot will play the role of a cigarette factory girl in the ballet Carmen Suite at the HCM City Opera House on March 29. — Courtesy Photo of HBSO
In the first part of the programme, audiences will hear excerpts and arias from Georges Bizet's opera by musicians from the HCM City Ballet Symphony Orchestra and Opera (HBSO), including A. Hong Vy, Pham Trang, Tran Duy Linh, Duyen Huyen, Thu Huong, Thanh Minh, Khanh Ngoc. The orchestra will be conducted by Tran Nhat Minh.
The second part will feature the HBSO Ballet Carmen Suite, a one-act ballet created in 1967 by Cuban choreographer Alberto Alonso with music taken from Bizet's Carmen. Nguyen Thu Trang plays the role of Carmen, Ho Phi Diep is Don Jose, Nguyen Luong Hoa is Escamillo, Dam Duc Thuan is Zuniga, and Dao Van Thien is Fate.
French ballet dancer Chloe Glemot will be one of the cigarette factory girls.
At Carmen's premiere at the Opera Comique in Paris 140 years ago, audiences were not won over by the nontraditional story and viewpoint. But after performances in Vienna (1875) and London (1878), Carmen became one of the most beloved and famous operas in the world.
It has been translated into many languages, and transformed and adapted to other genres, such as ballet, symphonic suites and films.
Georges Bizet was a French Romantic composer and pianist. He wrote piano pieces, symphonic works, choral works, songs and incidental music for the theatre. However, he is probably best known for his operas.
Bizet composed 15 operas, with Carmen, his last one, becoming the most popular. He died at the age of 37, a mere three months after Carmen's premiere.
Source: VNS