Opportunity for tourism in Phu Quoc following pilot of "vaccine passport"
Immediately after the Politburo agreed to pilot a vaccine passport for international visitors to Phu Quoc City in the Mekong River Delta province of Kien Giang, 
the city has been urgently preparing plans and implementing synchronous measures to be eligible to welcome international tourists in the near future, towards ensuring COVID-19 prevention and control and the "dual goal".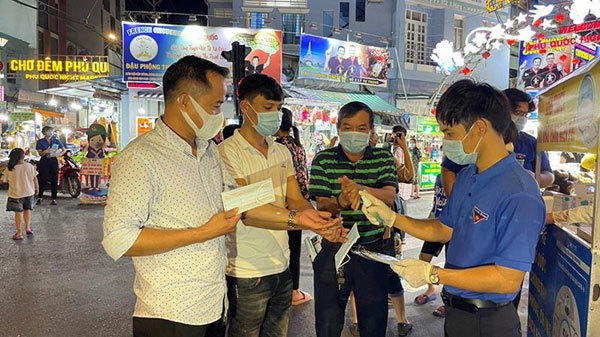 Young people in Phu Quoc joining hands to prevent COVID-19 epidemic. (Photo: NDO)
Pilot of "travel vaccine passport"
Director of the Kien Giang Provincial Department of Tourism Bui Quoc Thai said that the pilot of vaccine passport was good news for tourism sector following a long time of not receiving international to prevent COVID-19 epidemic. This is a premise for Kien Giang Province, particularly Phu Quoc, to gradually restore tourism activities, contributing to the implementation of the "dual goal" of epidemic prevention and socio-economic development.
Many countries around the world have widely deployed vaccination against Covid-19 to create herd immunity. Many nations have applied digital health certificates to facilitate travel in the region and gradually reopened tourism and trade activities, creating a driving force for socio-economic development. In ASEAN, Thailand has announced that it will receive vaccinated international visitors from July 1 under the model of "Phuket Sandbox" (travelling only in Phuket) for at least 14 days. After which, they can then travel to other destinations in Thailand.
Du To Tuan, director of Vietravel Rach Gia Company, said that many Vietnamese people abroad have had two vaccination injections. In addition, the majority of foreigners, especially in key tourist markets of Vietnam, have received two doses of vaccine on the list of vaccines approved by the Ministry of Health, such as AstraZeneca and Pfizer. They have shown interest in destinations in Vietnam, especially Phu Quoc. Therefore, the conduction of self-contained tours for groups of tourists is essential.
According to Tran Quoc Khanh, Chairman of Kien Giang Tourism Association, the association has called on member businesses to join hands to overcome difficulties caused by the epidemic and actively contributed to the national COVID-19 vaccine fund. It is a necessary action because vaccination is one of the most effective measures to prevent and control the pandemic.
The Ministry of Culture, Sports and Tourism has proposed that the Government allow the pilot of vaccination passports for Russian tourists to Phu Quoc. Accordingly, people in the city, including foreigners and migrant workers, must be vaccinated to create herd immunity. International visitors must have vaccine passports and a negative RT-PCR test result for SARS-CoV-2 virus.
The self-contained tours that can be piloted are golf tours and tours to resorts. The pilot of vaccine passport is expected to promote Phu Quoc's tourism activities effectively, thereby it can be applied widely to additional localities.
Pham Cong Son, General Manager of The Shells Resort and Spa Phu Quoc noted that vaccine passport will create favourable conditions for visitors to move freely within the country and among the countries. Its pilot in eligible destinations such as Phu Quoc, with an international airport and many hotels and resorts that suit the needs of international visitors, is an essential step. If this pilot is deployed successfully in Phu Quoc, it will be expanded to other localities in the coming time. 
Phu Quoc prepares to grasp opportunity
According to Chairman of Phu Quoc City People's Committee, Huynh Quang Hung, in order to effectively implement the policy of piloting the vaccine passport for international tourists to Phu Quoc, the city has reported and made proposals to Kien Giang Provincial People's Committee, the Government, and central ministries and departments to prioritise vaccine sources for the city to create herd immunity.
He also emphasised that the most difficult issue for Phu Quoc is the lack of vaccines. Therefore, the city has reported to the provincial leaders and Kien Giang provincial authorities have proposed that the Government and the Ministry of Health soon allocate vaccines to Phu Quoc.
The island city has been preparing all conditions, equipment, medical facilities, and human resources to meet the requirements of vaccination and COVID-19 prevention. In addition, a specific plan has been set out for activities following the welcoming of foreign visitors such as checking vaccine passports, tightening epidemic prevention and mandatory sampling for COVID-19 rapid test for visitors right from the entry stage, to ensure safety for both community and tourists. It is also essential to propagate the implementation of the "5K message".
The Chairman of Phu Quoc People's Committee Huynh Quang Hung also noted: "The city will strictly comply with the regulations and guidelines of the Ministry of Health as well as the regulations of the province while piloting the closed-isolation tourism model, towards the goal of putting the safety of tourists and people above all else".
Up to this point, Phu Quoc has remained a safe destination. However, the sharp decrease in the number of tourists to the island city has greatly affected its economic development. The Politburo's policy on selecting Phu Quoc as a destination to welcome international visitors through vaccine passports has attracted the attention of the world, offering an opportunity for the city to restore tourism activities and services in the near future.
Source: Nhan Dan

The Ministry of Culture, Sports and Tourism has suggested that Vietnam's largest island of Phu Quoc in Kien Giang province welcome foreign tourists who have vaccine passports.