Organic food: US$437 billion market
North America and Europe account for most of the sales of organic products, with a 90% market share. However, most of the growth has been from other regions, particularly Asia.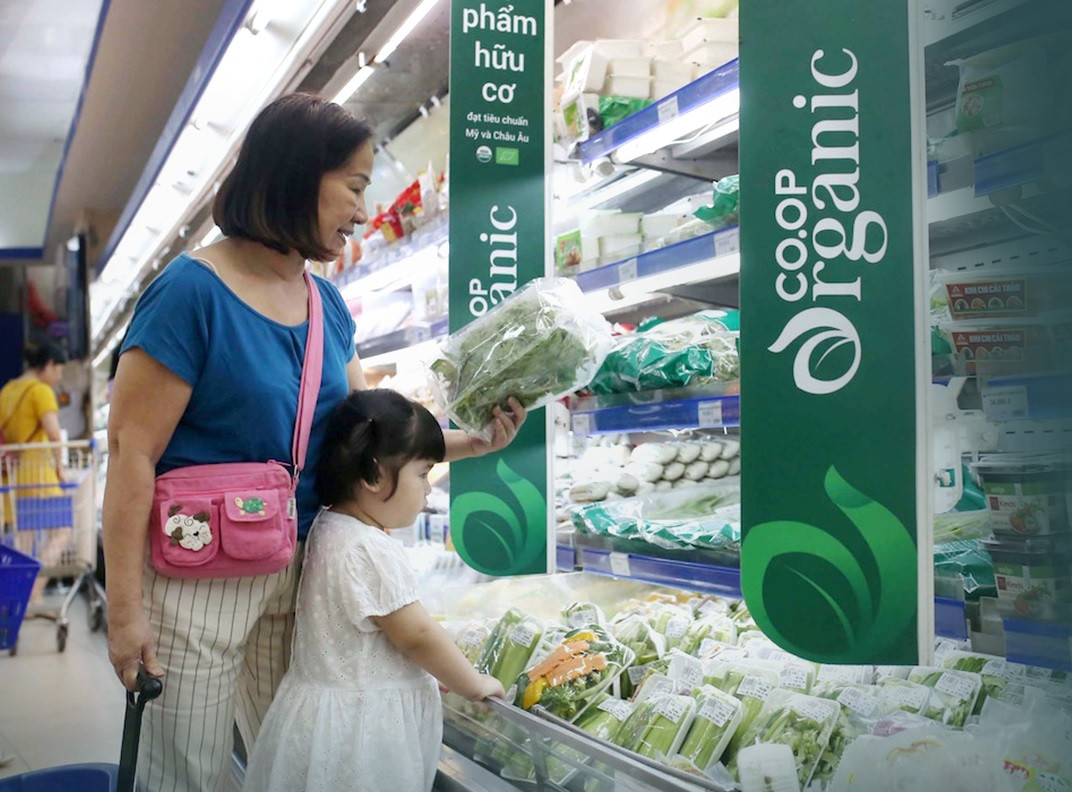 The organic product market is becoming important in countries such as China, Korea, India, Thailand. Organic tropical fruits, nuts and spices account for a large proportion. Notably, these agricultural products are advantageous export items of Vietnam.
According to the Department of Agricultural Product Processing and Market Development (Ministry of Agriculture and Rural Development), export turnover of organic agricultural products of Vietnam has reached about US$335 million/year, exported to 180 markets. This is small compared to the current size of the global organic product market, but it also shows the great potential of Vietnamese organic products for export.
It is forecast that revenue for organic products is expected to increase strongly, to $437.36 billion by 2026 with a compound annual growth rate (CAGR) of 14%.
In fact, in the past 10 years (2011-2020), all countries promoted organic agricultural production. The area of ​​organic agricultural land increased by 214.5% in Australia, 66.7% in Asia, 95% in Africa, 62.1% in Europe, 42% in Latin America, and 24% in North America during this period.
By 2020, the area of ​​organic agricultural land in the world reached 74.9 million hectares. Australia had the largest organic land area in the world with 35.9 million hectares, followed by Europe with 17.1 million hectares; Latin America 9.9 million hectares; Asia 6.1 million hectares; North America with 3.7 million hectares and Africa 2.1 million hectares.
Countries are expected to invest more in organic agriculture, especially in Europe. In May 2020, the European Union announced a target to reach 25% of organic agricultural land by 2030.
However, the market for plant-based foods is growing exponentially. Research by Boston Consulting Group and Blue Horizon Corporation shows that the market for meat, egg, dairy and seafood substitutes will reach $290 billion by 2035.
Consumer demand for plant-based food products is derived from the same factors as organic foods, i.e., health, environmental and ethical concerns. This will reduce the demand for organic food of animal origin. The vegan lifestyle also reduces the need for organic food of animal origin.
Consumer demand for organic products is growing strongly and outstripping supply. The lack of supply of organic products will lead to scarcity and high prices. It could also lead to fraud cases where conventional foods are labeled as organic.
Door for organic agricultural products opens wide
Consumers are gradually realizing the importance of organic products for the environment, human health and a sustainable ecosystem. Studies show that consuming organic products is a trend that will endure and grow strongly in coming years.
This is an opportunity for Vietnam to promote organic agricultural production, capturing market share for the growing demand for organic products.
According to statistics, in 2021, Vietnam's organic agricultural land area was over 174,000 hectares (up 47% compared to 2016), ranking 9th in the 10 countries with the largest organic agricultural land area in Asia. Of which, the area of ​​organic farming land was more than 63,000 hectares, the area for organic aquaculture was over 100,000 hectares, the area for natural harvesting of organic agriculture was over 12,000 hectares. The number of organic agricultural producers was more than 17,000 units, 555 processors, 60 exporters…
The organic agriculture development project is being implemented strongly, gradually turning Vietnam into a country with organic agricultural production on par with advanced countries in the world. Vietnam's goal by 2030 is to increase the area of ​​agricultural land for organic production to about 2.5-3% of the total agricultural land area, the product value per 1 hectare of organic land is 1.5-1.8 times higher than that of non-organic production.
According to experts, the current orientations, guidelines and policies for the development of organic agriculture are very complete and open, the problem is how to organize and implement them.
With many years of experience in producing and exporting organic agricultural products, Mr. Bui Hong Quan, Vice Chairman of Vinamit's Board of Directors, said that to develop organic agriculture, it is important for businesses to ensure their prestige, comply with commitments on quality and design.
Mr. Nguyen Quoc Toan, Director of the Department of Agricultural Product Processing and Market Development (MARD), organic agricultural products have a specific segment in terms of market demand, value and brand positioning. In addition, organic products carry the value of regenerating the environment, the responsibility to protect people and the shared responsibility for green growth of the agricultural industry.
He also acknowledged the difficulties that organic agriculture has to overcome, such as: building consumer confidence in organic products; limited production conditions on a large scale; cooperation among businesses in the same industry to go further.
Therefore, it is necessary to be aware of production, consumption, and information sharing. The key is traceability, transparency, digitization of organic products, he said.
Tam An