Outdoor light pollution worsens in Vietnam
VietNamNet Bridge – Vietnam is faced with increasing outdoor light pollution, which can be harmful to physical and mental health, according to local experts.
VietNamNet Bridge – Vietnam is faced with increasing outdoor light pollution, which can be harmful to physical and mental health, according to local experts.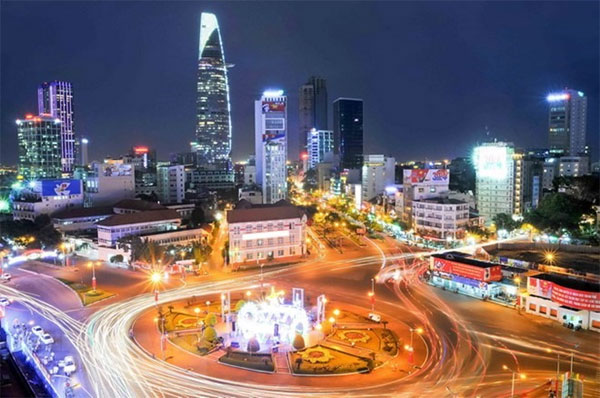 HCM City at night. Light pollution has worsened in recent years, experts say. — VNA/VNS Photo
Professor Le Huy Ba, former head of the Institute of Environmental Science, Engineering and Management at the HCM City University of Industry, said that many areas in the country's large cities have abused the use of artificial light at night, causing light pollution which is "silently affecting people's health and lives".
In many alleys of HCM City, for instance, many 0.6-1.2m fluorescent and halogen lights are used to light streets. Because the lampshades are made from aluminum, they cannot prevent harsh glare from the lights.
In a study about artificially lit surfaces of the Earth at night, scientists from Germany, Spain, US and the UK used the first-ever calibrated satellite radiometer designed for night lights.
The results of their study, published in Science Advances journal in November 2017, showed that Earth's artificially lit outdoor area grew by 2.2 per cent per year from 2012 to 2016, with a total radiance growth of 1.8 per cent per year.
Lamps on HCM City's many streets are installed improperly and the light is so strong that it enters people's homes, according to Vietnam News Agency reporters who spoke with many people in all areas of the city.
Some lights are too bright because of very high voltage, which could be dangerous for people on the streets.
In addition, LED lights on outdoor advertising signs and displays on Hang Xanh, Dien Bien Phu and other streets also contribute to light pollution in the city. Signs and displays have different sizes of lights as well.
The website Health.com cited a 2016 study conducted by the Stanford Sleep Epidemiology Research Center in the US that found nighttime light exposure in urban areas was three to six times more intense than in small towns and rural areas.
People with high outside light exposure slept less per night — a difference of 10 minutes a night, on average — than people with low light exposure, the center found.
At night, light throws the body's biological clock and circadian rhythm out of whack, disturbing sleep, according to Harvard University's Medical School website. Research shows that it may contribute to the causation of cancer, diabetes, heart disease and obesity.
Experts at the Harvard Medical School said that people should use dim red lights for night lights. Red light has the least power to shift circadian rhythm and suppress melatonin.
People should also avoid looking at bright screens two to three hours before going to bed.
People who work a night shift or use electronic devices at night should consider wearing blue light-blocking glasses or install an app that filters the blue/green wavelength at night, the experts suggested.
Exposing yourself to lots of bright light during the day will boost your ability to sleep at night, as well as your mood and alertness during daylight, they said.
Effect on plants, animals
Research in environmental fields shows that plants do not grow well with excessive artificial light.
In 2010, residents in the communes of Thanh Phu, My Yen, Tan Buu in Long An Province's Ben Luc District along the HCM City-Trung Luong Expressway complained about their rice paddy fields that they say were damaged by high-voltage lighting systems on the expressway.
Scientists say that animals such as owls and bats move to other areas to live when the light is too bright.
According to Ba, the country should issue a regulation limiting the number of hours when advertising signs and displays on streets and high-rises can be lit.
More trees should be planted to scatter the light, Ba said, adding that public lights should have lower voltage.
People should also use fewer fluorescent lights and use a timer to turn off lights when they are not needed, Ba said.
Source: VNS