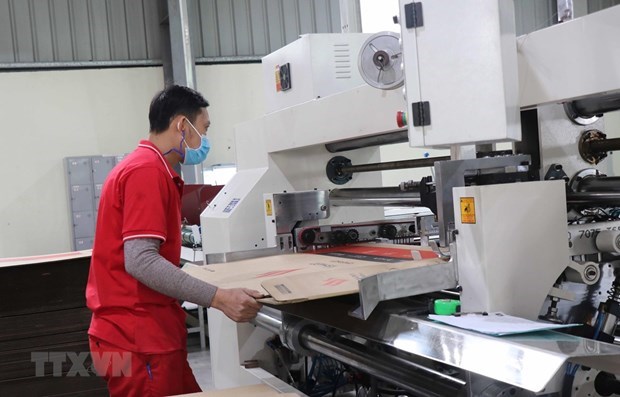 A worker in a factory in the northern province of Bac Ninh. (Photo: VNA)
As many as 314,203 out of 320,485 workers have returned to work with strict pandemic prevention measures in place, the representative said.
Currently, businesses in Bac Ninh industrial zones are having a lot of orders.
Despite suffering impacts from the COVID-19 outbreak in May and June, enterprises in Bac Ninh's industrial zones earned production value of nearly 550,000 billion VND (23.8 million USD) in the first six months of the year, up 11 percent compared to the same period last year.
Of which, export value reached 16.211 billion USD, a year-on year increase of 16 percent while imports valude at 11.675 billion USD, up 28 percent over last year's figure.
The enterprises contributed 5.1 trillion VND to the State budget, a year-on-year rise of 24 percent. The total newly and adjusted investment capital in industrial zones of Bac Ninh in the past six months was 601.68 million USD. Of these 440.95 million USD was foreign direct investment.
Bac Ninh and neighbouring Bac Giang were heavily affected by the fourth wave of COVID-19 outbreaks that hit the country since late April.
Bac Ninh has 10 industrial zones and 26 industrial clusters with over 1,100 enterprises employing a total of 450,000 workers who come from 21 cities and localities nationwide.
The fourth wave of COVID-19 starting from April 27 had forced 309 businesses in the province to suspend operations, about 200,000 employees to temporarily stop working or take unpaid leave.
The province has so far recorded 1,720 COVID-19 cases since the beginning of the fourth outbreak./.
Source: VNA

Vietnam's count of COVID-19 cases has crossed the milestone of 10,000 more than a month after the resurgence of the virus began in late April, wreaking havoc on multiple major industrial parks where thousands of factory workers have become infected.