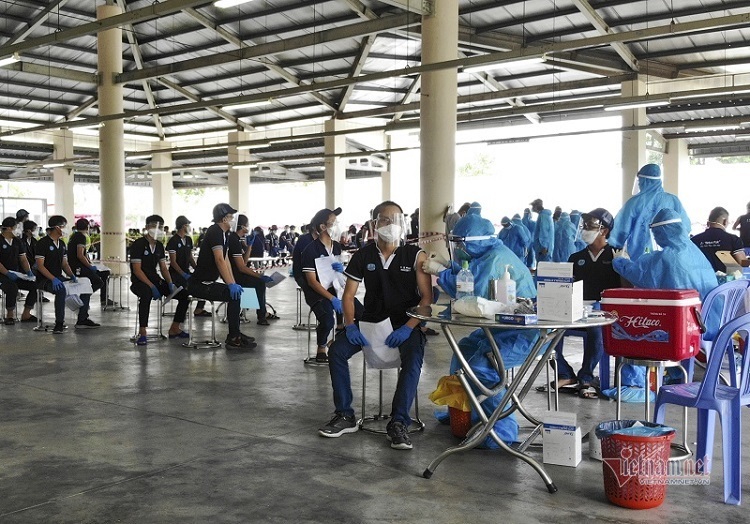 Workers at the VSIP Industrial Park are vaccinated.
So far, the vaccines have been administered to workers at factories that operate under the "3 on the site" mechanism.
Companies in industrial parks in Binh Duong province started to vaccinate their workers on August 7. Accordingly, the state provides vaccines, and businesses and investors of industrial zones pay other expenses related to the vaccination. Workers and employees do not have to pay any fees.
Dang Thi Kim Chi, Chairwoman of the VSIP Industrial Park's trade union, said that businesses in the industrial park asked Binh Duong province to give priority to vaccinate workers of companies operating in the mode of "three on site" so that workers will feel secure staying and working in the IP.
At Song Than 3 Industrial Park in Thu Dau Mot City, Binh Duong Province, the industrial park investor has coordinated with the Management Board of Binh Duong Province's Industrial Parks and the medical team of Cho Ray Hospital (HCM City) to vaccinate 6,000 workers in the park.
In Di An and Thuan An city in Binh Duong province, vaccination of workers has been implemented since August 5.
Xuan An

Vietnam's count of COVID-19 cases has crossed the milestone of 10,000 more than a month after the resurgence of the virus began in late April, wreaking havoc on multiple major industrial parks where thousands of factory workers have become infected.

Binh Duong province, a major coronavirus hotspot in southern Vietnam, is set to administer COVID-19 vaccines to more than 6,000 foreign experts as part of the next phase of the national rollout of the vaccine.