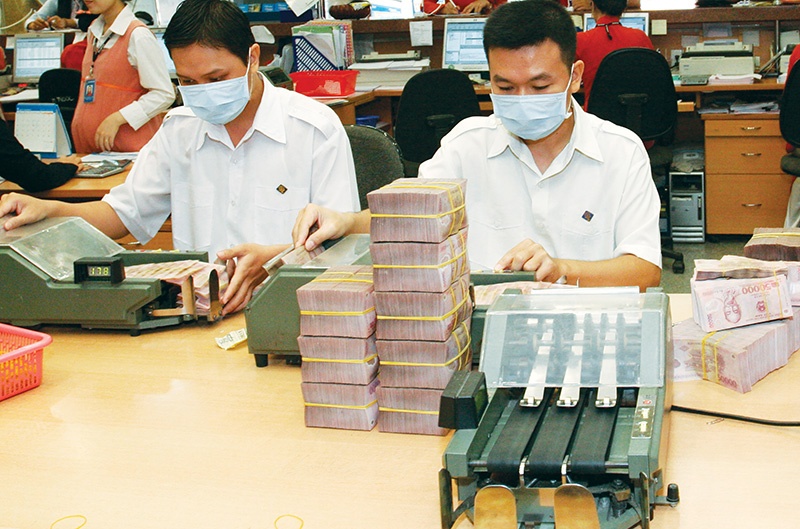 Although Vietnam has suffered budget deficits during the past year, 2020 still saw positive growth.
Minister of Finance Ho Duc Phoc told the National Assembly (NA) last week that though many deputies have been suggesting a rise in state budget deficit so that more money can be used to fuel the economy, such a solution may not be feasible.
"Room for raising budget overspending remains humble, because in 2016-2020, the government's total loans were worth $80.52 billion, and for 2021-2025 the NA has agreed on an expected total loan of $133.4 billion, or 1.7 times higher than the previous period," Phoc explained.
Moreover, he elaborated, the public debt expected for 2025 will be 1.6 times higher than that of 2020. This means by 2025, the public debt will be 45.6 per cent of GDP, but this GDP will have been revised up under the new calculation method, and if the GDP is calculated under the old method, it will be 57.9 per cent of GDP, meaning it will have exceeded the permissible limit of 55 per cent of GDP.
Meanwhile, the government's debt for 2021-2025 may be 41.8 per cent of GDP based on the new calculation method, and 53.1 per cent under the old method – meaning it will have exceeded the permissible limit of 45 per cent of GDP.
Crucial implementation
Earlier, many NA deputies like Ha Duc Minh representing the northern province of Lao Cai asked the legislative body to consider an increase in the state budget deficit.
"There should be such an increase. Currently the budget overspending for 2021 will be nearly $15 billion or 4 per cent of GDP, and an expected $16.21 billion for 2022, also equivalent to 4 per cent of GDP," Minh explained. "Meanwhile, total development investment capital for 2022 is estimated to be $22.87 billion – including $13.21 billion from localities' coffers and $9.65 billion from the central budget."
"Thus, the room for a bigger budget deficit under the Law on State Budget is valued at least $6.65 billion. It is proposed that the NA consider a climb worth about $4.34 billion in state budget deficit so that there will be more resources to implement socioeconomic development goals and support enterprises, while the state budget will be able to stay at a safe level," Minh said. "Such an increase should also be implemented from 2022-2024."
Echoing this view, deputy Hoang Van Cuong representing Hanoi, deputy Nguyen Ngoc Son representing the northern province of Hai Duong, and many others also urged the NA to mull over a plan on further increasing state budget overspending.
"There should be a rise in overspending within 2022-2023. Experience shows that for the economy to recover from the global financial crisis back in 2008-2009, we used public investment to spur demand via increasing the state budget deficit with bond issuance," Son said.
"There should be a rise of around 2 per cent in the deficit within the next two or three years so that we can have more resources to implement recovery plans and make new breakthroughs in socioeconomic development," Cuong added.
Deputy Tran Hoang Ngan from Ho Chi Minh City calculated that in the last two years, COVID-19 caused big losses to Vietnam where there should be new financial and monetary solutions to support the economy and the business community.
"Last year, it had been expected that the economy would grow 6.8 per cent, but the rate was only 2.92 per cent. In 2021, the rate was expected to be 6 per cent, but the expected rate may be about 3 per cent. This means in 2020 and 2021, the economy is estimated to suffer a loss of 7 per cent of GDP (the existing GDP is $343 billion), or $24 billion," Ngan said. In Ho Chi Minh City alone, the two-year loss is estimated to be $12 billion. "In terms of state budget revenue, the entire economy suffered from a reduction of $6.52 billion, with the city's being over $3 billion," Ngan added.
Budget balancing act
Prime Minister Pham Minh Chinh in September ordered that the Ministry of Finance study the possibility of increasing the country's budget overspending in order to "make bigger room for ensuring expenditure for national development and macroeconomic stability."
It remains unclear about how and the level of such a rise in the budget deficit. However, if so, the government will have to seek permission from the NA, which decides on the country's laws, socioeconomic development goals, national financial security, and large-scale investment, among many areas.
If the legislative body agrees on the government's proposal to increase the budget deficit, the country will have more state funding for investment development amid a drop in contributions from the business community which is now bogged down in great difficulties caused by COVID-19. Especially, development investment will need the bigger hands of the state in the context of a climb in expenditure for supporting enterprises and fighting against the pandemic.
Last November, the NA passed a resolution on budget estimation for 2021. In which, total state budget revenue and total state budget spending would be over $58.4 billion and $73.34 billion, respectively. The total state budget deficit would be $14.94 billion, accounting for 4 per cent of GDP.
Over past years, Vietnam has always suffered from a budget deficit, for example $10.93 billion or 3.99 per cent of GDP last year; $8.7 billion or 3.36 per cent of GDP in 2019; and $6.65 billion or 2.8 per cent GDP in 2018.
In the 2016-2020 period, the state budget overspending accounted for 3.6 per cent of GDP on average, which ensures the target of not exceeding 3.9 per cent of GDP under the NA's resolution on Vietnam's national 5-year financial plan in the 2016-2020 period.
Last November, for the first time in Vietnam, the NA had to increase the country's state budget deficit by an additional $5.8 billion for 2020. Earlier in late 2019, the figure had been fixed at $10.2 billion.
The NA's bold move contributed to helping the country reach a positive economic growth rate of 2.92 per cent last year, making Vietnam one of the few economies with the highest economic growth in the world where almost all nations suffered from negative growth caused by COVID-19.
In October, the budget balance posted a surplus of $1.21 billion, driven by an 18.8 per cent drop in total expenditure, although total revenue also fell by 9.3 per cent as economic activities have yet to fully resume. Slow public spending was prevalent both in public investment (down 25.7 per cent on-year), and in recurrent expenditures (down 14.2 per cent on-year). In the first 10 months of 2021, the budget registered a fiscal surplus of $3.25 billion, with total expenditures contracting by 8.8 per cent on-year, while revenues increased by 7.6 per cent on-year.
Major targets for 2022
- Balance of accumulation-consumption: GDP scale will hit about $396-399 billion, with final consumption accounting for 68 per cent of GDP, and the rate of asset-based accumulation will be 32 per cent of GDP.
- State budget balance: Total budget revenue will be about $61.3 billion, while total budget spending will be about $77.6 billion – including $22.44 billion for development investment. Total budget deficit will be $16.21 billion or 4 per cent of GDP.
- Export-import balance: Export-import balance: Total export-import turnover will be as much as $660.8 billion, up 5.2 per cent against 2021 – of which total export turnover will be $329.9 billion, up 5.4 per cent as compared to 2021. Total trade deficit will be about $1 billion.
- Power: Total power capacity (excluding rooftop solar power) is estimated to be 70,000-71,000MW, up about 3.5-4 per cent against 2021. Total produced and imported power output will be 291.8-293.7 billion KWh, up 9.6-10.3 per cent over 2021, while total commercial power output will be 250.7-252.3 billion KWh, up 8.4-9.1 per cent on-year.Source: Government plan for socioeconomic development in 2022
Vietnam is facing challenges in restarting the economy after a prolonged lockdown, but positive dynamics observed in October would suggest continued pickup and strengthening of growth in coming months.
Fiscal policy interventions would help, including through tax relief, acceleration of investment project implementation and social assistance to the needy. In this light, the approved VAT reduction for businesses in travelling, hospitality and entertainment in November and December of 2021 is expected to help to boost weak domestic demand in this subsector. As the economy re-opens and the number of new confirmed cases is increasing, continued rapid pace of vaccination and vigilance in testing and quarantining should help avoid a new wave of infections forcing new restrictive measures to protect lives. Inflation should also be carefully watched as strengthening domestic demand amid rising energy prices around the world may create upward pressure on prices. Financial sector health should also be closely monitored. Source: World Bank
Source: VIR