Palestinian cuisine, culture introduced in Hanoi

Signature dishes, photos and paintings of Palestine have been introduced to Vietnamese people and the international community to celebrate the International Day of Solidarity with the Palestinian People (November 29).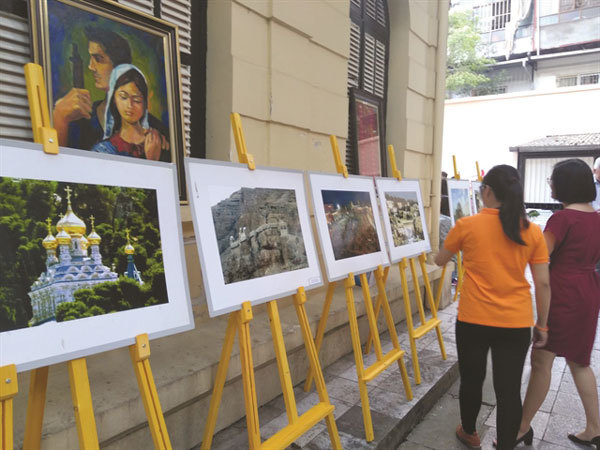 Visitors learn more about Palestine through art, books and cuisine. VNS Photo Minh Thu
A Day of Palestinian Culture and Cuisine kicked off on Tuesday in Hanoi with the aim of promoting the image of the country and enhancing mutual understanding between the two peoples.
Two books written by Di Li were also launched at the event. She's a well-known author of detective novels, short pieces of non-fiction and humourous short stories. She has published 20 books.
Two books alone feature 107 stories about her culinary journeys. Tôi Đã Ăn Cả Cánh Đồng Hoa (I Have Eaten a Flower Field) reflects local cuisine ranging from dumplings in Hue, coffee in the Central Highlands and phở in Hanoi. Nửa Vòng Trái Đất Uống Một Ly Trà (Travelling Half the Earth for a Cup of Tea) tells amazing stories of global gastronomy.
Li recalls her adventure to discover unique dishes around the world such as jackfruit curry in Sri Lanka, insect dishes in Cambodia, ice cream in Turkey and onion yoghurt in Warsaw.
This was the first time a book featuring signature dishes and drinks from different countries had been published in Vietnam, according to critic Pham Xuan Nguyen.
"Readers will find it interesting to see Tibetan butter tea, Oolong tea from China, Indian spiced milk tea and traditional Moroccan mint tea," he said.
Palestinian Ambassador Saadi Salama highly appreciated Li's work.
"I respect the stories about cuisine told by Li. She mentions various signature dishes of Palestine such as hummus, moutabal (Middl East salad), tabouleh (bulgur wheat, finely chopped parsley, tomatoes, mint and onion, and seasoned with olive oil) and maqluba (upside-down rice)," he said.
"Palestinian culture and gastronomy aren't widely known in Vietnam though two countries have a long-standing friendship of co-operation.
"Palestinian cuisine has an aged-old history and is famed in the Arab region and the world. We are so proud to read about our gastronomy in a book by a Vietnamese author."
Li said she was passionate about culinary culture. In her opinion, cuisine is not about food, it's always about the history, geography, identity, religion and culture of a nation.
The photo exhibition about Palestinian culture and landscapes will run until Friday at 7 Le Phung Hieu Street, Hanoi. VNS