Parents need to set example on the road
VietNamNet Bridge – A picture of a man, wearing a helmet, with a sign saying, "I sincerely apologise to the traffic police ignoring red lights!" has recently caught the attention of Internet citizens.
VietNamNet Bridge – A picture of a man, wearing a helmet, with a sign saying, "I sincerely apologise to the traffic police ignoring red lights!" has recently caught the attention of Internet citizens.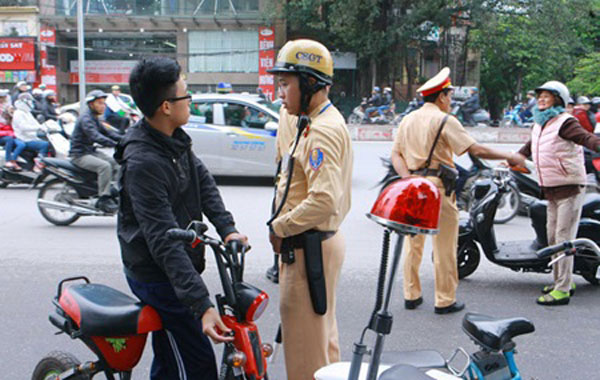 Illustrative image -- File photo
The person who took the picture said it was taken at District 3's Nguyen Dinh Chieu Street in HCM City. The man was later identified as Nguyen Van Dien, who lives in District 9.
Dien is reported to have a son with fatal disease. He had ignored traffic lights many times while taking his son to the doctors so the child asked him to apologise for his behaviour, according to Tuoi Tre (Youth) newspaper.
After making the request, the child's illness became serious and he repeatedly lapsed into a coma.
The story of the father and son has shaken the conscience of many people.
Despite the fact that the child is struggling with a severe disease, he has earned the respect of other people.
It shows us that following traffic regulations is proof of a law-abiding citizen and the rising awareness of road users is the most effective way to prevent accidents on the roads.
According to statistics from the National Traffic Safety Committee, as many as 300 people died and 380 injured by traffic accidents during the recent nine-day Lunar New Year holiday. Besides not wearing helmets, vehicles drivers violated regulations on road, speeding or carrying too many people or drinking alcohol are reasons for a rise in casualties.
Also on Lunar New Year holidays, more than 3,400 people were hospitalised for being involved in brawls, according to the Ministry of Health. The number of deaths caused by such brawls this year (as of the third day of the festival) increased 2.5 times as compared with last year.
I am sure that if adults were aware of their responsibility, not so many people would have died on the holidays.
Even a child knows the difference between what is right and what is wrong and how to abide by the laws, why don't adults do the same?
Many people ignored red lights if the road was not so crowded and traffic police were not present at the scene.
Some people argued that the father should apologise to road users rather than traffic police as his actions might pose a risk to them. But I agreed with others who thought that it was no longer important who he was saying sorry to, but it was more important that the father realised his error. He was so brave to undertake such an action.
Nguyen Minh Hang, a mother of two boys in Ha Noi's Thanh Xuan District, said she was moved after reading the story on the Internet.
"Dien's action is praiseworthy," she said, adding that our lives would become better with such good deeds.
Much has been done by the Government to raise awareness on traffic safety among parents and children alike. Decrees have been issued, the subject has been introduced in school curricula, and students are reminded of the need to wear helmets at the flag saluting ceremony every Monday, and so on. However, the situation has not yet improved.
Ha Noi police said they have recently started imposing fines on pedestrians for violating traffic regulations in a bid to reduce traffic accidents in the city.
The rule came as statistics from the department showed that 112 out of 1,696 traffic accidents last year were relating to pedestrians.
More than 420 pedestrians have been fined in two weeks beginning February 1, according to the police.
Most of the violations are caused by pedestrians who do not use zebra crossings to cross the streets, jaywalking, or walking on roads designed only for vehicles.
Dao Vinh Thang, head of Ha Noi's Road and Railway Traffic Police said the traffic police would deal strictly with pedestrians who violate rules in the future.
Let us hope that the latest regulation will not fade away such as the one that made helmets compulsory for children and youngsters in April last year.
Under the regulations, people carrying children above six years old in front or riding pillion, and children themselves riding motorcycles or electric bikes without helmets will be fined between VND100,000 (US$4.4) and VND200,000 ($8.9). A notice of violations will also be sent to schools of any students caught in violations.
The campaign has gained initial success at the beginning. It helped people understand that wearing helmets does not only mean abiding by the law, but it also makes them and their children safer.
About 290 students or parents who did not wear helmets were fined by Ha Noi Police in two days of implementation of the campaign.
However, the campaign has so far failed to produce a change in the behaviour of road users. In my observation, there are still a lot of people, especially students, riding pillion without helmets in the country.
In my opinion, campaigns work best when combined with other interventions, such as enforcement of traffic regulations.
To ensure traffic safety, it is necessary that the awareness of road users be improved and all traffic violations be handled by competent agencies regularly.
It is said that children always follow the example of their parents. If parents follow traffic regulations, it would inculcate a culture of following the law. Otherwise, many tragic accidents will continue to occur due to the low awareness of road users.
by Mai Hien
VNS