Parents want extra classes for their kids despite ban
One killed, 17 injured in highway accidents; Ministry of Health launches population action programme; Gov't asks for probe into petrol theft case; Parents want extra classes for their kids despite ban; Supplement prescriptions banned
Parents want extra classes for their kids despite ban
Parents and teachers are continuing the practice of double-shift classes for primary school students in spite of a ban by the Ministry of Education and Training.
The Ministry had further sought to reduce pressure on primary students, asking schools to opt for comments on a student's performance rather than the traditional grading system.
But many schools in HCM City have continued to offer extra classes until 8pm, which remain popular with parents because they do not want their children to fall behind their peers. The extra classes also serve the purpose of keeping children occupied because most parents cannot collect their children at 4.30pm, the authorised end of classes.
"I teach 15 students, mostly children of my acquaintances," said a teacher at Go Vap Primary School. "Parents have needs, but we have to do this in secret."
Le Ngoc Diep, head of the Primary Education Division of the HCM City Education and Training Department, agreed, saying extra classes are more popular in the inner city because parents often could not get off work to collect their children.
Pham Thuy Ha, headmaster of Nguyen Van Troi Primary School, said many parents do not have time or are unable to supervise a child's extra study, so they have to find another solutions. Primary teachers, who earn less than secondary school teachers, see the extra classes as a way to supplement their income.
The HCM City People's Committee issued a new resolution about extra classes, making teachers report to their headmasters and local authorities. But Ha said teachers were skirting the rule by under reporting the number of students they were teaching by as much as 50 percent.
One killed, 17 injured in highway accidents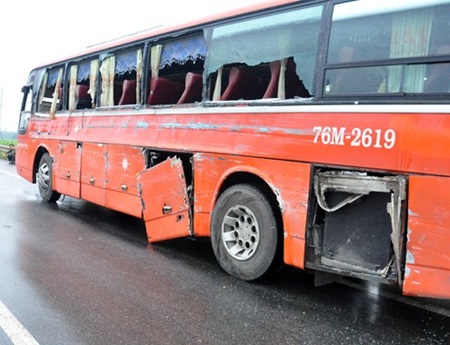 Sixteen people suffered severe injuries in a traffic accident involving several vehicles on the 1A National Highway in the central province of Quang Ngai today.
At about 6:30am, a truck being driven by a local man, Pham Ngoc Linh, 34, accidently hit a 77-year-old cyclist. Then Linh lost control of the vehicle's steering wheel and hit the side of a coach coming from the opposite direction.
The coach was carrying 40 workers, who were on their way to work at the Dung Quat Industrial Zone.
The cyclist and 15 workers were injured, three of them critically, in the accident.
Another serious accident took place on the 5 National Highway in the northern province of Hai Duong yesterday, killing one woman.
Linh lost control of the vehicle's steering wheel and hit the side of a coach coming from the opposite direction. — Photos VNe
A container truck bound for Hai Duong from Ha Noi lost control and hit two cars and a tricycle travelling on the other side of the road.
A car passenger, Nguyen Thi Hoan, 54, was killed, while her daughter Nguyen Thi Minh Hang suffered severe injuries.
The authorities are investigating the cases further.
Ministry of Health launches population action programme
A national take-action month on population was launched by the health ministry yesterday in an effort to strengthen the community's awareness of how population growth can affect quality of life, family welfare and society.
Speaking at the launching ceremony, deputy minister of health Nguyen Viet Tien said that the country's population control and family planning programmes faced many challenges in terms of scale, structure and quality. Population size and distribution had direct impacts on the health of the country's development.
"The nation's population is large and continues to increase despite efforts to curb the birth rate with policies meant to limit couples to two children, which were passed back in 2006," said Tien.
"The country's birth rate continues to fluctuate unpredictably because some provinces are still above their target birth rates while others have such low birth rates that it causes damage to the country's socio-economic development," stressed Tien.
The deputy minister said that the annual take-action month aims to inform leaders, social organisations and families as to the methods and importance of population and family planning.
The month of action includes running public relations campaigns and disseminating information to promote the Government's current policies. Population, family planning and reproductive health services will also receive heightened attention and support, especially in remote mountainous and island areas.
Health ministry statistics show that despite the room for improvement, Viet Nam has achieved remarkable results in population and family planning programmes.
The average number of children for couples of reproductive ages reduced to 2.1 in 2013 from 6.4 in 1960. Population growth rate also reduced to 1.05 per cent last year compared to 3.5 in 1960. And average life expectancy reached 73 last year from 40 in 1960.
Gov't asks for probe into petrol theft case
The Government asked the southern province of Binh Duong's authorities to look into a reported increase in petrol theft from Chanh My Petroleum Depot.
The move was made after several newspapers reported that some petrol tank truck drivers stole fuel as they transported it to petrol stations from the depot in Thu Dau Mot city. Drivers would reportedly pump other liquids into the tanks to replace the stolen petrol. The mixed fuel could cause damage to vehicles that use it.
Phan Van Vuong, who lives near the depot, said people have been stealing the petrol for many years.
"What worries users like us the most is that the petrol is being mixed with another liquid, reducing the petrol's quality and thus creating a risk of fires or explosions for motorbike and car drivers," he said.
Local police are investigating, and will strictly punish those responsible, said Vo Thanh Duc, director of the provincial Police Department.
Project encourages breast-feeding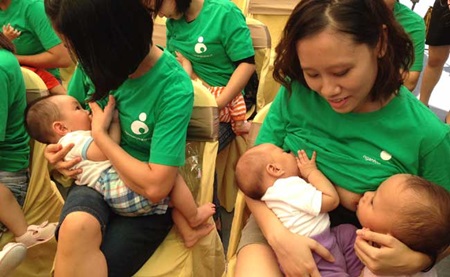 The Alive and Thrive's project on improving infant and young child feeding (IYCF) practices has achieved remarkable results in reducing under-nutrition of children in Viet Nam.
The six-year-long project's two key counselling models, the Mat troi be tho social franchise and IYCF support groups, have contributed to the dramatic increases in breast-feeding rates and additional improvement in complementary feeding.
"The most important result of all is the impact that these improved feeding practices will have on the health and well-being of Viet Nam's most precious resource, its children," said Ellen Piwoz, senior programme officer of the Bill and Melinda Gates Foundation that funded the Alive and Thrive initiative, at a workshop today.
"By creating a new social norm for breast feeding, new generations of well-nourished children will be able to achieve their full potential in life," added Piwoz.
From 2010 to 2014, exclusive breast-feeding rates have increased from 19 to 58 per cent, almost tripling in programme areas that had the Mat troi be tho social franchise, where mothers received IYCF counselling services.
The network of 1,100 social-franchise locations has provided counselling on infant feeding to more than two million pregnant women, lactating mothers and caregivers in 15 project provinces since 2010.
IYCF support groups were developed for remote areas that fall outside the mainstream health system, which was particularly important for reaching the ethnic and minority communities. The model helped improve exclusive breast-feeding practices by more than five times over areas that did not have any support groups.
The initiative's workplace lactation support programme, implemented in partnership with the General Confederation for Labour and private enterprises throughout Viet Nam, helped to set up more than 70 lactation rooms in workplaces of the Government, and the garment and electronics industries.
Despite significant progress being made, experts said that more work remains to be done to improve child nutrition in Viet Nam. They added that the successful interventions need to be sustained and scaled up to reach more people in more provinces throughout the country.
Health financing is still needed to ensure that all families receive proper IYCF and nutrition counselling. The rates of early initiation of breast feeding and continued breast feeding with complementary feeding until a child is 24 months old, still need to improve.
Ha Noi targets social housing
Ha Noi authorities have vowed to speed up the construction of 12 social housing projects aimed for completion next year.
The additional 812,000 sq.m will increase the total area of low-income housing to about 1.3 million sq.m.
The project is part of the city's 2015 to 2020 housing development plan released last week. Other targets include developing 95,400 sq.m of houses for workers, 59,900 sq.m of student housing, 221,100 sq.m for resettlement housing and about 2.4 million sq.m for commercial housing.
Also next year, the city has planned to revoke land use rights for about 1,300 hectares of land so it can build 565 new social and economic development projects. The money for compensation, site clearance and resettlement will come from the city's budget.
Ha Noi authorities aim to build 3.1 million sq.m of social housing by 2020. But the city's People's Committee said the target would only meet 52 per cent of demand.
A recent survey by Ha Noi's Department of Construction predicts that by 2020, demand for low-income housing will increase by nearly 50 per cent. It attributes the rise to the growing trend of migrant workers from rural areas buying subsidised houses instead of renting.
Houses take up 165.3 million sq.m in Ha Noi, according to statistics. The average amount of housing space per person is estimated to be 22.5 sq.m. Those in urban areas have 26.4 sq.m per person, while rural areas only have 19.1 sq.m per person.
However, some criteria for housing for low-income people, workers, students and people who have been resettled are reportedly inaccurate.
Supplement prescriptions banned
Doctors are no longer allowed to prescribe dietary supplements under a requirement signed by Tran Quang Trung, director of the Vietnam Food Administration (VFA) under the Ministry of Health.
A 2008 Ministry of Health decision prohibited doctors from including dietary supplements in prescriptions for outpatients. However, the VFA recently received reports that some hospitals and doctors were prescribing them.
Associate professor Tran Dang, chairman of the Functional Food Association, told Phap luat (Law) e-newspaper that enterprises often promoted supplements as medicines.
Nguyen Kim Oanh, 60, living in Ha Noi's Nam Tu Liem District, said that a year ago she was advised to buy three kinds of supplements by a doctor at Xay Dung Hospital, the hospital of the construction sector. Buying them cost more than VND3 million (US$140) – her whole monthly pension.
"The doctor even asked me to wait for an hour at the hospital so that one of her acquaintances could bring me the supplements. Then I saw that she received some commission from the supplier," Oanh said.
After taking the supplements, Oanh did not see her health improve and had to see another doctor.
"The ban will help patients like me avoid wasting money on ineffective supplements," she said.
However, doctors feared the ban would be impossible to enforce.
One doctor from Ha Noi's Bach Mai Hospital said that many doctors continued to prescribe supplements, as no one inspected them and they saw no consequences for doing so.
"They receive commissions from distributors, so they do not obey the regulations," she said.
Supplements were not dangerous and could even be beneficial when taken in conjunction with regular medicine, she said. The problem was that they were expensive, so it was not right to prescribe them to poor patients.
War memorial dedicated to Vietnam, Cambodia heroes inaugurated
A memorial dedicated to Vietnamese and Cambodian soldiers who died rescuing Cambodia from genocide was inaugurated in Cambodia's north-eastern province of Stung Treng on December 9.
The monument was built on a hill near the provincial centre on a 5,000 sq.m site, featuring Vietnamese and Cambodian soldiers fighting side by side to protect two Cambodian children.
Its construction was funded by donations of officers and soldiers of Army Corp 15 under the Vietnam Ministry of National Defence.
Speaking at the inaugural ceremony, Cambodian Deputy Prime Minister and Minister of Defence General Tia Banh thanked the Vietnamese Government, army and people for supporting Cambodia during its cause of national independence, construction and development.
He hailed the great role of Vietnamese voluntary soldiers in helping the Cambodian people to overthrow the Khmer Rouge regime and fighting alongside the Cambodian army in preventing the return of the genocidal regime in the 1979-1989 period.
The official stressed that the Cambodian army will continue to promote cooperation activities with their Vietnamese counterpart for peace and interests of the two peoples.
Meanwhile, local authorities and people along the shared border line will further work together to build a borderline of peace, stability and prosperity, he added.
Israel shares agriculture experience with Mekong Delta
Israeli experts shared experience in agricultural production during a workshop held in the Mekong Delta city of Can Tho on December 9.
The event was in preparation for the building of a joint development programme between the Business Association of High-Quality Vietnamese Products, the Leading Business Club (LBC), and the delta's localities of An Giang, Ben Tre, Can Tho and Dong Thap.
Head of the Systematic Inventive Thinking in Southeast Asia Daphna Murvitz said Israel excels in the administration of water resources, geo-thermal technology, energy, and desertification.
She boasted that up to 70 percent of waste water in the country is recycled and its drip irrigation technology for desert agriculture is widely applied in developed nations.
Director of the LR ORCA Group in Southeast Asia Matan Neminov said the farming land in Israel is only equivalent to one province of Vietnam , over 60 percent of which is desert.
Despite labour and water shortages and far distance from export markets, Israel has gained high productivity thanks to its modern agricultural system, advanced technology, and links between the State, businesses and farmers.
Vietnam is absolutely capable of learning and applying Israeli experience to create high-quality products, he said.
The Mekong Delta is the largest farming area in Vietnam , accounting for 40.7 percent of the national agriculture and forestry output, 53.4 percent of rice, 70 percent of fruit and 68.7 percent of seafood. Ninety percent of the country's rice export volume and 70 percent of seafood export turnover come from this region.
RoK war veterans welcomed in Quang Nam
A delegation of the Korean War Veterans Association (KWVA) led by its President Kim Deuk Nam paid a visit to the central province of Quang Nam on December 9.
At a reception for the veterans, Chairman of the provincial People's Committee Le Phuoc Thanh praised the KWVA's assistance to the care and rehabilitation services for local people with disabilities.
He also spoke highly of the inauguration of the Vietnam-Republic of Korea Peace Village worth 1.9 million USD funded by the KWVA in 2011.
The village, located on an area of 3.2 ha in Tam Dan commune, Phu Ninh district, has so far taken care and provided rehabilitation services for 84 people with disabilities, of whom 36 returned home.
For his part, the KWVA President pledged that the association will continue to provide effective support to the disabled in Quang Nam, thus contributing to strengthening the friendship between the two countries.
On the same day, over 100 locals received free medical examinations from the association's doctors.
Thua Thien-Hue puts calamity prevention centre into use
The central province of Thua Thien-Hue officially put into operation a natural disaster prevention centre on December 9.
The 3-storey centre was built with a non-refundable aid worth 8.5 billion VND (over 399,000 USD) from the United States Pacific Command (USPACOM).
It will be equipped with more communication equipment and devices worth 4.6 billion VND (nearly 216,000 USD), which are also funded by the USPACOM. The installation will be implemented from now to June, 2015.
The facility is expected to help strengthen the natural calamity adaptation capacity of the province, which is often hit by floods and storms.
Talk highlights people's participation in corruption fight
Preventing and fighting corruption are no longer considered the only task of the Government, heard a talk on anti-corruption in Hanoi on November 9.
Participants agreed that people have increasingly been aware of their role, rights, benefits and responsibility in combating the scourge.
Local people have proactively participated in exposing corrupt behaviors along with proposing ideas to promote transparency at State offices and administrations at all levels, speakers said.
The event was held by the Government Inspectorate and the United Nations Development Programme as part of a project to strengthen the government's capacity in implementing the UN Convention against Corruption (UNCAC) and promote the role of non-state actors in the work.
The talk, which marked the International Anti-Corruption Day, also aimed at raising public awareness of policies and laws on anti-corruption, while encouraging the positive and active engagement of the people in the fight.
Participants agreed that the UNCAC, which entered into force in 2005, contributed largely to putting the issue of anti-corruption in the national agenda of all countries around the world.
The convention allowed the countries to get closer together in the fight through effective cooperation tools and channels, they said.
Vietnam joined the UNCAC in 2009.
The Vietnamese Government is urged to continue stepping up the dissemination of anti-corruption laws along with taking severe punishment for corrupt behaviours so as to draw people's greater participation in the effort.
During the talk, the success of the "school is beautiful" project, which encourages students' actions against corruption, was also highlighted.
On the occasion, an exhibition was also organised to showcase publications and tools to prevent and fight corruption at national and international scales.-
Int'l organisations' AIDS prevention efforts hailed
Deputy Prime Minister Vu Duc Dam has praised the positive assistance and effective coordination of foreign countries and international organisations in the fight against AIDS, drugs and prostitution in Vietnam.
In addition to financial support, the organisations have involved in building institutions and polices as well as supervising the implementation of projects, he said at an annual meeting with representatives from embassies and international organisations and donors operating in this field in Hanoi on December 9.
Dam, who is head of the National Committee for AIDS, Drugs and Prostitution Prevention and Control, stated that Vietnam is facing a lot of difficulties in the fight and the assistance of the international community is crucial for the country to maintain its attained results.
He expressed his wish that donors will coordinate with Vietnam in seeking more aid resources, committing the country's most effective use of international aid as well as domestic sources.
Pratibha Mehta, UN Resident Coordinator in Vietnam, acknowledged that Vietnam has made necessary decisions to realise the objectives of the campaign against AIDS, drugs and prostitution.
She said she hopes that Vietnam will multiply good models to successfully fulfill the Millennium Development Goals (MDGs).
International organisations also pledged continued support and assistance for Vietnam to implement policies and programmes in this field.
Remembering all those who sacrificed
A solemn monument was erected on a high hill top overlooking a river flowing through the Sekong provinces of Cambodia in eternal remembrance of all Vietnamese and Cambodians who made the ultimate sacrifice in the country's revolutionary struggle.
Speaking at the unveiling ceremony on December 9 in Stung Treng, Cambodia's Deputy Prime Minister and Minister of National Defence Tea Banh said the monument symbolizes the deep gratitude of Cambodians to the Vietnamese people.
On behalf of Corps 15, under the Ministry of Defense, Major General Dang Anh Dung in turn hoped that the monument would be an everlasting reminder of all those who sacrificed during the 1979-1989 period.
May the monument forever serve to help boost friendship between the two countries, Dung said.
Vietnam-Japan Friendship Association's chapter holds congress
The Dong Thap province chapter of the Vietnam-Japan Friendship Association hold its third congress (2014-2019) on December 8.
The congress elected a new executive board with 30 members. Deputy Chairman of the provincial People's Committee Nguyen Thanh Hung was elected to as head of the association.
Over the past years, the chapter in collaboration with the Vietnam Union of Friendship Organisations (VUFO) has organised numerous meetings and workshops with a view to promoting the province's culture and image.
Apart from introducing Japan's small scale projects, it has helped provincial agencies to meet and mobilise aid from Japan's government and non-governmental organisations.
From 1997 to date, the Mekong Delta province of Dong Thap has received over VND83 billion (US$3.8 million) in assistance in the fields of health care, transportation, water supply and drainage, and education.
Of the assistance, the Japanese General Consulate provided medical equipment worth over VND4 billion (US$184,000) for general hospitals in Tam Nong and Tan Hong districts.
In addition to helping provincial businesses learn into and expand their export markets to Japan, the chapter acts as a bridge linking the countries' businesses to seek opportunities for cooperation in agriculture, trade, human resource development and processing industry.
HCMC to move 1, 500 residents out of dangerous areas
HCMC People's Committee yesterday held an emergency meeting with relevant departments, agencies and People's Committee of 24 districts to discuss measures in response to the super typhoon Hagupit.
A representative of People's Committee of Can Gio district said that the local would move 1,500 people in Thanh An island commune and others out of dangerous areas on December 10.
Speaking at the meeting, chairman of HCMC People's Committee Le Hoang Quan said that the city would be affected directly if typhoon Hagupit made landfall in the southern region.
With the weather situation, Chairman Le Hoang Quan suggested local authorities and people should keep close watch on the moment's typhoon Hagupit direction.
More people can access to Methadone treatment, ARV drugs
It needs to provide Methadone treatment to more people and safe needles and condoms to high risk groups, said Deputy Health Minister Nguyen Thanh Long at a seminar on Methadone and antiretroviral drugs yesterday.
The seminar was held by the Ministry of Health's Vietnam Administration of HIV/AIDS Control to review the implementation of the project of funding for Methadone and antiretroviral (ARV) drugs.
The Deputy Minister said that health care sector should expand consultation, HIV tests and supply enough antiretroviral (ARV) drugs, Methadone and other medications.
At the seminar, head of the Vietnam Administration of HIV/AIDS Control Nguyen Hoang Long said that HIV/AIDS was the most emerging issue in the community's healthcare mission.
The disease is one of three illnesses that caused most deaths in the country with more than 2,000 people succumbing to the disease annually, he added.
Every year, the number of people living with HIV/AIDS increases by 12,000-14,000. Currently there are over 220,000 HIV-infected people nationwide who need continuous treatment and medical check-up. However, funding for the HIV/AIDS prevention and controlling is not stable. The fund is mainly from non-refundable aids which have been cut down.
The Vietnam Administration of HIV/AIDS Control said that as of November 30, 2014, 38 cities and provinces have implemented the project of Methadone treatment with over 23,160 drug addicts being treated with Methadone in medical clinics, achieving 75.1 percent of the target.
As of August, 2014, around 88,624 people were treated with antiretroviral (ARV) drugs, accounting for 37 percent of alive people living with HIV. Treatment result showed that the health condition of people infected with HIV is improved remarkably.
The drug has helped curb 96 percent of transmission risk and increase labor capacity. However, just a few people can access to the drug.
Since 2013, WHO has also recommended the ARV use for the prevention of HIV infection, particularly for pregnant women, young children, and key populations exposed to HIV risk.
Local medical students can get German training
Students of Pham Ngoc Thach University of Medicine will have the opportunity to attend Germany's medical training program at the university's Vietnamese-German Faculty of Medicine.
Nguyen Si Huyen, deputy head of the faculty, told the Daily on December 8 that the faculty was established by the local university in partnership with Germany's Johannes Gutenberg University of Mainz (JGM) last year to train doctors in accordance with European criteria.
The candidates for the program will be selected via interviews conducted by a panel of local and German professors. The selected will be taught by German professors of JGM and have a chance to take part in postgraduate programs in Germany.
Huyen noted Vietnamese participants of the medical training program will be paid when they study or do research in Germany as part of the program.
Amsterdam Mayor visits Hanoi-Amsterdam High School
A Dutch delegation led by Amsterdam Mayor Eberhard Van de Laan visited Hanoi-Amsterdam High School on December 10.
School headmaster Le Thi Oanh briefed the guests on the development of the school and thanked the Dutch people for their assistance in recent times.
Oanh recalled that in 1972 when the Vietnam War was in one of its most brutal periods, Hanoi was under heavy bombardment by the US Air Force. Dr. I. Samkalden, the then mayor of Amsterdam, the Netherlands, started a campaign to mobilize his people to donate for the establishment of a high school in Hanoi to express their support to the citizens of Hanoi. The result of this campaign was the founding of Hanoi – Amsterdam High School. September 5, 1985, marked the official commencement of the first school year at Hanoi – Amsterdam High School.
Twenty-nine years later, the school is now a cradle of education to train young talents and a symbol of friendship between the two countries.
Pham Van Dai, Vice Director of the Hanoi Department of Education and Training, said the cooperation between Amsterdam and Hanoi has achieved significant results. He hoped that the Amsterdam mayor will help boost education and training ties between the two capital cities and the Hanoi – Amsterdam school.
Mayor Eberhard Van de Lann showed his deep impression on the warm welcome of teachers and pupils of the Hanoi-Amsterdam school and hoped more friendship projects will be developed by the two capital cities.
On the occasion, the mayor also attended the opening ceremony of the exhibition "Anne Frank: A History for Today" and joined the school's teachers and pupils at the seminar "Anne Frank and Dang Thuy Tram: A History for Today".
VNN/VNA/VNS/VOV/SGT/SGGP/ND