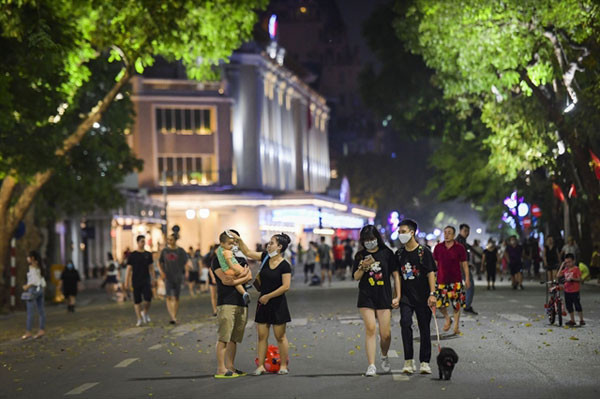 The city now has three existing pedestrian zones, namely the Hoan Kiem Lake, part of the Old Quarter and Trinh Cong Son Street.
The fourth pedestrian zone of Hanoi will be launched late this month around Son Tay Old fortress citadel, a military base built by King Minh Mang in 1822 to protect Thang Long Imperial Citadel.
Visitors to the zones will have a chance to enjoy contemporary art performances, street music, folk dance, portrait painting, calligraphy, boat racing, fishing, and water puppetry.
Many art and photo exhibitions, book events, and activities for children will also be held together with culinary services, souvenirs stores and typical products of Son Tay.
Meanwhile, other areas across the city have been proposed to open pedestrian zones, including the night food street at Ngoc Island - Ngu Xa in Ba Dinh District; the business and service quarters around Ngoc Khanh Lake in Ba Dinh District, a walking space around Thien Quang Lake in Hai Ba Trung District, a pedestrian street in the South New Urban Area project, Ring Road 3 – Bitexco in Hoang Mai District, and a walking space around Van Mieu – Quoc Tu Giam in Dong Da District.
Considered a tourism product, pedestrian spaces in Hanoi are mostly following of the model that is applied to the Hoan Kiem Lake pedestrian space.
However, it's easy to see that the Hoan Kiem Lake pedestrian space has advantages that others cannot compare to, at least those relating to the site's culture, history, architecture and landscape.
Many people are concerned that if the localities cannot choose a highlight that creates the "soul" of their walking space, it is likely that these spaces will be the same, or even just turned into a market for goods trading.
The walking space on Trinh Cong Son Street in Tay Ho District was designed to be a space for performing arts and street food. The pedestrian street used to be quite crowded partly because it was new with abundant activities to offer. It also had the advantage of exploiting the space along the West Lake, quite a popular destination given the landscape and the range of cafes, restaurants, and bars that are oriented towards both locals and foreigners in the city.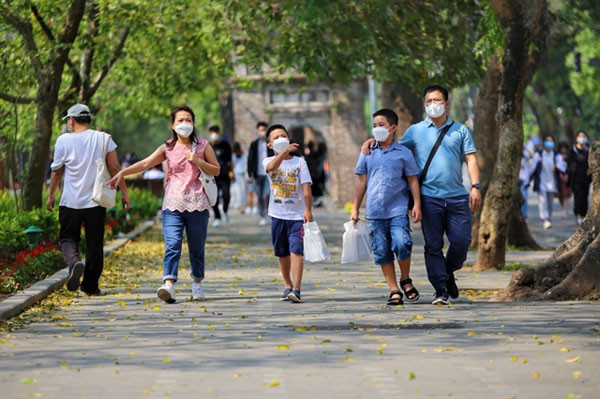 However, after only two years of operation, the pedestrian space on Trinh Cong Son Street has become less attractive due to the absence of cultural and artistic activities and visitors.
Since 2020 during the COVID-19 pandemic, the Trinh Cong Son Street walking space has temporarily stopped operating.
Vice Chairman of the People's Committee of Nhat Tan Ward Cong Minh Tuan said that for the last two years, the pedestrian space of Trinh Cong Son Street had deteriorated.
As the ward planned to re-open the walking street next month, the ward community built a road connecting the walking areas with two lotus ponds along the West Lake so that visitors could take photos, Tuan said.
Local authorities also decorated the road surface with graffiti, re-organised the food sale areas and arranged cultural, artistic and culinary activities.
Tuan said that besides opening a walking space, the management and operation of the space were really important to ensure its effectiveness.
"People first come for curiosity. If they find the space attractive, they will re-visit often and vice versa. They will only come once," he said.
Architect Tran Huy Anh from the Hanoi Association of Architects said that it was essential to create entertainment and relaxing spots for residents and visitors to walking zones.
"Each locality has a different characteristic: economy, society, natural topography, and management ability. That is a challenge to develop and operate a pedestrian area," he said.
Even when surveying people, there is a high consensus on opening a walking space. When the space is opened, there will be many inadequacies and conflicts with people's daily lives," he said, emphasising the need for careful consideration and trials.
Vuong Thuy Duong, Senior Expert in Urban Planning & Design from Consulting firm EnCity said that walking streets were a way to promote the role of public space better to serve the daily life needs of the local community.
In Vietnam, two successful models were Hoan Kiem Lake walking street in Hanoi and Nguyen Hue pedestrian street in HCM City.
Their success lies in their prime location in the city centres, available destination for people, and the great need for people to share public space. They are also linked to facilities that offer creative arts, cultural activities, entertainment, and community exchanges.
"After the two successful models, we can see that the demand for using public space in the city is very large. When the number of cars and motorbikes has become overloaded, and there is a lack of green space, people always need walking, outdoor activities, and sharing time with their families," she said.
Pedestrian street models in Vietnam were mainly designed to connect well with the main and important open spaces such as green spaces, commercial highlights, or works of historical and cultural value.
"Everyone has the right to access this green and open space, so it's important to design the pedestrian street in a way that connects and makes the people have the best experience while exploiting the efficiency of the street," she said
The criteria that should be prioritised when designing a pedestrian street are convenience, she said, explaining that people prefered safety, a pleasant walking experience, open space and commercial space.
In addition, visitors would like a series of experiences to be added, especially taking advantage of the inherent urban highlights. It can even be designed to still be used for traffic on weekdays, and at weekends be used as an open a pedestrian street as with Hoan Kiem Lake.
People also want an experience of discovering new destinations, so it was necessary to design a pedestrian street that connects different destinations, she said.
Source: Vietnam News