Pfizer Inc and Japan's Astellas Pharma Inc said on Thursday their blockbuster prostate cancer drug met the main goal of a key study that tested it for treating the disease in its early stages.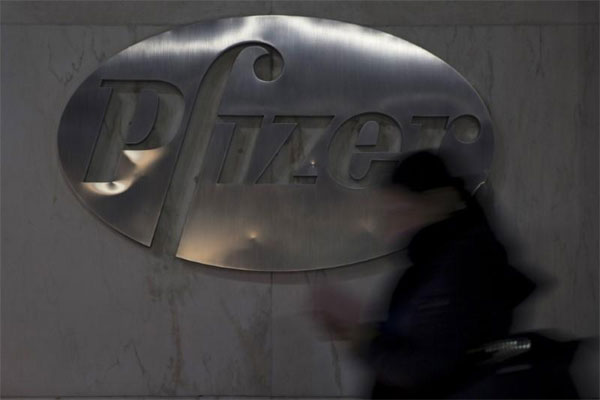 A woman walks past a Pfizer logo on their building in the Manhattan borough of New York April 6, 2016.
The positive data sets the stage for an earlier-than-expected approval of the drug, which is already cleared to treat metastatic castration-resistant prostate cancer (CRPC) - where the cancer has spread to other parts of the body.
Pfizer said the drug, Xtandi, in combination with an anti-hormone therapy, was statistically significant in improving survival in men with non-metastatic CRPC without their cancer spreading, compared with the standalone anti-hormone therapy.
Pfizer's shares were up 1.8 percent as an approval to expand the use of the drug could significantly boost sales.
"It increases the target market size by perhaps more than double," Evercore ISI analyst Umer Raffat said.
There is no FDA-approved treatment for non-metastatic CRPC, according to Deutsche Bank analysts.
The drug, which Pfizer gained access to after it bought Medivation in a $14 billion deal last year, generated global sales of more than $600 million in the April-June period.
Pfizer and Astellas jointly sell Xtandi in the United States, while Astellas owns the rights to develop and sell Xtandi outside the United States.
Analysts said the early success of the trial, which was originally set to be completed in 2019, validates Pfizer's decision to buy Medivation.
"(This) data will serve as an important catalyst for Xtandi, while also improving sentiment on the Medivation deal," Credit Suisse analysts wrote in a research note.
Pfizer is pinning its growth on approvals and success of 15 drugs, including Xtandi and breast cancer drug Ibrance, over the next five years.
Earlier this month, the U.S. Food and Drug Administration approved the company's Mylotarg for certain patients with acute myeloid leukemia, re-clearing a drug that had been pulled off the market in 2010.
The positive Xtandi trial comes three months after data showed Johnson & Johnson's rival drug, Zytiga, reduced chances of death for men newly diagnosed with high-risk prostate cancer that had spread to other parts of the body.
According to the American Cancer Society, more than 161,000 men are estimated to be diagnosed with prostate cancer this year in the United States.
Pfizer's shares were down 1.5 percent at $35.60 in late morning trading on Thursday.
Source: Reuters