Photo exhibition celebrates Vietnam-Indonesia diplomatic ties
A photo exhibition marking the 65th anniversary of Vietnam-Indonesia diplomatic ties was opened in Yogyakarta, Indonesia on December 7, in both the online and offline forms.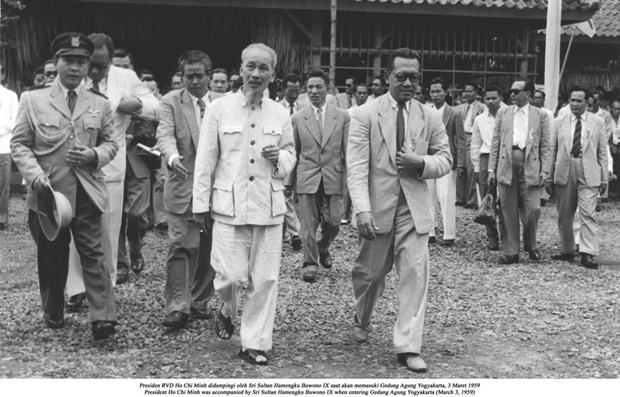 A photo displayed at the exhibition (Source: VNA)
In pre-recorded welcoming remarks, Megawati Sukarnoputri, former Indonesian President and current Chair of the Indonesian Democratic Party of Struggle (PDI-P), shared her memories about late President Ho Chi Minh and her father - late President of Indonesia Sukarno - during the former's visit to Indonesia in 1959.
The bilateral relationship, nurtured by the two late Presidents, will last forever, she believes, proposing the younger generation continue maintaining the ties.
Vietnamese Ambassador to Indonesia Pham Vinh Quang recalled the development milestones in bilateral relations over the past 65 years.
He introduced Vietnam's economic achievements and expressed his appreciation of the role and position of Yogyakarta.
Sri Sultan Hamengkubuwono X, Governor of the Yogyakarta Special Region, said the exhibition is a chance for the two countries' people, especially the young, to understand more about the time-honoured friendship.
He expressed a hope for the opening of direct air routes connecting Yogyakarta International Airport, which opened in August, and Vietnamese localities to boost cooperation in investment, trade, tourism, and people-to-people exchanges.
The exhibition, which remains open to visitors until December 13, showcases 50 photos from the Vietnam News Agency featuring the visits made by Presidents Ho Chi Minh and Sukarno in 1959, and 180 other photos highlighting the development milestones in bilateral relations.
Meanwhile, the virtual exhibition and the screening of the documentary film "Friendship between President Ho Chi Minh and President Sukarno - Vietnam-Indonesia Friendship" is being held on the website virtualexpo.jogjaprov.go.id./.VNA