Photos depict traditional beauty of Hanoi, Hue and HCM City

A photography exhibition called Traditional Beauty displays about 100 photos by artists from Hanoi, Hue and HCM City.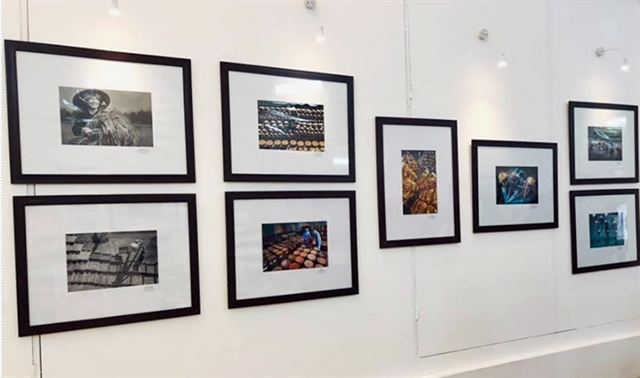 Photos are displayed at an exhibition held by art photographers' associations from Hanoi, Hue and HCM City.
The exhibition displays images of traditional life in three cities in the northern, central and southern regions of Việt Nam.
"The exhibition is an opportunity for artists to meet and exchange photographic expertise and field trips," said photographer Dang Dình An, chairman of Hanoi Artistic Photographers Association. "It gathers the best works on national culture about the life of craftspeople associated with the beauty of the country. "
It includes images of traditional festivals, craft villages and the beauty of people who are practising religion.
The vitality and cultural identity typical of the people of the three cities can be seen.
Giếng Que (Village Well), a photo by Hanoi-based Vu Dình Tuệ, shows the peaceful beauty of a Vietnamese village, while Lang Nghề May Tre Dan (Rattan Village) by Nguyen Ngọc Bình depicts the diversity of a craft village.
From central Hue, the poetic, traditional, poetic beauty is depicted in Cánh Diều Tuổi Thơ (Kite of Childhood) by Le Nhật Quang; Hoa Su Cố Do (Frangipani Flower in Ancient Town) by Ngo Thanh Minh; and Thien Mụ May Bay (Flying Cloud Thien Mụ Pagoda) by Nguyen Trung Thanh.
Photos by HCM City photographers are colourful and filled with light. Dan Lưới (Fishing Net Knitting) photo by Hoang Thach Van shows the daily work of fisherman and is especially artistic.
The processing of coconut fibres is depicted in Vu Diệu Xơ Dừa (Coconut Fibre Dance) by Nguyen Thị Thu Ba, while the photo Nhịp Diệu Muối (Salt Rhythm) by Ngo Duc Can is lively and highlights the beauty of salt making.
The photographers of each region show the traditional culture that is typical of each region. The show can be seen at the Hang Bai Exhibition House at 93 Dinh Tien Hoang Street in Hanoi. — VNS