Provinces throughout the central highlands suffered from a prolonged period of heavy downpours from August 6-8, resulting in rising water levels and causing severe difficulties for local residents.
Heavy rain has submerged thousands of houses and thousands of hectares of crops in Central Highlands provinces during the past few days, spurring rescue teams into action.
In Lâm Đồng Province, heavy rain fell from Tuesday afternoon until Thursday, submerging more than 1,400 houses and 2,000ha of crops. In several places, water rose by more than 1.5m.
Landslides occurred in Đạ Hoai District's Hà Lâm Commune and at the foot of the Bảo Lộc mountain pass.
Vũ Đức Huệ, a resident of Triệu Hải Village, Đạ Pal Commune in Đạ Tẻ District, said the rains destroyed his mulberry garden and his neighbours gardens, meaning their silkworms did not have any food.
An initial report by the Cát Tiên District Agriculture and Rural Development Division said Tiên Hoàng Commune suffered the brunt of the floods. More than 70 houses were submerged and 140ha of rice and a number of fish ponds were destroyed.
The heavy rains also destroyed 100ha of rice and damaged 200 houses in Lộc Châu Commune, the city of Bảo Lộc.
In Lát Commune, 30km from the popular tourist destination - Đà Lạt City, 41 people were successfully rescued late Thursday afternoon after being stranded in a greenhouse for more than eight hours. Floodwaters came in the early morning and quickly engulfed the area surrounding the greenhouse while everyone was asleep, but luckily they woke up in time to call for help.
The firefighters and military who came to their rescue determined that the flooding was too intense for the stranded people to swim or take a lifeboat, so they used ropes to pull them out of the greenhouse and onto dry land. The women and children were placed in a large iron basket and pulled safely to other side.
Also on Thursday morning, a police officer in Lộc Châu Commune was washed away by the floodwaters as he was trying to help unclog the drainage system on a local resident's property. His body was recovered later in the day.
In Đắk Nông Province, by 2pm on Thursday, local rescue workers had found the body of the last victim in a family of three who all died after being buried by rocks during a landslide in Đắk Sin Commune, Đắk R'lấp District the night before.
The victim was Trần Văn Hiệu, 28. Rescue workers had already uncovered the body of his wife Đỗ Thị Yến, 25, and their daughter Trần Thị Diệu, two years old.
In Đắk Lắk Province, 730 houses and nearly 10,000ha of crops in Buôn Đôn and Ea Súp border districts were destroyed. Hundreds of livestock were swept away.
The rain and flooding also damaged roads across the districts. Traffic on sections of National Highway No 1 passing through Ea Huar and Ea Wer communes in Buôn Đôn District were blocked by flooded lakes and rivers, Vietnam News Agency reported.
In Ea Súp District, flooding inundated more than 6,000ha of crops and 585 houses and killed 1,370 poultry and cattle. Landslides blocked roads and total losses were estimated at hundreds of billions of đồng.
Secretary of the district Party Committee Nguyễn Thiên Văn said the police, military and young residents have been mobilised to speed up relief work.
With 80-150mm of rainfall forecast to hit the districts in the next 12 hours, authorities must have measures in place to ensure dams and reservoirs hold, he said.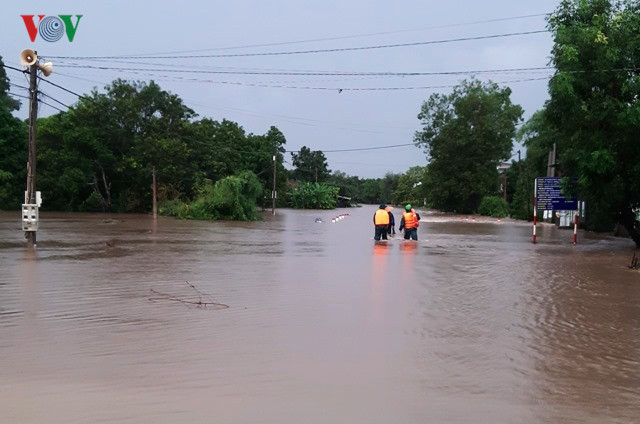 Flooding hit Buon Don district in the central highland province of Dak Lak.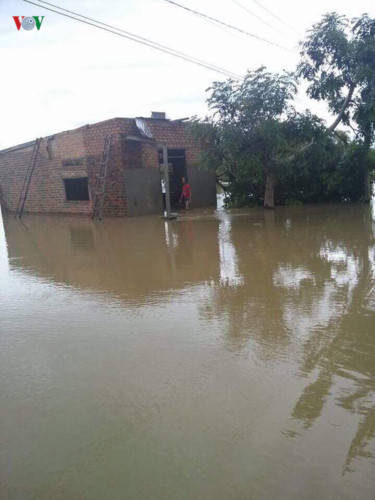 Water levels rose rapidly in Dak Lak province, reaching 360mm in some places between 8pm on August 6 and 6am on August 7. The rain badly affected hundreds of households throughout the area.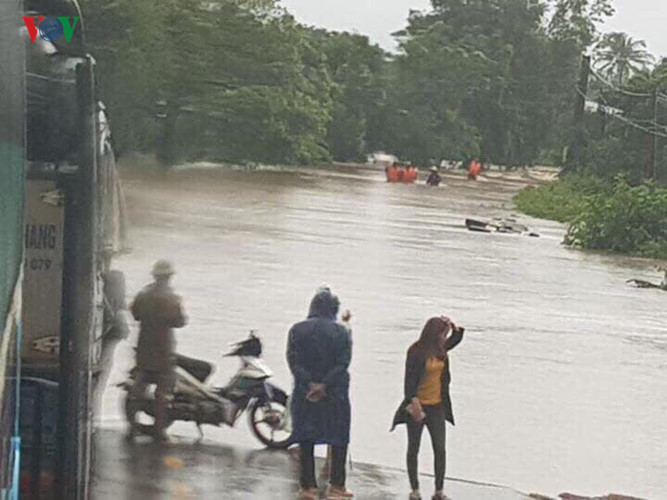 The extreme weather caused rivers and stream areas in Buon Don and Ea Sup districts to flood.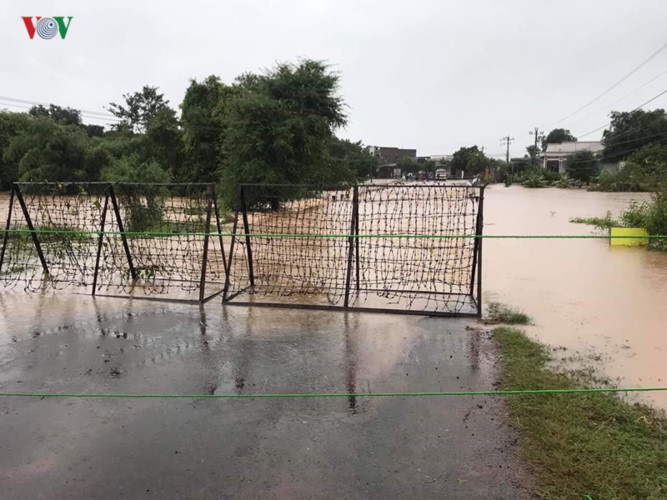 Vehicles were barred entry from a number of areas for their own safety.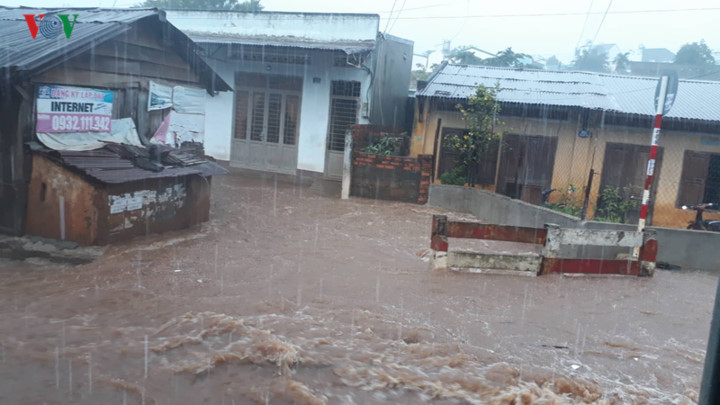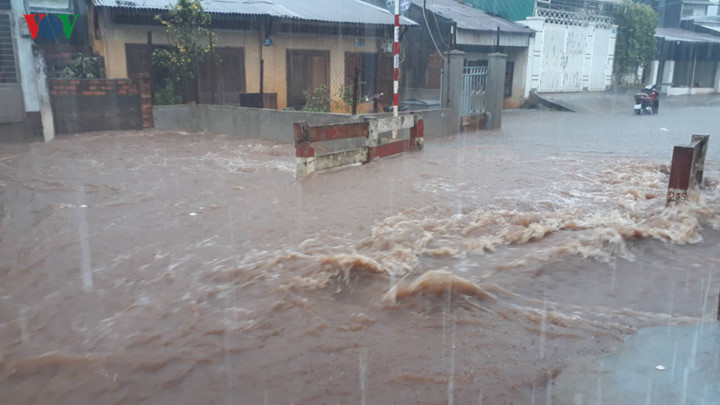 The scene of Nguyen Du street in Dak Lak province on August 7 as the street is turned into a flowing river.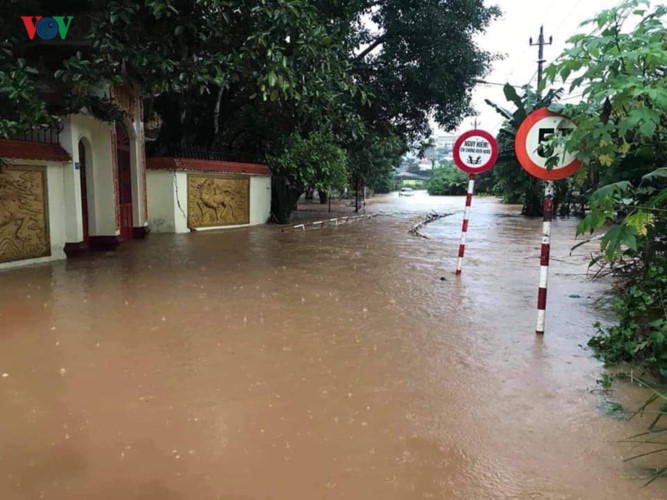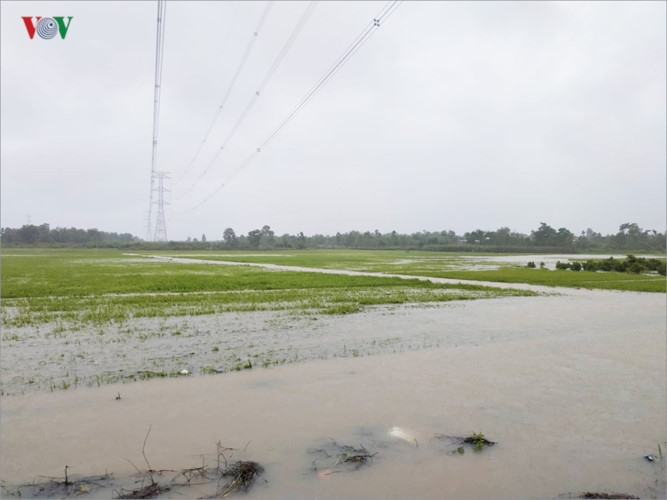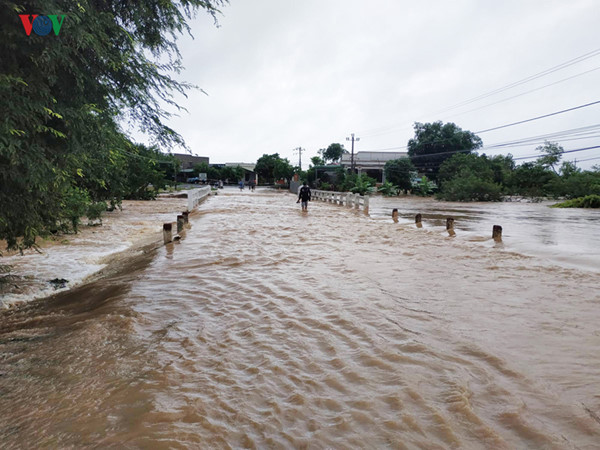 The water levels could be measured at approximately one and a half metres in some parts of the street.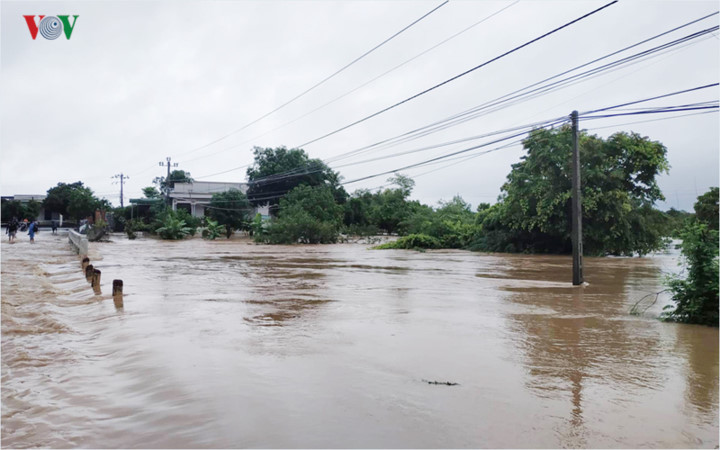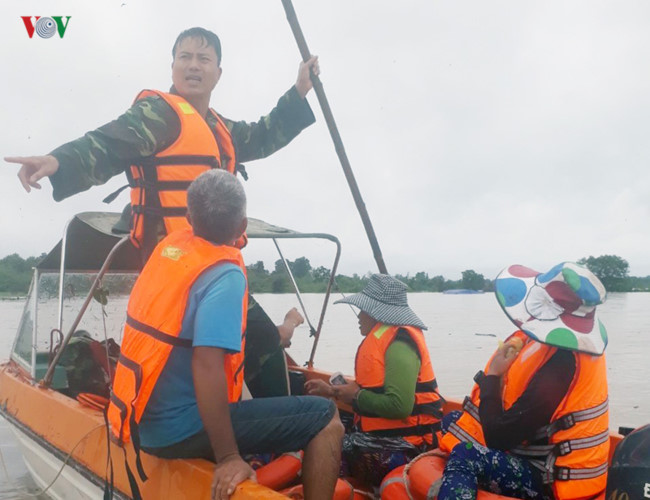 Rescue forces co-ordinated efforts alongside local people to put in place a range of safety measures in order to help locals seek shelter areas.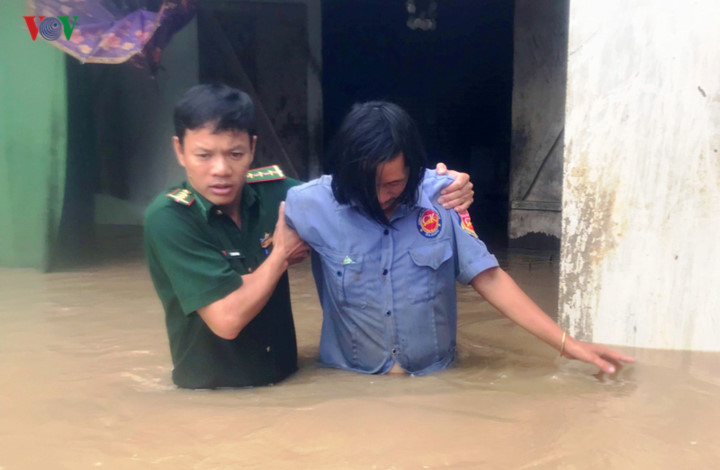 Many local residents were evacuated from their homes in submerged parts of the district.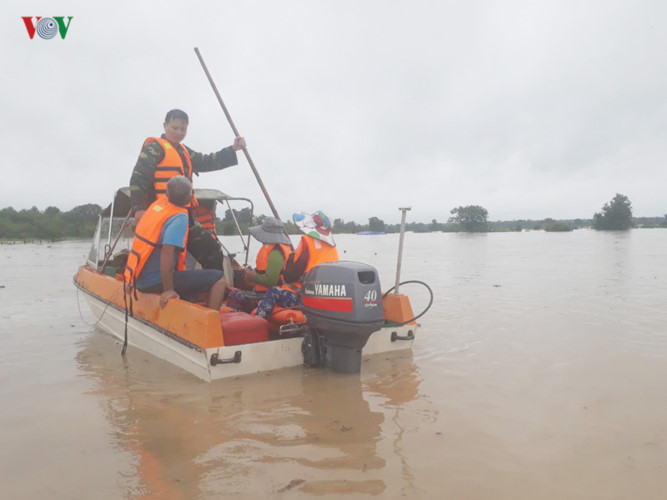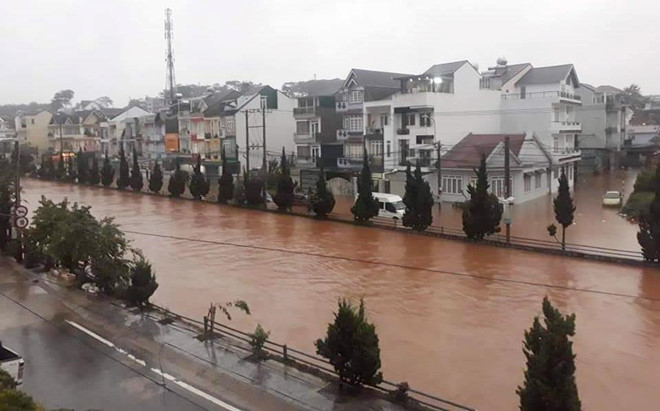 Heavy rain began on the evening of August 7 and lasted until the morning of August 8. The result was water levels across the Cam Ly river rose with flooding hitting the streets of Da Lat city in the central highland province of Lam Dong.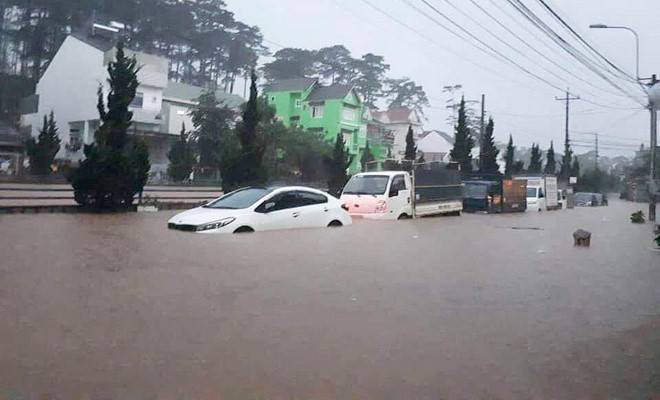 The deluge of rain caused flood water to seep into many houses throughout the city.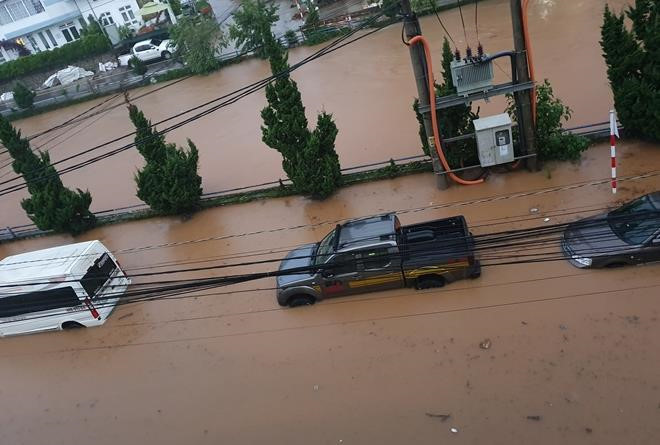 Vehicles were unable to travel through submerged areas.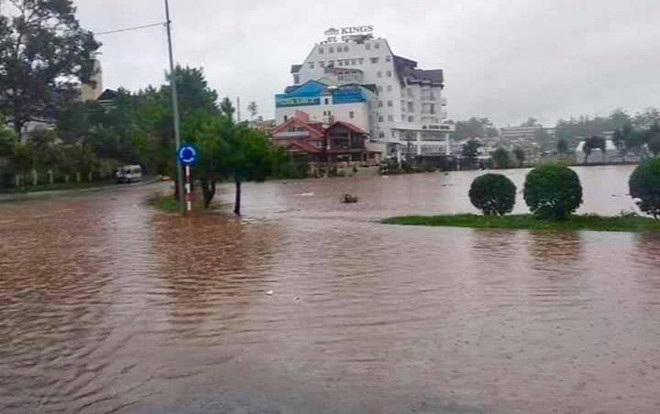 A number of streets throughout the centre of Da Lat City were deeply submerged as a result of the flooding.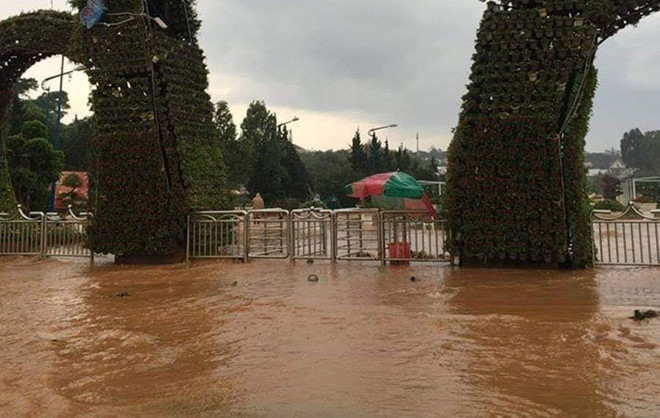 The water level in Xuan Huong Lake rose to a point that the city's garden was forced to close.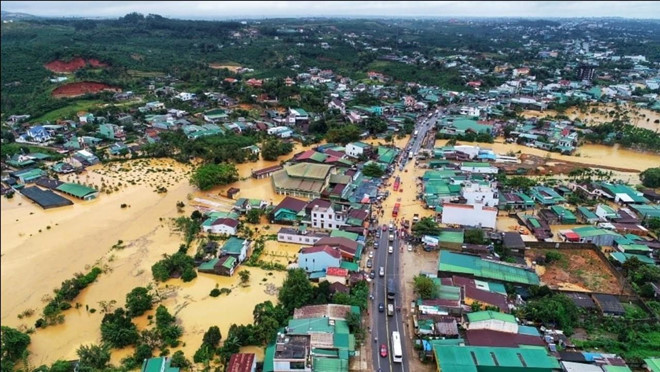 A shot of national road 20 that runs through Bao Loc city as parts of it are submerged in flood water.
Zing/VOV/VNN/VNS