Pilot shortage puts Vietnam's booming aviation industry in trouble

Over the past few years, Vietnam's aviation market has been sustaining a two-digit growth rate, while the introduction of new airlines has also put high quality personnel in the industry on high demand.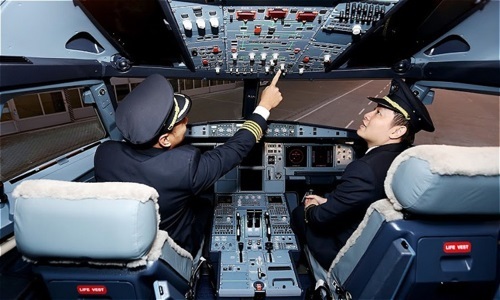 Illustrative photo.
Severe shortage of pilots is threatening to hinder a number of Vietnam's airlines from expansion, local media reported.
On June 14, Prime Minister Nguyen Xuan Phuc requested the Ministry of Transport (MoT) to report on the lack of pilots and aircraft engineers in Vietnam's aviation industry by the end of this month.
Over the past few years, Vietnam's aviation market has been sustaining a two-digit growth rate, while the introduction of new airlines has also put high quality personnel in the industry on high demand.
Vietnam currently has a total of five airlines, including Vietnam Airlines, budget operator Jetstar Pacific Airlines (partly owned by Vietnam Airlines), budget carrier Vietjet Aviation, Vietnam Air Services (VASCO) and Bamboo Airways.
The number of aircraft has also tripled in the last 10 years, from 60 to 192 units, in addition to over 1,400 airplanes pending for delivery.
Meanwhile, it would take at least three to four years of training for pilot to fly common aircraft such as Airbus A320, A321, and seven to eight years for Airbus A350, or Boeing 787, said Duong Tri Thanh, general director of Vietnam Airlines.
Tran Quang Chau, president of Vietnam Association on Aviation Science and Technology, stated the rapid growth of Vietnam's aviation has been the main reason for pilot shortage, adding the Viet Flight Training, the only pilot trainer in Vietnam, provides only 100 new pilots every year.
Boeing in its latest report suggested the global aviation industry would need an additional 790,000 pilots by 2037. Airbus at the Farnborough Air Show estimated the figure at 450,000 by 2035.
According to Vietnam Airlines, its number of pilots in 2018 was 1,100, which is projected to increase to 1,293 in 2019. By 2020, the flag carrier is expected to need at least 1,340 pilots, up 240 officers year-on-year and 1,570 five years later.
Pilots become hot 'commodity'
The lack of pilots on the market has made them "hot commodity" among airlines.
Vietnam Airlines, the country's largest airline, is under the risk of facing an exodus of pilots who are tempted by other airlines offering better salaries.
In April, Vietnam Airlines complained to the MoT that a growing number of its pilots had moved to other airlines, including the new player Bamboo Airways.
In response, an executive of Bamboo Airways said the airline did not violate any violations as it had been recruiting pilots publicly, while the fact that pilots change their employer only reflects market principles, he said.
In 2018, Vietnam Airlines pilots were offered an average monthly salary of VND132.5 million (US$5,719), much lower than those at Vietjet Air who receive between US$5,300 – 6,200 monthly for a co-pilot and US$7,900 – 10,500 for a captain, said the latter in 2017 report.
Budget air carrier Jetstar Pacific even offered higher average salaries to its pilots, ranging from VND110 – 160 million (US$4,740 – 6,890), and Bamboo Airways in its recruitment websites revealed it is paying the top salary in the market.
Minister of Transport Nguyen Van The at a hearing held by the National Assembly on June 5 said it is necessary to revise the labor code, stipulating new provisions to protect and retain highly skilled human resources.
Meanwhile, President Tran Quang Chau of the Vietnam Association on Aviation Science and Technology, proposed the government set up a training center for pilots, with airlines being the stakeholders.
The Civil Aviation Authority of Vietnam previously emphasized the necessity to have a new training center, and considered the move a major strategy for Vietnam's civil aviation development at present. Hanoitimes
Ngoc Thuy

A military plane went down in Suoi Tan Commune, Cam Lam District, Khanh Hoa today, June 14, killing two pilots, the local media reported, citing Nguyen Ngoc Khue, chairman of Suoi Tan Commune.  

Chair of Vietnam Airlines Pham Ngoc Minh says the nation's flag air carrier is planning to raise wages for its pilots equal to 90 percent of the average level in Southeast Asia.

VietNamNet Bridge - The shortage of qualified pilots is getting more serious in Vietnam as more air carriers receive licenses to operate in the country.