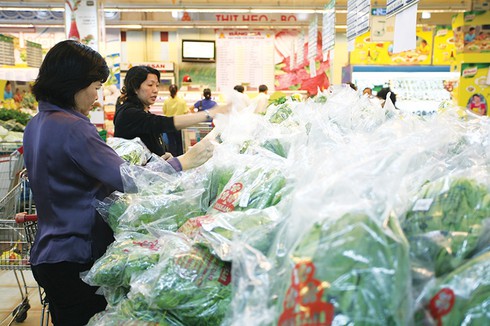 Unlike supermarkets in Thailand, Vietnamese ones still heavily rely on plastic packaging
In line with the Thai campaign "Every Day Say No to Plastic Bags", the Southeast Asian country kicked off 2020 by banning the items from about 25,000 retail outlets. These include the stores of giants like Central Group, The Mall Group, and Charoen Pokphand Group (C.P Group, the operator of 7-Eleven convenience stores).
Under the government and industry initiative, Thailand will also stop using Styrofoam food containers, plastic straws, and plastic cups by the end of 2020.
Naphat Thipthanakit, managing director of packaging firm Pack and Save – one of the ban's 300 sufferers – said that its orders have shrunk by about 90 per cent since 2020 began.
Accordingly, its partners such as Central Department Store and The Mall Group have stopped handing out single-use plastic bags, according to the Bangkok Post.
According to Somchai Techapanichgul, chairman of the Thai Plastic Industries Association (TPIA), the association includes about 400-500 companies, most of which are small- and medium-sized enterprises (SMEs) who are strongly dependent on domestic plastic demand. Therefore, the ban would make it difficult for many SMEs to survive.
"The campaign is hurting the domestic plastic business, especially SMEs. It is damaging SMEs and many companies cannot adjust as they cannot afford new machines to produce environmentally-friendly products," Techapanichgul said.
Consequently, seven out of 86 plastic bag manufacturers saw a significant impact within one month of the new regulation coming into force. The production scale has narrowed and the working hours have also been cut. This also resulted in a rising number of people leaving their jobs.
The TPIA proposed the Thai government that the ban on single-use plastic bags should be carried out gradually to help companies change their manufacturing activities. "The first step should be allowing them to produce thicker and bigger plastic bags that could be reused many times."
It is understandable that Thai plastic companies wish to keep manufacturing plastic items and are less than eager to switch to bioplastic products.
Hence, in case the Thai government does not approve companies' proposal or support these manufacturers in overcoming their hardships, they could very well relocate to other regional markets.
It is also reaffirmed that export-manufacturers will not suffer much from the ban. As a result, they may shift to Vietnam – an ideal option to replace the Thai market.
Vietnam's promise
Although Vietnam has been carrying out its anti-plastic roadmap towards 2025, the country's regulations are not the same as in Thailand. Therefore, moving business to Vietnam may be a good choice for Thai plastics manufacturers in the short term.
Indeed, plastic consumption in Vietnam has been robust in recent days due to the coronavirus outbreak. With most schools in the country allowing students more time off, it has led to tremendous food consumption in supermarkets, where most products are wrapped in plastic.
The epidemic has also increased the medical face-mask output in the market. According to Doximex – a local face mask manufacturer – its capacity has been raised by as much as 10 times since the outbreak. This has raised the company's plastic demand because each face mask is wrapped in plastic packaging. As Vietnam has not yet issued such a ban like Thailand and the plastic consumption remains high, the market is a promising destination for packaging manufacturers.
Bracing themselves for the prohibition, Thailand-based plastic and melamine firm SrithaiSuperware has already invested in Vietnam to reallocate production, according to company chairman Sanan Ungubolkul. "Our company would much rather focus on expanding business in Vietnam, where GDP growth is relatively high and the legal framework is favourable," he said.
Ungubolkul also said the retail and beer industries are growing fast in Vietnam, creating huge demand for melamine, plastic packaging, and closures.
Eco-friendly trend
Similar to Thailand, Vietnam has been making moves to cut down plastic use over the next period of time. Thus, packaging manufacturers in Thailand will have to prepare to bring their operations in line with modern standards and sustainable principles if they wish to work in Vietnam for the long term.
At the recent G20 Summit, Prime Minister Nguyen Xuan Phuc reaffirmed that Vietnam has been applying many strong measures to eliminate plastic usage by 2025. Specifically, the first goal for the country is to remove single-use plastic from all stores and supermarkets in urban areas by next year.
Assessing the impacts of the Thai ban, Ta Bao Long, communication director of Swedish-backed packaging company Tetra Pak Vietnam, told VIR that the Thai ban does not affect the firm's operations in Vietnam because it is completely in line with Tetra Pak's eco-friendly shift.
"Tetra Pak has been piloting paper straws in the EU and expects to launch a new kind of paper box by 2022. The box layers are made by 100-per-cent recycled materials and aluminium," said Long. "The product is in line with the anti-plastic roadmaps of most countries."
However, he insisted that the shift to manufacturing eco-friendly products cannot be made without a parallel shift in the food and beverage industry, which is still dependent on plastic packaging.
"I believe this trend is inevitable, but it is hard to say how long it will be until eco-friendly products become our main business line," said Long. "Our best hope is that the change will come within the next decade."
Thipthanakit from the TPIA added, "Without proper production methods – including intense heat – bioplastics won't degrade within a 180-day time frame as promised. If they end up in the marine environment, these bags will not decompose quickly and can persist for decades. These bio-plastic bags can endanger marine animals too."
Thipthanakit warned the mass production of bioplastics could undermine people and animal's food supplies because at least 50 per cent of cash crops like cassava and sugarcane would go into feeding the bio-plastic industry.
This would raise the demand for agricultural land as well as fertiliser, pesticide, and water, which could worsen the impacts of climate change.
To resolve the problem, Nguyen Le Hang, deputy director cum sustainable development director of An Thanh Bicsol - a member of An Phat Holdings, told VIR that environmental taxes should be made stricter for companies manufacturing nylon and single-use plastic products. Besides that, eco-friendly products should be incentivised, just as the South Korean government has been subsidising companies specialised in eco-friendly products, according to Hang.
The plastic sector is one of the most attractive industries for mergers and acquisitions in Vietnam. According to FiinGroup, in 2016, South Korea-based Dongwon Systems Corp. purchased Tan Tien Plastic Packaging JSC for $97.8 million and Minh Viet Packaging One Member Co., Ltd. In 2014, Japan-based MeiwaPax Group acquired 93 per cent of Sapaco at $16.5 million.
Thailand-based SCG is the most eager investor in Vietnam's packaging and paper industries. In 2015, SCG Packaging expanded its flexible packaging business by acquiring an 80 per cent stake in Tin Thanh Packing JSC, one of the top five manufacturers of flexible packaging in Vietnam. SCG Packaging also invested to expand its packaging paper production base at Vina Kraft Paper Co., Ltd. to meet the rapidly growing demand for packaging paper in the country. Besides this, SCG also owns a plastic bead manufacturing company and holds a stake in several other companies, including Vietnam Plastic Corporation, TPC Vina, Chemtech, and Minh Thai Plastic Trading Co., Ltd.
In July 2018, Nawaplastic Industries Co., Ltd. (another subsidiary of SCG) spent VND600 billion ($26 million) on buying 1.17 million shares in Binh Minh Plastic JSC, lifting its stake in the Vietnamese plastic producer from 52.96 to 54.39 per cent. VIR
Kim Anh

Vietnam discharges 0.28-0.73 million tons of plastic waste to the ocean each year, or 6 percent of the world's total figure, ranking fourth among the countries polluting the ocean the most, a study shows.

Plastics undoubtedly affect our environment – and they are shaping up to be an emerging threat to human health as with every breath and every bite, plastics are entering our bodies – without researchers having a full grasp of the implications.