PM Chinh's Singapore visit expected to advance bilateral trade ties
Prime Minister Pham Minh Chinh's Singapore visit from February 8-10 aims to affirm the determination to elevate the bilateral economic ties to a new height in the context of many free trade agreement (FTAs) coming into force.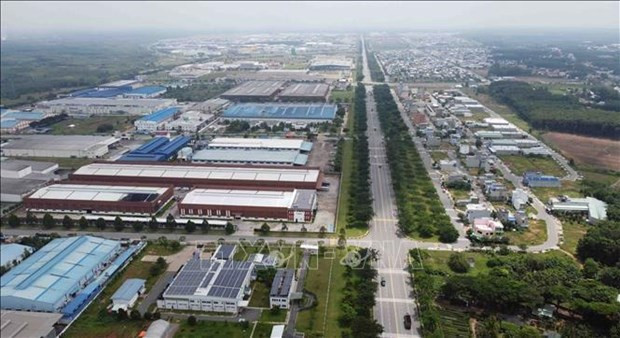 A corner of the Vietnam-Singapore Industrial Park in Binh Duong province (Photo: VNA)
Nguyen Thi Thu Thuy, Deputy Director of the Export Support Centre under the Ministry of Industry and Trade's Trade Promotion Agency, noted that there are almost no import restrictions in Singapore.
The market, however, has high requirements for goods quality, she said, adding that not many Vietnamese agricultural products, food and consumer goods have been shipped to the island nation.
According to the Asia-Africa Market Department under the Ministry of Industry and Trade (MoT), Vietnam's export to Singapore grew stably in 2018-2021, and Singapore remains Vietnam's fifth biggest trade partner in ASEAN, and the 15th in the world.
The two-way trade reached 9.1 billion USD last year, up 11.6% from 2021, of which Vietnam's export was valued at 4.3 billion USD, a year-on-year rise of 9.4%, the agency said.
Among Vietnam's export items, high-quality processed products made up 67-76%, while mineral materials accounted for 5.5-13%.
Meanwhile, the country mainly imported computers, electronics and spare parts, cosmetics, plastics, machinery and other accessories from Singapore.
The agency said Singapore that lacks natural resources would be a promising market for Vietnamese agricultural and aquatic products, garments-textiles and processed food.
For investment, as of June 2022, Singapore poured about 70 billion USD into some 3,600 projects in Vietnam, making it the second biggest investor in the country.
Joint trade and investment projects have manifested the close economic links between the two countries, notably the Vietnam-Singapore Industrial Parks (VSIP) whose number amount to 12 and investment capital hits 17 billion USD, with more than 300,000 jobs created.
In August 2022, FPT Software, a subsidiary of FPT Group, and NCS, a member of Singtel Group - a leading technology service supplier in the Asia-Pacific, signed a cooperation deal for developing a strategic delivery centre in Vietnam.
This strategic delivery centre, the third of its kind of NCS in Asia, is expected to have a team of over 3,000 by 2025.
At a working session with Chief Executive at Energy Market Authority (EMA) Shih Chun Ngiam and Singaporean Ambassador Jaya Ratnam, MoIT Deputy Minister Dang Hoang An affirmed that Vietnam stands ready to cooperate and learn from Singapore's experience energy to boost green energy and sustainable development.
The two sides agreed to step up cooperation activities to fulfil commitments made at the 26th United Nations Climate Change Conference (COP26) in 2021.
The Singaporean side also showed its interest in cooperation with Vietnam in clean energy, liquefied natural gas (LNG) and electricity connectivity in the region.
With 16 FTAs, including new-generation ones like the Comprehensive and Progressive Agreement for Trans-Pacific Partnership (CPTPP) and the Regional Comprehensive Economic Partnership (RCEP), Vietnam would boost its exports to markets in the region and Singapore in particular, experts said.
They suggested businesses increase delegation exchanges, study the market, build brand names and cooperate in the distribution of new industrial products like electric vehicles, electric cables, construction steel, wood furniture, toys, clothes and footwear, among others.
To foster the economic and trade ties, MoIT Minister Nguyen Hong Dien suggested collaboration in digital economy and trade through Singapore's transaction platforms, especially those on farm produce.
The ministry will work to bring Vietnamese agricultural and aquatic products, particularly fresh fruits, to Singapore, he pledged./. VNA