PM Dung to attend ASEAN-RoK Commemorative Summit
Prime Minister Nguyen Tan Dung and his spouse will attend the ASEAN-Republic of Korea (RoK) Commemorative Summit in celebration of the 25th anniversary of the ASEAN-RoK Dialogue Relations (1989-2014), and visit the RoK from December 10-12.
The Prime Minister's summit attendance and visit are made at the invitation of Korean President Park Geun-hye.
ASEAN and the RoK have ceaselessly promoted their dialogue ties, and the relationship was upgraded to a strategic partnership in 2010.
Both sides aim for US$150 billion in two-way trade by 2015 and US$200 billion by 2020.
The RoK is currently second largest foreign direct investor and trade partner of Vietnam with two-way trade turnover reaching US$27.5 billion last year.
The country is also the second largest ODA provider for Vietnam with a pledged amount of US$1.2 billion for 2012-2015.
Deputy PM vows to foster ties with Laos during official visit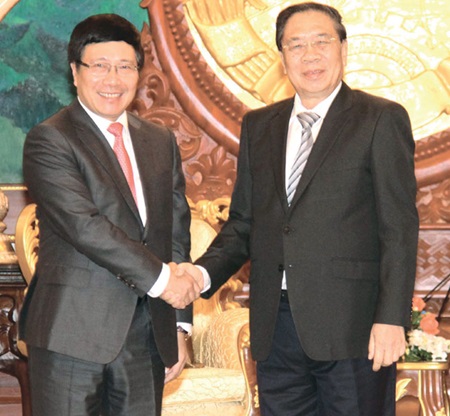 Deputy Prime Minister and Foreign Minister Pham Binh Minh began a two-day official visit to Laos yesterday at the invitation of his Lao counterpart, Thonglun Sisulith.
He paid courtesy calls to the General Secretary of the Lao People's Revolutionary Party (LPRP) and President, Chummaly Sayasone. and Prime Minister Thongsing Thammavong.
The Lao leaders pledged to further foster the traditional friendship, special solidarity and comprehensive co-operation between the two countries.
Party chief Chummaly Sayasone said he was delighted at the growing ties between the two parties and said he believed the two sides would continue working closely for the success of the congress of each party in 2016.
The Lao Prime Minister spoke highly of the two countries' preparations for the 37th meeting of the Viet Nam-Laos Inter-Governmental Committee in 2015.
He praised Viet Nam's top investor position in Laos and its commitment to increasing ODA by 30 per cent.
He proposed that a bilateral trade deal should be signed to help two-way trade reach $2 billion by 2015.
Minh said the Vietnamese Foreign Ministry would continue to further special ties between the two countries.
Earlier, he held talks with his Lao counterpart, Thonglun Sisulith, reaching an agreement that an annual meeting between the two foreign ministries was necessary for sharing information and co-ordinating action in the rapidly changing regional and global situations.
The leaders said they valued the results of a plan to upgrade land-border markers along the shared borderline, as well as the implementation of an agreement on the settlement of issues related to immigrants and non-registered marriages in the border areas between the two countries.
Both sides agreed to work harder for the official launch of a "one-stop-shop" model at the Lao Bao-Densavan border gate from January 1.
The two leaders also briefed each other on their external policies while sharing views on prominent regional and international issues, including the building of an ASEAN Community.
They pledged to work closely with other ASEAN member countries to successfully form the community by next year.
Viet Nam was willing to support Laos in acting as the ASEAN chair in 2016, Minh said.
The leaders later signed an agreement on co-operation between the two foreign ministries for the next six years.
Minh, on behalf of the Party and State of Viet Nam, presented the Independence Medal, second class, to Lao Minister of Justice Bounkeut Sangsomsak, who is also former Deputy Foreign Minister.
He also awarded the Labour Medal, third class, and the Friendship Medal to some units of the Lao Foreign Ministry in recognition of their excellent contributions to promoting the special solidarity between Viet Nam and Laos.
Thai National Day celebrated in Hanoi
On December 4, Thailand Embassy in Vietnam hosted a ceremony marking the 87th birthday of Thailand's King and National Day (December 5) at Melia Hanoi Hotel.
The event was attended by Deputy Minister of Foreign Affairs Le Hoai Trung and Thailand Ambassador to Vietnam Panyarak Poolthup as well as Thai community representatives in Vietnam.
"The bilateral relations between Vietnam and Thailand have been marked by one of the most monumental milestones in our bilateral history with the official visit to Thailand of Party General Secretary, Nguyen Phu Trong during June 25-26 last year.", Panyarak Poolthup said.
Both nations have elevated the bilateral relations to a level of strategic partnership which encompassed all areas of cooperation namely political, defence and security, economic, social and people to people, regional and international cooperation, especially the realization of the ASEAN Community in 2015 and how to address regional challenges.
Two- way trade rose to nearly US$7.5 billion in the first eight months of this year, up nearly 10% year-on-year. The trade value is expected to surpass last year's US$10.4 billion, well on the way to the target of US$15 billion by 2020.
Thailand is among the top 10 foreign investors in Vietnam with more than 350 projects worth US$6.47 billion.
Russian and Belarusian war veterans visit Vietnam
Minister of Defence General Phung Quang Thanh hosted a reception for a delegation of war veterans from Russia and Belarus in Hanoi on December 4.
The visit was paid on the occasion of the 70th founding anniversary of the Vietnam People's Army.
General Thanh expressed his gratitude towards Russian and Belarusian veterans, formerly known as Soviet vets, for the sacrifices they made in Vietnam's past struggle for independence and liberation.
He also gave his guests an overview of Vietnam's current socio-economy, politics, security and defence.
The former soldiers expressed their joy of coming back to Vietnam and said they admired the country for its nation-building and defence achievements.
During their stay, they met with Vietnamese Air Force veterans and will visit the country's landscapes.
Vietnam, Cambodia increase defence personnel training
The Ministries of Defence of Vietnam and Cambodia agreed to promote partnership in personnel training, information sharing and mutual consultations at multilateral forums.
The two sides also agreed to set up an annual defence policy dialogue mechanism at the deputy ministerial level at an early date.
The agreements were reached during talks between Deputy Defence Minister Senior Lieutenant General Nguyen Chi Vinh and Secretary of State of Cambodia's Defence Ministry General Neang Phat, in Hanoi on December 4.
During the talks, the two sides concurred that the two armies have enjoyed effective collaboration in all fields, deepening bilateral defence ties and enhancing mutual trust between the two countries.
They also discussed a number of regional international security issues of mutual concerns.
Vietnam People's Army founding anniversary marked in Australia
The Vietnam Embassy and the Vietnam Defence Attaché office in Australia have co-hosted a solemn ceremony celebrating 70 years since establishing the Vietnam People's Army (VPA) and 25 years of All People Defence Day.
Those in attendance included Australian Defence Department representatives along with 150 guests, including ASEAN Ambassadors in Australia.
Speaking at the ceremony, Vietnam Ambassador in Australia Luong Thanh Nghi reviewed the glorious history of the VPA in the past struggles for national independence and the current national development process over the past 70 years.
Ambassador Nghi affirmed that the VPA have always engaged in international cooperation activities on the basis of equality and mutual respect.
The Vietnamese diplomat applauded the 14-year security-defence cooperation between Vietnam and Australia after Australia opened its defence attaché office in Hanoi in 1999 and Vietnam launched its office in Canberra in 2000.
Both nations have maintained high-ranking delegation exchange and worked together on resolving post-war issues such as deactivating bombs and mines left over from the war.
Australia has also provided scholarships to Vietnamese officers to study in the country.
Additionally, the two defence ministries have also closely cooperated in anti- terrorism, border control, combating cross-border crime, military medicine and search and rescue, contributing to the cooperation across the board, Nghi added.
This year has also witnessed the 15th anniversary of the defence cooperation programme between the two nations.
Mass mobilisation commission's delegation visits Germany
A delegation from the Party Central Committee's Commission for Mass Mobilisation led by its deputy head Nguyen Van Hung is paying a working visit to Germany.
On December 3, the delegation had a meeting with Vietnamese Ambassador to Germany Nguyen Thi Hoang Anh who informed that the embassy is performing its task of promoting foreign relations in line with mass mobilisation work.
Highlighting the comprehensive development of bilateral ties over the past time, the diplomat stated that many joint projects have been implemented effectively, contributing greatly to furthering the two nations' strategic partnership.
The delegation also met representatives of the Vietnamese Students' Association in Germany. Hung called on overseas students to exert more efforts in their learning and research while maintaining and promoting the country's cultural identities.
On this occasion, the delegation presented six out of the 10 scholarships to students with excellent academic performances.
Established in 2012, the association now has 20 branches across Germany, with a total of 4,000 members.
Leaders send greetings on Thai King's birthday
President Truong Tan Sang cabled a message of congratulations on December 4 to Thai King Bhumibol Adulyadej on his 87 th birthday and his country's celebration of National Day (December 5).
On the occasion, Prime Minister Nguyen Tan Dung sent a congratulatory message to his Thai counterpart Prayut Chan-ocha.
The same day, Deputy Prime Minister and Minister of Foreign Affairs Pham Binh Minh congratulated his counterpart Tanasak Patimaprkorn.
VNA/VNS