VietNamNet Bridge – Prime Minister Nguyen Tan Dung has met several world leaders ahead of the third Nuclear Security Summit which opened in the Netherlands on March 24 (local time).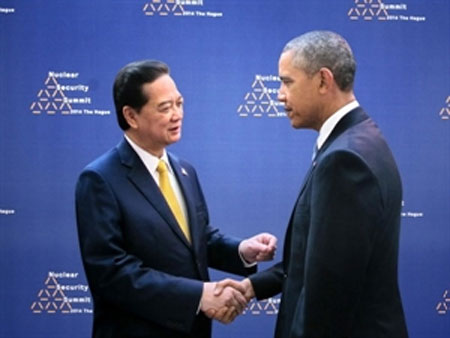 PM Nguyen Tan Dung and US President Barack Obama (Source: VNA)
In an exchange with Chinese President Xi Jinping, PM Dung said he had directed the Vietnamese Sub-Committee of the Steering Committee for Vietnam - China Cooperation (SCVCC) to make full preparations for its next meeting.
Xi said he hopes the meeting will come soon to bolster bilateral ties. He also took the occasion to invite Dung to visit China. The PM accepted with pleasure.
Meanwhile, US President Barack Obama pledged a flexible and favourable approach to the Trans-Pacific Partnership (TPP) negotiations with Vietnam, adding that the US will open the market to Vietnamese apparel, footwear, farm produce and seafood.
With firm political determination, member states will conclude the TPP talks in line with the 2011 Honolulu joint statement, Obama assured.
The PM, for his part, vowed Vietnam will join US and member nations to conclude the TPP negotiations in view of their interests in narrowing the development gap.
He told Obama that he expects the two nations will deepen their comprehensive partnership across a broad spectrum of areas.
The leader also suggested the US pay due attention to Vietnam's interests, assist the country in negotiations and recognise Vietnam as a market economy soon.
The government leader and his Japanese counterpart Shinzo Abe, during their conversation, promised to effectively realise the outcomes of President Truong Tan Sang's recent visit to Japan.
President of the Republic of Korea (RoK) Park Geun-hye voiced hope that both nations will reach the free trade agreement as soon as possible, so as to fuel their trade and investment.
The Vietnamese leader thanked the RoK for welcoming back and extending support to Vietnamese guest workers in the country.
He later also had contacts with United Nations Secretary General Ban Ki-moon, Czech Deputy Prime Minister Pavel Belobradek and Vietnam's Honorary Consular General to the Netherlands W.H Schuurman.
Source: Vietnam Plus