PM Nguyen Xuan Phuc attends plenum of 34th ASEAN Summit

PM Nguyen Xuan Phuc joined other ASEAN leaders at the plenary session of the 34th ASEAN Summit in Bangkok, Thailand, on June 22, discussing orientations and measures to build a sustainable ASEAN Community for the people.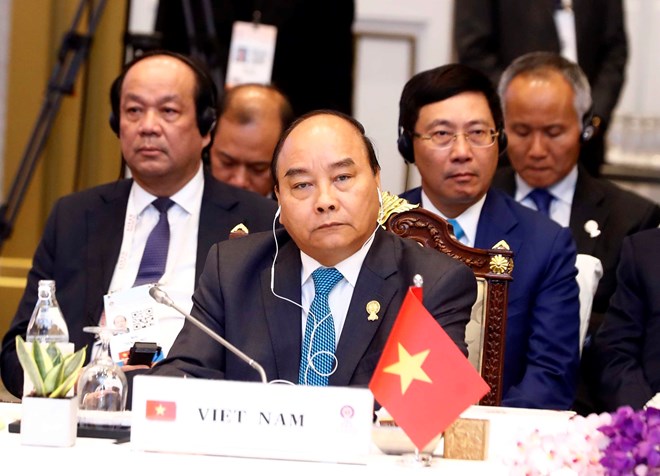 Prime Minister Nguyen Xuan Phuc at theplenary session of the 34th ASEAN Summit in Bangkok, Thailand, on June 22 


The event, chaired by Thai PM Prayut Chan-o-cha, took placeamidst many changes in the world and the region, including growingprotectionism, increasing competition among big countries, and the impact of the FourthIndustrial Revolution (Industry 4.0) on all aspects.
In terms of politics – security, the leaders affirmed the need to maintain sustainable security basing on the basic principles ofthe Treaty of Amity and Cooperation in Southeast Asia (TAC), ensuring the Association of Southeast Asian Nations (ASEAN)'s central role and making orientations for the treatment of external partners onthe basis of the documents on the ASEAN's vision on the Indo-Pacific, enhancingstrategic trust and cooperation to cope with trans-national challenges,especially cyber security and border management.

Regarding economic issues, the leaders agreed to furtherpromote intra-bloc trade and a seamless ASEAN, enhance connectivity, implementthe ASEAN Single Window mechanism and the ASEAN Smart Cities Network, foster the digital economy and a digitalised ASEAN, and actively prepare for Industry 4.0.They also agreed to conclude negotiations on the Regional ComprehensiveEconomic Partnership (RCEP) in 2019.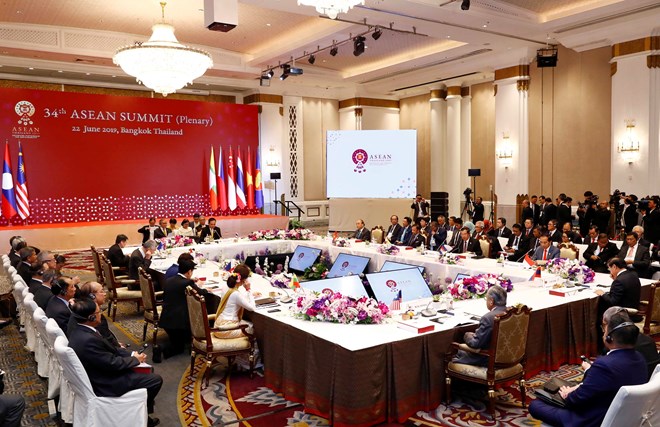 A view of the plenum of the 34th ASEAN Summit in Bangkok on June 22

On social and cultural matters, they decided to choose2019 as the ASEAN Cultural Year to enhance cultural exchanges and promote the culturalidentities of the grouping. The member countries will together build asustainable, people-oriented and people-centred ASEAN Community that lookstowards the future and leaves no one behind; promote the mutual support between the ASEAN Community Vision 2025 and the United Nations SustainableDevelopment Goals; and cooperate to deal with marine waste and aging population.

As Vietnam will assume the ASEAN Chair next year, PM Phucdelivered a speech at the plenum, highly evaluating the theme "AdvancingPartnership for Sustainability" and the priorities proposed by Thailand during its ASEANChairmanship in 2019.


He emphasised that the ASEAN needs to give the top priorities tocontinuing to strengthen its solidarity and cohesion, and promoting the centralrole and the efficiency of ASEAN-chaired and -led regional mechanisms.

The bloc should foster intra-economic linkages, make useof the already-made commitments and signed agreements, soon conclude the RCEP talks,create a favourable business environment, improve the capacity of responding toIndustry 4.0's opportunities and challenges, and connect and develop Industry4.0 technological centre networks.

The Vietnamese PM also proposed the ASEAN to continue enhancing cooperation in the fields that will bring practical benefits to thepeople, accelerate institutional reforms, and improve the efficiency of the bloc'sapparatus.

The summit adopted the ASEAN Leaders' VisionStatement on Partnership for Sustainability, the ASEAN Leaders' Statement onthe ASEAN Cultural Year 2019, and the Bangkok Declaration on fighting maritimewaste in the region.-VNA