VietNamNet Bridge – Promoting State-owned bodies' autonomy in the field of health care and education and pursuing market mechanisms does not mean that the poor are not cared for, Prime Minister Nguyen Tan Dung said as he explained how a "market economy" and "socialist orientation" can coexist to the betterment of the nation.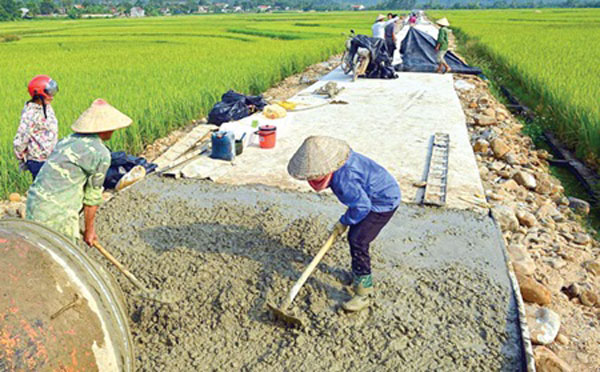 Workers pave a rural road in Tuan Dao Commune, Son Dong District, Bac Giang Province. PM Nguyen Tan Dung said a socialist orientation means the country can help every citizen benefit from basic social services. He spoke in response to worries that absolute implementation of a market economy could cause the country to lose sight of its socialist goals.
The Prime Minister spoke about the terms "market economy" and "socialist orientation" in his response to an opinion given during a Government meeting last week.
The socialist-oriented market economy is an issue of overriding importance, but it has garnered concern from a majority of sectors. Many are worried that the absolute implementation of a market economy might cause the country to lose sight of its socialist goals.
"In order to ensure a socialist orientation, it is essential that the State still be the main investors in some areas, such as healthcare and education," the official government website quoted a meeting attendee as saying.
To clear the question, the Prime Minister said authorities needed to understand the concepts in order to carry out the country's vision for its future.
"All should enter the market economy," Dung said. "Once we have done that, it is compulsory to fully follow rules of the market economy. First and foremost, pricing and resource allocation should depend on the market. Additionally, a market economy requires publicity, transparency, and equality."
The Government recently issued a decree regulating the autonomy mechanisms applied to State-owned bodies – a much-expected move that aims to help State-owned bodies such as hospitals and schools acquire more funding.
Dung is also expected to issue a decision transforming a number of State-funded agencies into joint-stock companies.
In terms of its socialist orientation, the PM said, the State would employ policies, tools and resources to redistribute wealth, and guarantee social justice and poverty reduction.
"For instance, the costs of health care services must be calculated in full, but those eligible for welfare must also be cared for," Dung said. "However, to that end we must increase investments from social sources, and autonomy or equitisation of State-owned bodies. Then we can ensure that all people get the best services they can and poor people receive proper care through health insurance.
"Our socialist orientation does not concern how many State-owned hospitals we have or how big the State-owned sector is, but it means that we can enable every citizen to benefit from basic social services."
In other words, the PM stressed, social welfare must be well-defined.
"One of the key parts of restructuring State enterprises is to differentiate business from political tasks and public interest," Dung said. "We will no longer try to artificially maintain a low price of electricity, for example. The Government will be determined to stop subsidies. But any person eligible for favourable social policies will receive direct assistance from the State."
The Communist Party of Viet Nam put the relationship between a market economy and socialist orientation on a list of eight items that need to be thoroughly understood and addressed by the Political Platform for National Construction. The list was approved at the party's 11th National Congress in 2011.
VNS