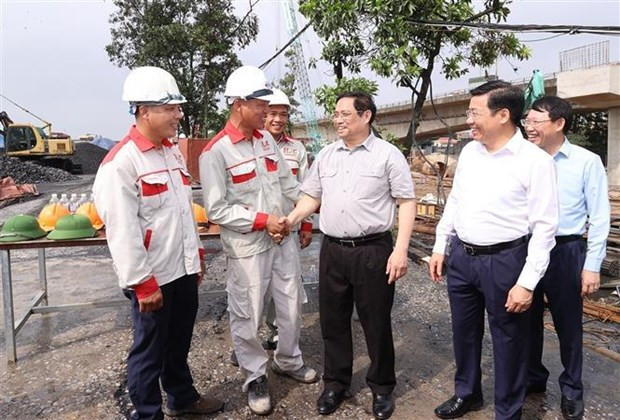 Prime Minister Pham Minh Chinh visits workers in Bac Giang province. (Photo: VNA)
The meeting was held online, with the Prime Minister speaking from the northern province of Bắc Giang, and representatives of labour unions joining from 63 cities and provinces.
Prior to the discussion, the Vietnam General Confederation of Labour had asked the labour unions to conduct surveys and research to gather workers' opinions and suggestions to the Party and State.

Nearly 10,000 questions and requests were collected from workers.

Speaking at the meeting, Chính stressed the importance of the conversation, since in-person interactions between the Government leader and workers were limited in the last two years due to COVID-19.

The meeting aimed to help the Government understand the problems workers faced in work and daily life, so it was important that they speak up and contribute honest opinions to find the ideal solutions, he said.

The PM, together with leaders of provinces and cities, addressed and discussed issues raised by workers through the surveys.

Their concerns were divided into 10 groups, including the minimum wage increase from July 1, adjustments to social housing and social insurance policies, improving professional qualifications and skills for workers, and solving problems related to implementing preferential policies for workers that had had COVID-19.

Measures to ensure jobs, income, and loan support for workers were also discussed, and so were inspections of employers that violated the labour law by not signing contracts with workers, not paying salary or social insurance, and not ensuring labour safety and hygiene.

PM Chính emphasised that the Party, State and people had always paid great attention to taking care of workers and labourers, by developing and issuing several policies catered to their needs that had yielded important results over the years. The conversation was an effort to continue what had been done, he said.

The PM said he highly appreciated workers' contributions to the country and their participation in this meeting. "The Party, State, and the entire political system including the Government and General Confederation of Labour will always listen to understand your concerns, and review and refine related mechanisms and policies to ensure your needs are met," he said.

Chính reiterated the 13th Party Congress's goal to turn Vietnam into a developed, high-income country by 2045, and emphasised the essential role of labourers and workers in this process.

He expressed his hope that they would continue to contribute to the country's development, just as previous generations had done.

He asked authorities at all levels and sectors to continue to listen to workers' concerns, and collaborate with the labour federation and unions to help resolve them.

After the meeting, PM Chính witnessed the launch of "Giờ thứ 9+" (The 9th+ Hour), an entertainment TV programme for labourers and workers on VTV3, which highlights their values and contributions to the country's modernisation process.

Earlier the same day, he visited industrial workers in Bắc Giang Province's Yên Dũng and Việt Yên districts, as well as those working on the Như Nguyệt bridge construction in Việt Yên.
Source: VNS