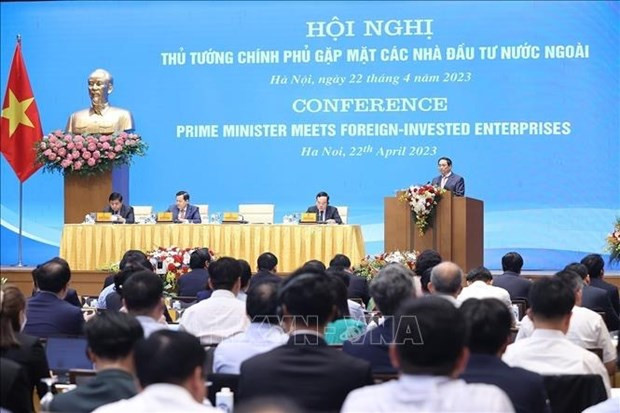 Prime Minister Pham Minh Chinh addresses the meeting (Photo: VNA)

Highlighting the Vietnamese Government's wish to listen to, understand and accompany foreign investors, as well as efforts to improve the country's business environment, PM Chinh said that the Party and State always consider the foreign-invested sector one of the important part of the national economy, with healthy competition and equality with other economic sectors.

Vietnam respects and protects the legitimate and legal rights and interests of investors, ensuring the harmony in interests of the State, investors and labourers, not criminalising economic and civil relations but strictly punishing law breakers to protect those who comply with the law and are responsible to the community and the common development, he said.

The Government leader hailed the determination and effective operations of foreign firms in Vietnam, which is the key to the successful partnership between the two sides.

The PM held that in the context that the world and regional situation is developing complicatedly and the Organisation for Economic Cooperation and Development (OECD) plans to apply a global minimum tax from 2024, the two sides should strengthen mutual trust, sharing, listening, understanding and companionship.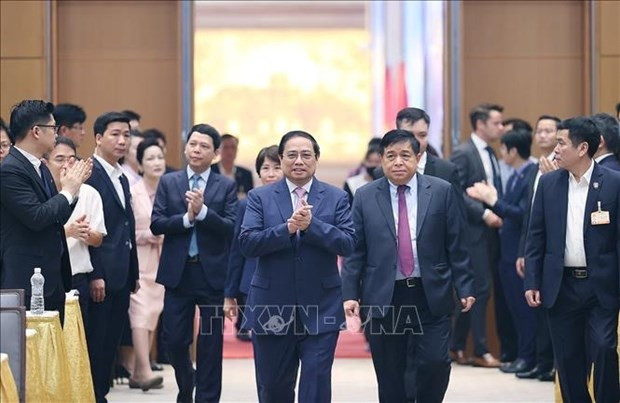 Prime Minister Pham Minh Chinh at the meeting (Photo: VNA)
He recalled the meeting between the Government and FDI businesses in September 2022 where the two sides agreed on measures to overcome difficulties for continuing their effective cooperation.

In this meeting, participants should point out the reality, challenges, opportunities and bottlenecks in bilateral partnership, thus seeking specific measures to promote FDI in Vietnam and enhance the efficiency of the investment, he said.

Recently, Vietnam has listened to businesses' ideas and applied tax, fee, charge and land rent reductions, he said, adding that the Government is directing the State Bank of Vietnam to soon take policies on debt freezing, reduction, rescheduling and extension.

The PM asked businesses and investors to voice their specific proposals, and requested ministries, sectors and localities to respond to the firms' requests and opinions.

Right after this meeting, a document will be issued to ensure coherence in the implementation of solutions on the principle of interest harmony, he said.

Addressing the meeting, Minister of Planning and Investment Nguyen Chi Dung highlighted economic achievements that Vietnam has gained so far this year, noting that many prestigious international organisations have shown optimism about the country's economic outlook and predicted that Vietnam will enjoy a GDP growth of 6.3-7% this year.

He underscored the important role of the FDI sector in the country's economy, and pledged that the ministry will continue to advise the Government in institutional reforms and investment and business environment improvement.

At the same time, the ministry will coordinate closely with other ministries, sectors and localities to give optimal conditions for the business community in general and FDI firms in particular to effectively and successfully operate in the country, he vowed.

According to the Ministry of Planning and Investment, as of April 20, the country had hosted 37,065 valid FDI projects worth nearly 445.9 billion USD. FDI disbursement had exceeded 279.8 billion USD, equivalent to nearly 62.8% of the total investment.

So far this year, the total FDI inflows in Vietnam reached nearly 8.88 billion USD, of which about 5.85 billion USD has been disbursed.

At the event, business associations and FDI enterprises highly valued the drastic, proactive, creative and flexible management of the Government and the Prime Minister, especially in the context that Vietnam's economy is heavily affected by the COVID-19 pandemic and there is a risk of world economic recession, thus ensuring Vietnam's stable macro-economy, controlled inflation and quick adaptation to the new digital transformation era.

They showed delight at the Vietnamese Government's efforts to strengthen cooperation with and support FDI businesses as well as improve its investment environment with an array of measures.

As the world economy is recovering, if Vietnam's key policies are implemented effectively, FDI inflows into the country will continue to increase, they said, committing to operate in Vietnam in the long term.

At the event, FDI firms gave investment commitments worth nearly 4 billion USD in Vietnam./. VNA