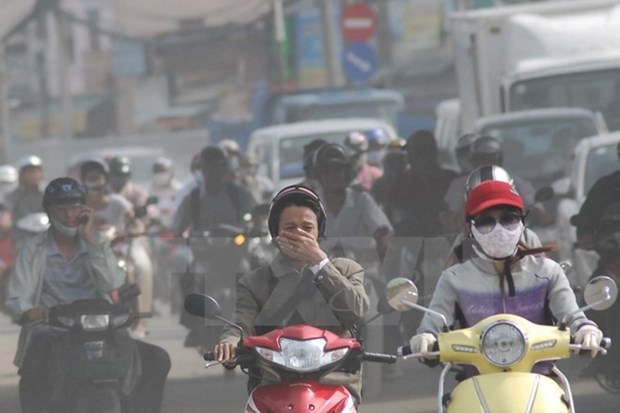 Illustrative image (Source: VNA)
Exhaust emissions from old and raggedy motorbikes have been blamed as one of the causes of air pollution and safety risks in big cities such as Hanoi and Ho Chi Minh City.
Data from the Hanoi People's Committee shows there are more than 5.7 million motorcycles in use in the city, nearly half of which are old motorcycles manufactured before the year 2000.
There are more than 730,000 cars and many vehicles from other provinces that regularly travel into the city, causing a great deal of pollution.
Motorbikes also account for 80-90 percent of the total carbon monoxide and high hydrocarbon and 50 percent of the total nitrogen oxide emitted from all road motor vehicles.
Old motor vehicles emit much greater levels of toxic gases than those that are maintained periodically.
These pollutants greatly affect the quality of the urban air environment and directly affect people's health.
In 2010, then Prime Minister Nguyen Tan Dung issued a project to control motorcycle emissions in cities across the country.
From September 2020, Hanoi has also implemented a pilot project on emission measurement and support.
Under this programme, the owners of motorbikes more than 18 years old that do not meet emission standards can claim from 2-4 million VND to buy a new vehicle.
This funding will be provided by the Vietnam Motorcycle Manufacturers Association.
But so far it has not been implemented since such a move requires some social costs and administrative procedures that are not specified in the law, according to the Hanoi Department of Natural Resources and Environment.
According to traffic experts, gas emission checks for motorbikes are necessary but need a specific roadmap.
Nguyen Van Phuong, deputy head of Motor Vehicle Quality Division under the Vietnam Register, said the Government has only issued regulations on periodic inspections for cars but not motorbikes. The country also lacks regulations stipulating the maximum lifespan of motorcycles.
Therefore, there are no specific statistics on the state of old motorbikes across the country, Phuong told Lao Dong (Labour) newspaper.
Recovering old motorbikes is not easy because it is the property of the people, so it is necessary to build a complete legal corridor, according to Phuong.
In many countries, motorbikes are managed by technical requirements and tariffs on old motorcycles are very high, experts said.
Vietnam should also control outdated vehicles through emissions inspection, they said.
Along with that, the Government and manufacturers need to offer financial mechanisms and policies to support vehicle owners./.VNA

Hanoi Department of Natural Resources and Environment has advised residents to stay indoors as air pollution worsened on January 6.

Prime Minister Nguyen Xuan Phuc has asked ministries and People's Committees of centrally-run cities and provinces to step up the implementation of programmes and tasks to improve air quality control.