Police ask for documents of 11 Hanoi-based projects of Tan Hoang Minh Group
The Police Agency for Investigation of Crimes on Corruption, Economy and Smuggling (C03) of the Ministry of Public Security has asked the Hanoi People's Committee to provide documents related to projects based in Hanoi of the Tan Hoang Minh Group.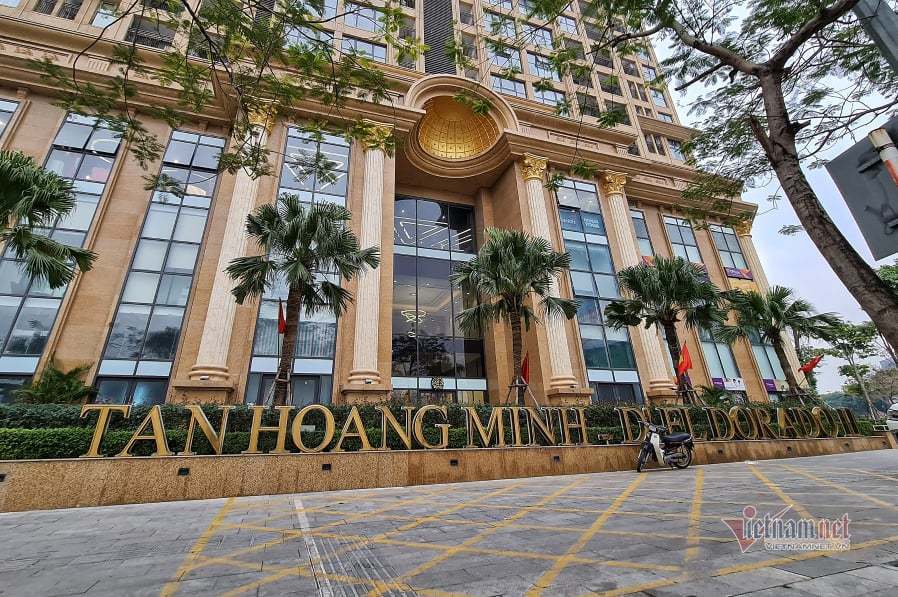 A project of Tan Hoang Minh in Hanoi. Photo: Doan Bong
According to a source of VietNamNet, the police requested documents related to 11 projects developed by this estate group in the capital city. Tan Hoang Minh is known as a high-end real estate developer with "super luxury" products such as D'.Le Pont D' Hoang Cau, D'. Palais Louis Nguyen Van Huyen, D'. Le Roi Soleil Quang An, D'. San Raffles Hang Bai, D'.El Phu Thuong, D'.El Dorado II Phu Thanh and D'. Capital Tran Duy Hung.
On January 11, the public was stirred up by a letter from Tan Hoang Minh Group's Chairman Do Anh Dung to leaders of the Party, the Government and HCM City authorities. In the letter, Dung wished to unilaterally terminate the contract to buy a land plot at the record price of VND2.4 billion/sq.m in HCM City's Thu Thiem new urban area. In late December, a subsidiary of Tan Hoang Minh won an auction to buy this plot of land for the highest ever price on the Vietnamese estate market.
Dung explained in the letter that at the auction, many investors offered up to 20,000 billion VND for that plot of land and then gave up. Finally, there were only Tan Hoang Minh and only one foreign investor. If he gave up the auction, that plot of land would have belonged to the foreign investor. At that time, for "the pride of the nation and the honor of a domestic corporation", Dung was determined to pay a higher price of 3% (VND 700 billion – about $35 million) to win the auction.
In 2016, Tan Hoang Minh won the auction of 3,000m2 land plot at 23 Le Duan Street, District 1, HCM City. With a starting price of 558 billion VND, Tan Hoang Minh Group surpassed 15 rivals to buy this "golden land" for VND1,430 billion. After the People's Committee of Ho Chi Minh City made a decision to recognize the auction results, Tan Hoang Minh proposed to annul the auction results. After that, it suddenly sent a written request to continue buying that land plot. A building is now under construction on this land.
Doan Bong - Hong Khanh

Tan Hoang Minh Group has sent a letter to the Party, State and Government leaders, and HCM City People's Committee about its decision to withdraw from Thu Thiem land purchase that it won at auction in mid-December.