Police investigates website providing pirated movies
According to the Ho Chi Minh City Law Newspaper, the HCM City police agency has initiated a criminal case and is investigating www.phimmoi.net for copyright infringement.
Phimmoi is a website that specializes in providing pirated movies. The website used to be in the top 20 most visited websites in Vietnam with an estimated monthly traffic of 60-100 million visits.
According to investigators, a resident in the Central Highlands province of Lam Dong began his plan to develop a website providing free movies. This person hired two persons with high IT skills in the southern province of Dong Nai to program, administer and operate the website: www.phimmoi.net.
This group has copied, exploited, used, screened and spread cinematographic works to the public without the permission of the copyright holder. This website has also illegally advertised products and services on copyrighted movies, earning huge amounts of money.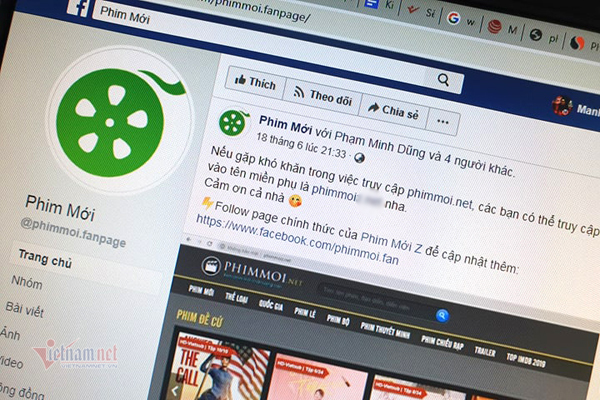 After being blocked in mid-2020, Phimmoi continually changed its domain name to bypass authorities. Photo: Trong Dat
The HCM City police agency has issued a notice requesting that victims who are authors, copyright holders and rights holders' representatives to report and provide information, documents and electronic data related to the infringement of copyright and related rights related to this website.
Digital content piracy is a serious problem in Vietnam. The reason for the popularity of pirated movie sites is the huge profit. It is easy to lure viewers to these sites due to Vietnamese users' habit of watching free movies.
Providers of pirated movies do not have to pay any cost for content production, while pirated movie sites benefit from advertising services for illegal products and services.
In late June 2020, many pirated movie websites such as Phimmoi, dongphim, motphim, vtv16 were blocked in Vietnam. Since then the owners of these websites have continually changed domain names to bypass the management agency. However, the number of visits to these sites has fallen significantly.
Trong Dat

Vietnamese singers may face copyright problems if they sing exclusive songs belonging to other singers, but it appears to be 'safer' when they sing international songs.