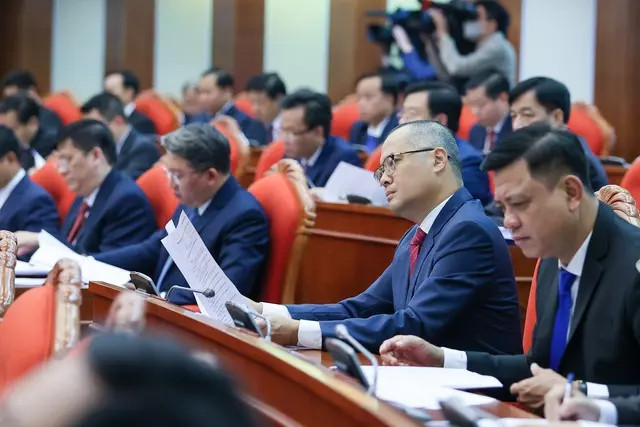 According to Conclusion 39 of the Politburo, after 15 years of implementing Project 165 on training and fostering leaders and managers abroad with the state budget, Vietnam has achieved positive results, fulfilling targets.
Under the program, various types of training overseas were organized for each group of leaders and managers in the political system.
Most of the cadres have learned of research, updated knowledge, developed their working capacity, and applied knowledge and experience at work. During the implementation of the project, a network of many prestigious domestic and foreign training institutions and experts was created, contributing to improving the quality of training for leaders and managers.
The Politburo plans to continue sending cadres abroad to training courses with the state budget in the new period.
The Politburo made a point of continuing to improve the quality of cadre training with practical and focused refresher programs, which updates management knowledge, methods and skills, and improves working capability in an international environment.
The training aims to implement the Party's policy on having a contingent of cadres at all levels, especially the strategic level, who have capability and prestige to implement their duties.
It is expected that from now to 2025, about 400 cadres will be sent abroad each year, including 40 for medium-term training, 250 for short-term training and 120 for foreign language training.
In 2026-2030, about 500 cadres will be sent abroad, including 50 for medium-term training, 300 for short term training and 150 for foreign language training.
The training includes organization of the state apparatus, national defense, security and foreign affairs; policies on sustainable development, economy, science and technology and the 4th industrial revolution; law formulation and judicial activities; and leadership and management skills.
Regarding short-term training (2 weeks), cadres will go in groups of 15-20 for each.
The subjects of training are cadres under the management of the Politburo and the Secretariat; leaders of general departments and divisions of departments, ministries, branches, socio-political organizations at the central level; and members of the standing committee of the provincial Party Committee, city party committee and party committee under the central government.
Medium term training courses will last three months, and teaching will be done in foreign languages.
The training to improve foreign language skills will include 4-month domestic training and 4-month overseas training. The subjects of the training are cadres, civil servants and public employees who use a foreign language at work.
Tran Thuong