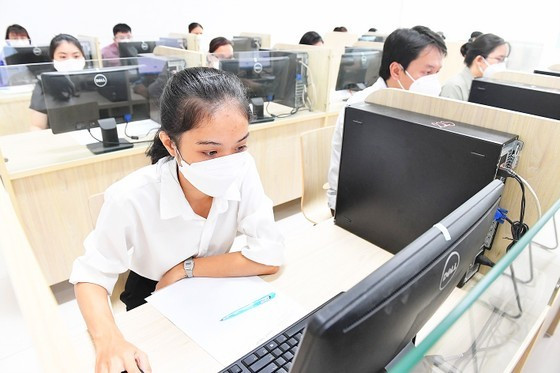 Candidates participating in a classical entry examination to become civil servants and public employees in Ho Chi Minh City
The Politburo's Resolution 31-NQ/TW on orientations and tasks for the development of Ho Chi Minh City to 2030, with a vision to 2045 specifically mentions the task of attracting talents. For a long time, Ho Chi Minh City leaders have realized that knowledge and the significant role of intellectuals, experts and scientists must be the pillar of the city's growth.
Accordingly, over the years, the Ho Chi Minh City Party Committee has always paid attention to policy adoption to increase resources for the city's political system. From that policy, the municipal People's Committee has developed and implemented many policies to attract experts, scientists and talented people to the fields the city needs.
Specifically, the People's Committee of Ho Chi Minh City has issued regulations on policies to attract and develop experts, scientists and talents for the field of demand in the period of 2019-2022. In 2022, the city People's Committee continued to issue a program to train high-quality human resources in the city until 2025, focusing on training high-quality human resources in key areas including information technology (including artificial intelligence - AI, internet of things - IoT, big data - Big Data, network security, cloud computing); automotive mechanics; automation field; logistics, tourism, construction and environmental technology.
Deputy Director of Ho Chi Minh City Department of Home Affairs Lam Hung Tan said that according to Ho Chi Minh City's attraction policy, experts, scientists and talented people are entitled to an initial allowance of up to VND100 million and receive a high monthly salary.
Moreover, talented people are entitled to a bonus of VND30 million- VND50 million a month. If they have research for the sake of the community, they are entitled to a research incentive remuneration at the rate of 1 percent of the value/budget expenditure for scientific works and products up to VND1 billion a person.
Last but not least, they are also entitled to a monthly housing support policy of up to VND7 million and other preferential policies.
However, the southern largest city failed to lure talented as per its plan. For instance, from 2014 to 2018, Ho Chi Minh City only attracted 17 experts and scientists working at four agencies and units in the Hi-Tech Park, the Agricultural Hi-tech Park, the Institute for Computational Science and Technology, and the Center for Biotechnology. In 2020, Ho Chi Minh City had to recruit 14 people for public sectors and agencies and in 2021, Ho Chi Minh City attracted five experts, two of them are Vietnamese overseas.
Recently, Ho Chi Minh City has attracted a few intellectuals and many people did not continue to work after the contract expired. In addition to attractive policies, the municipal People's Committee is implementing a pilot project to recruit leadership and management positions at agencies and units in Ho Chi Minh City.
According to this project, it takes time to implement the roadmap, which is in 2022 to organize the recruitment exam for the position of leader, departmental manager and equivalent. From 2023 onwards, the city will organize recruitment exams for leaders, departmental managers and equivalent.
Being a manager in the field of Science and Technology, Director of the Department of Science and Technology Nguyen Viet Dung said that attraction and retention policies and mechanisms in the field of science and technology revealed a number of limitations, leading to not fully exploiting the potential of intellectuals.
Vice Chairman of Ho Chi Minh City People's Committee Duong Anh Duc also acknowledged that the salary regime and policies are not enough to attract and retain experts despite the city's good incentive mechanism. The city should create a scientific environment and conditions for experts to have space for professional development which there are inadequacies.
Facing the above shortcomings, Ho Chi Minh City continued to develop a mechanism and policy for the fields of science, technology and innovation, contributing to creating favorable conditions for attracting intellectuals, scientists and experts. The director of the Ho Chi Minh City Department of Science and Technology also said that the remuneration policy needs to be more attractive to charm such special people. At the same time, the government should take heed of scientific studies with international cooperation in order to attract international resources in science, technology and innovation activities.
Lecturer Bui Ngoc Hien from the Ho Chi Minh City Academy of Cadres said that Resolution 31 of the Politburo has oriented and opened up space for HCMC to more strongly promote its advantages and be proactive in implementing mechanisms and policies for building a team of civil servants. This is allowing Ho Chi Minh City to develop its breakthrough and outstanding mechanisms and policies to tempt talents to work in the machinery of the state.
According to Dr. Bui Ngoc Hien, based on the Notice 50 of the Politburo, Ho Chi Minh City needs to propose special policies on attracting high-quality human resources such as pilot recruitment and appointment of good personnel to management and leadership positions according to competitive recruitment methods.
Chairman of Ho Chi Minh City People's Committee Phan Van Mai said that the southern metropolis is studying to develop new mechanisms and policies for attracting intellectuals, experts, and scientists. In addition to the incentive policy by training mechanism, additional income, housing and other benefits for promotion and appointment, Ho Chi Minh City will create conditions for special people to participate more deeply in key programs and projects of the city.
Source: SGGP