Political Headlines January 25
Pre-Tet meeting held with foreign military attachés; Deputy PM meets EU, Swiss officials; Deputy PM's speech at WEF forum; Vietnam shares agricultural vision at Davos
Pre-Tet meeting held with foreign military attachés
The Department of Foreign Relations under the Defence Ministry hosted a pre-Tet get-together with foreign military attaché corps in Hanoi on January 24.
Director of the department Major General Vu Chien Thang said in 2013 Vietnam deepened its cooperation with other nations and international organisations, which was contributed by foreign military and defence attachés posted in the country.
On behalf of the attendees, Indian Military Attaché Colonel Mullath Sri Kumar thanked the Vietnamese Defence Ministry for helping military attaché corps fulfil their duties.
He expressed hope that they will have more opportunities to conduct exchanges with Vietnamese military units to further promote mutual understanding and affiliation between armies of Vietnam and other countries.-
Deputy PM meets EU, Swiss officials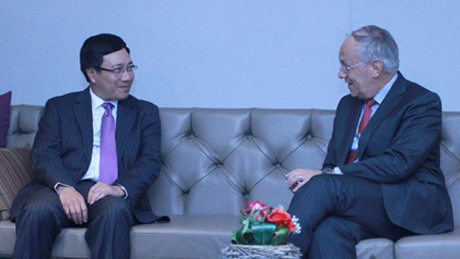 Deputy Prime Minister and Foreign Minister Pham Binh Minh on January 23 met EU and Swiss senior officials on the sidelines of the World Economic Forum (WEF) 2014 in Davos, Switzerland.
Meeting with Swiss Economy Minister Johann Schneider-Ammann, Deputy PM Minh affirmed Vietnam's recognition of importance to developing relations with Switzerland- an important partner of Vietnam in Europe.
He suggested Switzerland maintain its ODA funding for Vietnam and intensify investments in areas of Swiss strengths such as hi-technology, chemicals, pharmaceuticals, finance-banking and insurance.
Minister Ammann asked Vietnam to consider some proposals made by the Swiss business delegation during its trip to the country in last October.
Both sides compared notes on negotiations on a free trade agreement between Vietnam and the European Free Trade Association (EFTA) and agreed to accelerate the early conclusion of negotiations before the end of 2014.
Mr Minh greatly valued Vietnam-EU relations at his meeting with the High Representative of the European Union for Foreign Affairs and Security Policy, Catherine Ashton.
They were committed to speed up the the EU-Vietnam Free Trade Agreement (EVFTA) negotiation process.
Deputy PM Minh called on the EU to boost the approval of a Partnership and Cooperation Agreement (PCA) and recognize Vietnam's market economy status no later than the time when the EVFTA concludes.
The two sides consented to make thorough preparations for the EU-ASEAN Foreign Ministers Meeting.
As a coordinator for ASEAN-EU relations, Vietnam will draft a joint statement of the meeting.
The EU senior official said the Union has increasingly placed importance on its relations with ASEAN as well as with Vietnam demonstrated by FTA negotiation efforts.
Deputy PM's speech at WEF forum
Deputy Prime Minister and Foreign Minister Pham Binh Minh has emphasised East Asian connectivity and economic integration during his speech at the World Economic Forum in Davos, Switzerland.
The dynamic growth of ASEAN economies in the wake of the 2008–2009 global financial crisis was one factor driving East Asian growth more broadly. ASEAN actively promotes regional integration and connectivity through its community building process—scheduled for completion by 2015—and its various economic cooperation partnerships with China, Japan, the Republic of Korea, India, Australia, New Zealand, and others.
The reshaping of the world economy, the increase of economic connectivity and integration, and the shift in growth models toward sustainability generate both opportunities and challenges for countries and regions. ASEAN must be adaptive enough to maintain growth as it works to encourage East Asian integration and connectivity.
ASEAN member nations should focus on three important points.
To be the nucleus of regional integration and connectivity, ASEAN countries need internal strength. This demands ustainable economic structures resilient to outside turbulence. Vietnam's economic restructuring focuses on public expenditure, the banking sector, and enterprises. We also actively engage in regional and international economic linkages and promote multi-faceted cooperation with our partners.
Extending ASEAN's inter-regional economic ties reinforces the bloc and opens its members to the advantages of operating as a single economt with 600 million members and a combined GDP of US$2.3 trillion.
ASEAN should seize the opportunities of intra-ASEAN integration, integration with existing FTAs Partners in East Asia, and the establishment of the Regional Comprehensive Economic Partnership (RCEP) by 2015. The latter would incorporate half of the world's population and account for one third of global GDP. Connectivity networks like these generate new momentum for regional economic development.
In addition to the Community building process, ASEAN needs a feasible post-2015 integration and connectivity roadmap based on past progress and tailored to ASEAN's particular realities. It should anticipate the possibility of developing ASEAN into a Customs Union, or even a different, more highly integrated model.
The roadmap must consider development issues such as green growth, clean energy, water security, the environment and include addressing exisiting and emerging development disparities.
Vietnam has urged ASEAN to place poverty reduction and sustainable development at the centre of its development agenda in a manner compatible with and supplementing the UN's post-2015 development goals.
Third, ASEAN should work with its partners to ensure an environment conducive to integration and connectivity. The association needs to maintain unity, uphold shared responsibilities and maximise its strategic centrality—, especially in relation to regional peace, security, and stability.
ASEAN needs to concur on conduct norms that can eventually lead to a binding code, including expanding the Bali Declaration on the Principles of Mutually Beneficial Relations.
ASEAN should embrace its role in addressing traditional and non-traditional security challenges, which include the East Sea (South China Sea) issue. Recent developments in the South China Sea affect not only concerned countries, but also peace, stability, maritime security, and airspace throughout the region.
Vietnam and other ASEAN members share the view that the parties concerned must settle disputes peacefully, exercise restraint, and respect and observe international law including the 1982 UNCLOS. While honouring their DOC, parties should also work towards an early completion of a more rigorous Code of Conduct (COC). They have been calling for substantive COC negotiations between ASEAN and China since the first official ASEAN-China SOM consultation last September.
President visits museum for revolutionary prisoners
President Truong Tan Sang has stressed the need for the country's experienced citizens to set a greater moral example to the next generations.
He made the remark during a January 24 visit to a museum dedicated to revolutionary prisoners in Hanoi's Nam Quat village, Phu Xuyen district.
The special museum was built and managed by Lam Van Bang, a former prisoner in Phu Quoc jail in the southern province of Kien Giang from 1970 to 1793.
With more than 2,000 objects, photos and documents donated by former inmates, the museum recalls the different stories of former Phu Quoc prisoners of war.
President Sang said the courage and bravery of soldiers has always been an attribute of the Vietnamese people. He called on citizens to support the national political system to spur socio-economic development and improve people's living standards.
He noted his high appreciation of the effort made by soldiers to open and manage the museum, and expressed his hope that it will run more exhibitions in the future so as to educate young generations about the country's revolution.
He also suggested local authorities make it easier for the managers to expand the museum's scale and diversify its activities.
Vietnam shares agricultural vision at Davos
Vietnam will pioneer the World Economic Forum initiative "A new vision for agriculture" incorporating food security, poverty reduction, and global sustainable development.
Vietnam will pioneer the World Economic Forum (WEF) initiative "A new vision for agriculture" incorporating food security, poverty reduction, and global sustainable development.
Deputy Prime Minister-Foreign Minister Pham Binh Minh made Vietnam's commitment at a WEF session on global agricultural restructuring in Davos, Switzerland, on January 24.
He noted agriculture plays a primary role in and forms the backbone of Vietnam's economy, even in difficult times.
He recalled the Vietnamese Prime Minister's New Year message, saying it is time to accelerate agriculture restructuring and apply advanced technology to agricultural production to increase added value and fuel sustainable development. Farmers must be at the centre of this process.
During the past three years, Vietnam has established taskforces to realize the WEF initiative by applying good agricultural practices to a number of strategic farm products, and obtained initial results.
Minh said Vietnam wants to encourage cooperative relationships between farmers and businesses as a way of ensuring the benefits of production, processing, and consumption are distributed more equitably across chains of value.
These efforts will shift the focus of agricultural production on to competitive commodities with guaranteed consumer demand.
Vietnam will gradually link high technology, agriculture, industry, and services in a sustainable multi-functional model of agricultural production, Minh revealed.
He thanked international organisations and foreign investors for supporting Vietnam's agricultural ambitions, and said concerned parties need to work more closer together to fully tap into their potential.
Vietnam encourages the public-private partnership (PPP) model with the participation of transnational companies in agricultural production, considering it the best way of bringing Vietnamese goods to world markets and including farmers in global chains of value, the Deputy PM stressed.
They are also essential to the economic, social, and environmental aspects of the government's new agricultural vision, he said.
India's Republic Day marked in HCM City
Vietnam-India relations have fared well in all areas since the 2007 establishment of their strategic partnership.
HCM City's Vietnam-India Friendship Association President Huynh Thanh Lap was speaking at a January 24 meeting in HCM City ahead of India's Republic Day on January 26.
He congratulated India on its achievements over the past 65 years and expressed confidence the country's economic, defence, and technological advances will propel it into becoming an Asian and international power.
He emphasised the two countries' history of friendship and their cultural, artistic, and religious similarities and said they both experienced the past struggle for national independence.
Vietnam-India cultural exchange in Danang in 2013
The two countries regularly exchange high-ranking visits, negotiate cooperative agreements, and coordinate at regional and international forums.
Lap noted HCM City has collaborated with the Indian Consulate General on a number of cultural exchanges and investment and trade promotion activities.
Indian Consul General Deepal Mittal expressed his delight at the positive development of bilateral relations and hoped two-way trade turnover would hit US$7 billion in 2015.
He also revealed the Consulate General is preparing for the establishment of a twin city relationship between HCM City and Mumbai.
Vietnam, Venezuela increase cooperation
Ambassador Ngo Tien Dung has led a Vietnamese Embassy delegation on a January 19–22 working visit to the Merida state of Venezuela.
The visit celebrates this year's 25th anniversary of diplomatic ties between Vietnam and Venezuela (December 18). It promotes exchange, advertises Vietnam's image, and encourages cooperation with Venezuelan localities.
The Vietnamese delegation met with Merida Governor Alexis Ramirez, who briefed his guests on the region's potential and the advantages it enjoys in agriculture, aquaculture, construction, tourism, and traditional medicine.
On a request from Merida state leaders, Vietnamese officials made a presentation on the political and revolutionary ideology of late President Ho Chi Minh.
They also met with the rectors of Los Andes and Kleber Ramirez Universities to lay the groundwork for expanded bilateral cooperation in education and training.
Ambassador Dung affirmed Vietnam's desire to embark upon multi-faceted cooperation with Merida as well as Venezuela in general.
On January 20, the Vietnamese Embassy organised a photographic exhibition at Merida State's Casa Booset Cultural Centre.
The exhibition, part of Venezuela's January 20–27 Vietnam Culture Week, introduces the beauty of Vietnam's land, people, and history.
State leaders make pre-Tet visits
National Assembly Chairman Nguyen Sinh Hung offered incense yesterday to late President Ho Chi Minh at House No. 67 in the Presidential Palace complex in Ha Noi, prior to the Tet holiday.
The house, located within the Ho Chi Minh historical site, was named after the year 1967, when it was constructed. This is the house in which the President worked and passed away.
Hung also praised the historical site's staff for preserving items related to the late President.
He further told them to work hard to conserve the historical items for future generations, while introducing President Ho Chi Minh's life and career to more people throughout the country, as well as to foreign visitors.
Also yesterday, President Truong Tan Sang visited a museum dedicated to revolutionary prisoners in Nam Quat Village, Phu Xuyen District in Ha Noi.
The special museum was built and managed by Lam Van Bang, a prisoner from 1970 to 1973 in Phu Quoc jail in the southern province of Kien Giang.
With more than 2,000 objects, photos and documents donated by former inmates, the museum recalls stories of former Phu Quoc prisoners of war.
During the visit, Sang said the courage and bravery of soldiers had always been an attribute of the Vietnamese people.
He noted his high appreciation of the effort made by soldiers to open and manage the museum, and expressed his hope that it would sponsor more exhibitions in the future to educate younger generations about the country's revolution.
Sang also suggested that local authorities make it easier for the museum's managers to expand the museum's scale and diversify its activities.
To mark the upcoming Tet holiday, President of the Viet Nam Fatherland Front Central Committee, Nguyen Thien Nhan, yesterday visited Most Venerable Thich Pho Tue, leader of the Viet Nam Buddhist Sangha's Patronage Council, along with other Buddhist dignitaries.
Over the past years, the Vietnam Buddhist Sangha (VBS) has been an active member of the Fatherland Front, Nhan stated.
The social activities hosted by VBS's chapters and pagodas have helped disadvantaged people, contributing to the nation's unity, he said.
The Viet Nam Fatherland Front is willing to assist the Vietnam Buddhist Sangha organise Vesak 2014, a celebration of Buddha's birthday in Viet Nam, Nhan said.
The Most Venerable Thich Pho Tue said he hoped the Fatherland Front will consolidate and strengthen the nation's solidarity, tightening the close relationship between the people and the Party and State, in order to achieve greater progress.
Also, Dinh The Huynh, Politburo member and head of the Party Central Committee's Commission for Education and Popularisation, paid a pre-Tet visit to Brigade 144 under the General Staff of the Viet Nam People's Army.
Huynh, who is also Secretary of the Party Central Committee, called on the brigade to partner with the Road and Railway Traffic Police Department and other forces to guarantee safety for all people during the coming national festival.
Huynh also visited officers and soldiers of the Ha Noi Road and Railway Traffic Police Department.
Bidding New Year wishes to the unit, Huynh voiced his appreciation for efforts made by its officers and soldiers in ensuring traffic safety, political stability and social order in the capital.
HCMC, Japan cities to work together
HCM City hopes to increase its co-operation with the city of Nemuro and other localities in Japan, said Le Manh Ha, deputy chairman of the HCM City People's Committee.
He made this comments during a reception for Hasegawa Shunsuke, mayor of Nemuro City, during the Japanese mayor's working visit to HCM City.
Ha noted that many Japanese companies had made effective investments in HCM City in the fields of trade, economics and advanced technologies.
He expressed his hope that, this year, relations between HCM City and Japan would continue to grow, with more group making visits to carry out investment projects and enhance co-operation between the two countries' businesses.
Shunsuke, for his part, said he hoped for the support of HCM City's leaders in promoting co-operation between the two cities in cultural activities, the cultivation of seafood, and developing human resources in the coming years.
Vietnam, Cambodia armies beef up cooperation
The forces of Military Zone 9 in the Mekong delta region provided free check-ups and medicines along with gifts worth over 876 million VND (41,000 USD) to 7,000 Cambodian people in 2013.
With assistance from the Royal Army, authorities and people of Cambodia, Military Zone 9's staff searched and gathered 253 remains of Vietnamese volunteer soldiers who died in the country during the 2012-2013 dry season.
The results were reported at a conference of Military Zone 9 and the Royal Cambodian Army on January 24 to review their cooperation in 2013 and work out their future plans.
In the year, both sides conducted regular exchanges of information, allowing them to promptly and effectively settle arising border issues.
At the event, Vice Commander-in-Chief of the Royal Cambodian Army Gen. Meas Sophea laid stress on Military Zone 9's contributions, saying these were significant to the building of the Cambodian army and the force's capacity to protect peace and stability.
The Royal Cambodian Army is determined to boost all-around cooperation with Military Zone 9, maintaining their focus on national security to safeguard peace and stability and thwart all the plots and actions that may harm the time-honoured solidarity between the two countries, he said.
In the time ahead, the Vietnamese side will enhance joint border patrols to prevent cross-border criminals and help Cambodia promote socio-economic development and defence.
Vietnamese, Cambodian localities review cooperation
Key leaders of Vietnam' southern Tay Ninh province and Cambodia's Kampong Cham, Svay Rieng and Pray Veng provinces met on January 24 to review their solidarity, friendship and cooperation over the past time.
Addressing the event, which took place in Tay Ninh province shortly before the Lunar New Year (Tet) holiday, Nguyen Thi Thu Thuy, Chairperson of the Tay Ninh provincial People's Committee, said economic cooperation and cultural exchange between Tay Ninh and the Cambodian localities have developed fruitfully recently.
Particular progress has been made in healthcare, education, transport, farming, border trade and the repatriation of Vietnamese voluntary soldiers who laid down their lives in Cambodia, she said.
The official reflected on an international seminar named "Tay Ninh: A Gateway for Trade Border Development between Vietnam, Cambodia and Laos" which was jointly held by Tay Ninh province and the trade ministries of the three countries in December last year. She said that the event had been a boost to long-term investment cooperation between neighbouring businesses.
Major achievements have been recorded in border demarcation and marker planting, contributing to stabilising security on each side and building a common border line of development, peace and friendship, she said.
Thuy affirmed that the Tay Ninh authorities have always attached importance to enhancing the fine neighbourly relationship with bordering Cambodian provinces.
Rua Chhay, Svay Rieng province's Deputy Governor, praised the successes reaped by the Party and State of Vietnam, and Tay Ninh province in particular, in spurring economic growth, improving people's living standards and raising the country's prestige in the region and the world at large.
Local authorities of the neighbouring provinces have actively worked with each other to ensure security, safety and order at border areas in the spirit of respecting the independence, sovereignty and territorial integrity of each country, he said.
He noted the great support of the Tay Ninh authorities to the three Cambodian localities in many areas, including planting sugar-cane trees, preventing and controlling diseases plaguing animals and poultry and training medical workers.-
Religions extend wishes to Mass Mobilisation Commission
Dignitaries of the Evangelical Church of Vietnam (North) on January 24 bid New Year greetings to the Party Central Committee's Commission for Mass Mobilisation.
Wishing the commission a happy and warm Tet holiday, Pastor Nguyen Huu Mac, head of the Evangelical Church of Vietnam (North), briefed the Deputy Head of the Commission Nguyen Manh Hung on its activities over the past year, especially its 34th General Assembly and the opening of a university for Church dignitaries and assistants.
He used the occasion to thank the Party, State and the commission for their support helping the Church stabilise its operations and bring happiness to the country's Protestant community.
Pastor Mac voiced his hope that the commission will pay more attention to religions by creating conditions for groups of Protestants to practice their beliefs regularly.
For his part, the Deputy Head of the Commision Nguyen Manh Hung, spoke highly of the Church's activities in 2013, conveying his wish that Protestant dignitaries and followers will continue supporting the nation on its development path.
He also noted his hope that the Evangelical Church of Vietnam (North) will soon merge with the Evangelical Church of Vietnam (South), creating a common house for Protestants nationwide.
The same day, the commission received a delegation of the Cao Dai Tay Ninh religion led by Thuong Phong Thanh, who said the Church has guided its followers to abide by guidelines and policies of the Party and State while participating in movements launched by the Vietnam Fatherland Front.
Hailing the Church's outstanding performance, Hung called on it to continue encouraging its followers to lead good secular and religious lives.-
VNA/VNS/VOV