Political Headlines January 9
Prime Minister welcomes head of international atomic agency, Defence Ministry aims for stronger defence diplomacy, Prime Minister vows to tackle corruption; Prime Minister to visit Cambodia
Prime Minister welcomes head of international atomic agency
Viet Nam favours developing nuclear energy for peaceful purposes and remains committed to ensuring nuclear security and safety, as well as the non-proliferation of nuclear weapons, Prime Minister Nguyen Tan Dung has said.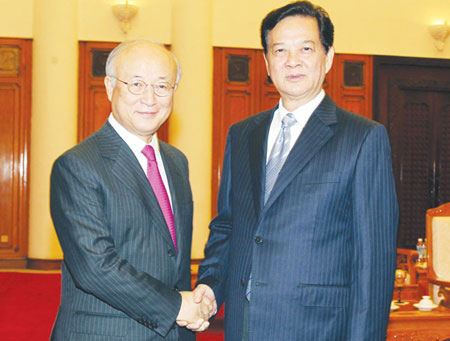 Prime Minister Nguyen Tan Dung (right) welcomes Yukiya Amano, Director General of the International Atomic Energy Agency (IAEA) in Ha Noi yesterday.
The prime minister made this commitment while receiving Director General of the International Atomic Energy Agency (IAEA) Yukiya Amano in Ha Noi yesterday, Jan 8.
Prime Minister Dung expressed his pleasure over the past collaboration between Viet Nam and the IAEA, saying he hoped that the agency would provide continued support for the country, especially in adopting nuclear energy for use in medicine and agriculture, as well as training personnel, building institutions and developing policies.
The IAEA head praised the positive role Viet Nam has played in promoting nuclear security and safety in the world, citing the country's participation in a range of international treaties on nuclear energy, including on nuclear power.
Yukiya Amano stressed that Viet Nam is one of IAEA's important partners, pledging to support the country in deploying civil nuclear energy projects, thus helping it fulfil its UN millennium development goals.
Defence Ministry aims for stronger defence diplomacy
Defence Minister Phung Quang Thanh has requested the entire armed forces and military attaché abroad to pay attention to relations with neighbouring, ASEAN and traditional partners when carrying out their external activities in 2014.
Addressing a conference in Hanoi on January 8 to review the Defence Ministry's 2011-2013 defence-diplomatic activities and set tasks until 2015, Minister Thanh called for the close collaboration between the army's external relations units and those from the Party, State and mass organisations in undertaking defence diplomacy.
Acknowledging that defence diplomacy has maintained an environment of peace, political stability, independence, sovereignty and territorial integrity, the minister also asked for the dissemination of knowledge involving external relations to key officers at all levels.
Present at the conference, Deputy Prime Minister and Foreign Minister Pham Binh Minh urged the ministries of National Defence and Foreign Affairs to work closely together on external relations to safeguard territorial integrity and forge an environment conducive to development.
He also said both sides should share information and make strategic forecasts about regional and global situation while extending Vietnam's ties with key partners in terms of security and development.
Together with the political diplomacy that has safeguarded Vietnam's socialism and territorial sovereignty, defence diplomacy has contributed to its deeper ties with ASEAN and developed countries, resulting in the country's more influential position in international arena, Minh noted.
Participants reached consensus on the serious implementation of the national defence strategy resolution adopted at the Communist Party of Vietnam Central Committee (CPVCC)'s eighth conference, as well as global integration plans of the Politburo and the CPVCC's Military Commission.
Relevant units will actively offer the Party and State advice on defence and security and effectively engage in the United Nations' peacekeeping mission.
Between 2011 and 2013, they fostered exchanges with localities and neighbouring countries, and conducted regular patrols along border areas to ensure political security and social safety.
They also actively worked on personnel training and engaged in multilateral cooperation mechanisms.
Prime Minister vows to tackle corruption
Prime Minister Nguyen Tan Dung vowed that anti-corruption efforts would be one of the Government Inspectorate's priorities in 2014, during a teleconference in Ha Noi yesterday, Jan 8.
He asked the agency to work harder in uncovering corruption cases, particularly focusing on financial transactions in areas such as construction, land, State budget collections and public procurement.
The Prime Minister underlined the need for the Government Inspectorate to partner closely with ministries and localities to handle the remaining 62 out of 528 complaints and denunciations currently pending investigation.
Prime Minister Dung also called for closer inspections of ministers and chairpersons of People's Committees throughout Viet Nam, especially in their supervising State management of land, capital construction investment, State-owned enterprises and implementation of national target programmes.
Urging local leaders to increase their direct dialogue with the public, PM Dung said complaints and denunciations should be addressed from the grassroots level upwards to ensure social order and security.
He also spoke highly of recent efforts made by the Inspectorate, which he claimed has significantly contributed to the country's achievements.
According to Inspector General Huynh Phong Tranh, last year, the agency conducted 8,921 administrative inspections, uncovering the misuse of VND326.5 trillion and 4,520ha of land. As a result, more than VND25 trillion and 3,653 hectares of land have been reclaimed, while more than 1,580 collectives and 2,675 individuals were fined for administrative violations. The inspection sector also transferred 72 cases and 75 individuals to investigative agencies.
However, the low efficiency of inspection work, the slow settlement of disputes and a lack of resources have limited the impact of anti-corruption efforts.
To deal with these shortcomings, inspections should be held more regularly and on a surprise basis, as was recommended during the teleconference.
Prime Minister to visit Cambodia
Prime Minister Nguyen Tan Dung will pay a working visit to Cambodia from January 12-14.
The visit will be made at the invitation of his Cambodian counterpart Samdech Techno Hun Sen, according to the Ministry of Foreign Affairs.
VN, Laos plan to exchange economic know-how
Laos seeks to learn about creating regulations and agencies, as well as economic management, from Viet Nam's Ministry of Finance, according to Lao Deputy Prime Minister Somsavat Lengsavad.
Lengsavad made the request at a meeting with Minister of Finance Dinh Tien Dung in Ha Noi yesterday, seeking to exchange experience in curbing inflation and ensuring the public's welfare.
Minister Dung said Viet Nam is targeting Gross Domestic Product (GDP) growth of 5.8 percent this year, along with a 10 per cent increase in export turnovers.
Lengsavad, also Chairman of the Laos-Viet Nam Cooperation Sub-committee, said Viet Nam's experience in economic policies will be of great use for Laos as it works to manage its finances.
Deputy PM welcomes US company CEO
Deputy Prime Minister Vu Van Ninh yesterday (Jan 8) received Kim Thompson, Chief Executive Officer of Kraig Biocraft Laboratories Inc. from the US.
Deputy PM Ninh said he appreciated the attention Kraig Biocraft Laboratories has paid to the Vietnamese market, as well as its plans to develop a new silk technology project in Viet Nam.
Thompson said, after his group's fact-finding trip to some provinces, that Lam Dong has been selected for Kraig Biocraft Laboratories' investment.
He added that he hopes the silk project will help further strengthen the comprehensive strategic partnership between Viet Nam and the US.
Vietnam, Algeria boost multifaceted cooperation
The Vietnam-Algeria Intergovernmental Committee convened its 10th session in Hanoi on January 8 to map out priority areas of bilateral cooperation in the coming time.
The event was co-chaired by Minister of Construction Trinh Dinh Dung and Algerian Minister of Industry Development and Investment Promotion Amara Benyounes.
In his speech, Minister Dung said the meeting will play an important role in strengthening friendship and further fostering all-round cooperation between the two countries.
After more than five decades of establishing diplomatic ties, the economic relationship between Vietnam and Algeria has been seeing positive development, with a strong increase of their two-way trade.
According to data provided by the General Department of Vietnam Customs, Vietnam earned almost 150 million USD from export to Algeria last year, up over 30 percent against 2012, while spending about 3 million USD on imports from the country.
Vietnam 's major exports included coffee, rice, pepper, aquatic products, footwear, machines and equipments.
In particular, the joint venture between the PetroVietnam Exploration Production Corporation with its Algerian partners has enjoyed positive development, and it is expected to officially exploit oil at the end of this year.
In addition, other cooperation fields such as industry, aquaculture, information and communications and tourism have also been ceaselessly reinforced and developed.
Benyounes remarked that the bilateral cooperation between the two governments has proven beneficial to the comprehensive cooperation between the two nations.
However, he noted that the trade turnover between his country and Vietnam is still falling short of potential.
Algeria has now developed expertise on chemical substances and farm products and the country is seeking to attract foreign investment in exploiting oil and producing agricultural products, the guest said.
During the three-day meeting, the two sides will focus on measures to promote cooperation in oil exploitation, trade investment, health, education, expert exchange, agriculture and construction.
Cuban Revolution's victory marked in Hanoi
A ceremony was held in Hanoi on January 8 to celebrate the 55th anniversary of the victory of the Cuban Revolution, with National Assembly Vice Chairwoman Nguyen Thi Kim Ngan and Cuban Ambassador to Vietnam Herminio Diaz Lopez both in attendance.
The event was organised by the Ho Chi Minh National Academy of Politics and Public Administration, the Central Committee of the Vietnam-Cuba Friendship Association (VCFA) and its Hanoi chapter.
The Cuban Revolution, successfully led by Fidel Castro against the dictatorial government of Fulgencio Batista, lasted for over five years before victory was declared on January 1, 1959.
At the event, NA Vice Chairwoman Ngan, who is also head of the VCFA Central Committee, underlined the significance of this triumph, saying that it helped open a new chapter in the country's history and bring rights to all Cuban people.
She also recalled the solidarity and friendship between Vietnam and Cuba, affirming that the traditional relations will be reinforced and further developed in the future.
While reminiscing about his country's revolution 55 years ago, Herminio said in all of its struggles, Cuba always received wholehearted assistance from the fraternal Vietnamese people.
He also thanked Vietnam for its support for Cuba during the past 55 years, adding that Vietnam's experience is also a helpful reference for Cuba to update its economic model.
The ambassador also expressed his belief that efforts made by the VCFA and its chapters across the country will help boost bilateral ties, especially in economics and trade.
Constitution enforcement – a 2014 priority
The enforcement of the amended Constitution is one of the key tasks of all sectors and the political system in 2014, National Assembly Chairman Nguyen Sinh Hung said at an online national conference in Hanoi on January 8.
He said it is vital to put the contents of the document in place, creating positive and intensive changes in all sectors of society and making the public more aware of the amended laws of the land.
Legal documents which were issued prior to January 1, 2014 (the day the Constitution took effect) will need to be reviewed for amendment and re-issued to reflect the up-to-date regulations, he said.
He also asked all sectors, organisations and localities to be active in planning for the task, adding that reports on Constitution implementation must be sent to the NA Standing Committee and the government biannually and annually.
The NA Standing Committee, the Government and the Party Central Committee's Commission for Education and Popularisation will direct and organise the task, he noted.
Speaking at the event, Head of the Commission for Education and Popularisation Dinh The Huynh declared in no uncertain terms that the enforcement of the amended Constitution is an urgent task for the people, Party and armed forces of Vietnam.
According to Chairman of the NA's Law Committee Phan Trung Ly, both central and local agencies will review issued legal documents to ensure all are constitutional, particularly those concerning the apparatus of the State and other institutions in the political system, basic human rights and rights and duties of the citizens.
Party leader visits Son La province
Party General Secretary Nguyen Phu Trong on January 8 paid a working visit to Chieng Ban commune, Mai Son district, Son La province, as part of his tour to the northern mountainous province.
The Party leader was inspecting the implementation of socio-economic development initiatives and Party building tasks in the locality.
He praised the achievements made in Chieng Ban in its new-style rural area building programme.
The commune mobilised local people to participate in building roads and cultural houses and undertaking social work.
It also changed local agricultural methods by choosing to grow plants more suitable to its terrain and soil, particularly coffee, with high productivity and economic effectiveness.
Locals can harvest 100,000-140,000 tonnes of fresh coffee berries per year and enjoy profits over three times higher than offered by other crops.
The Party leader expressed his hope Chieng Ban will continue increasing the productivity and quality of coffee trees to supply for domestic markets and to export products to other countries.
The same day, he visited Son La hydropower plant, where he praised the efforts by the plant's officials, engineers and workers to put it into operation a whole three years ahead of schedule.
Built in 2005, the plant was put into full operation in December 2012. Since its first turbine began generating power in December 2010, the plant has produced 21.3 billion kWh of electricity, contributing over VND2.5 trillion (US$120.65 million) to the State budget.
The Party leader also visited teachers and students of the province's ethnic boarding high school and offered incense to martyrs at the Son La prison relic site, where Vietnamese communist soldiers were detained during the resistance war against French aggression.
He also paid a visit to It Ong commune, Muong La district, to inspect a rubber growing project in the province.
VNN/VNS/VNA/VOV