Vietnam, RoK hold defence policy dialogue
Vietnam and the Republic of Korea reviewed global and regional security, especially in Northeast Asia, ASEAN, and the East Sea at a defence policy dialogue in Hanoi on July 21.
Deputy Defence Minister Senior Lieutenant General Nguyen Chi Vinh and his RoK counterpart Baek Seung Joo examined the results of multilateral cooperation in national defence, including relations between ASEAN and the US, China and Japan.
They noted with satisfaction progress in bilateral cooperation in delegation exchange, cyber security, and humanitarian mine action programme.
They also agreed on measures to strengthen Vietnam-RoK cooperation in the defence industry and share experience in joining UN peacekeeping operations.
Receiving the RoK delegation the same day, Defence Minister General Phung Quang Thanh hailed the results of the dialogue, which he said would help consolidate friendship and mutual understanding between the two countries' armies and peoples.
Peace Committee delegation visits Laos
A delegation of the Vietnam Peace Committee led by its president Pham Van Chuong held a working session with a delegation of the Lao Solidarity and Peace Committee led by its president Khamphanh Simmalavong in Vientiane on July 22.
Both sides exchanged views on regional and global issues of mutual concern and discussed measures to carry out the foreign policy as well as high-level agreements between the two countries.
Acknowledging the two committees' effective operations in recent times, they agreed to increase the sharing of information and experience, and assist each other in realising the foreign policy of each country, so as to elevate Vietnam-Laos relations to a new level.
President Chuong said the Vietnam Peace Committee will work closely with its Lao counterpart to maintain and further develop the traditional friendship, special solidarity and comprehensive cooperation between the two countries.
The Vietnamese delegation also paid courtesy visits to senior Lao Party and government leaders, and visited several wartime relics in Xiang Khouang.
Sri Lanka, Viet Nam step up security co-operation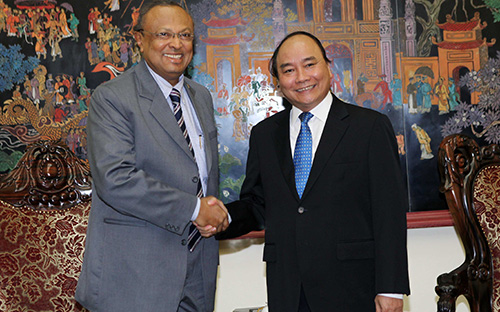 Deputy Prime Minister Nguyen Xuan Phuc has asked Sri Lanka to work closely with Viet Nam to fight crimes, especially those involving e-commerce and credit, as per their signed agreements.
Receiving Secretary to the Sri Lankan Ministry of Law and Order, Nanda Mallawaarachchi, in Ha Noi yesterday, Phuc asked for closer bilateral collaboration to ensure security and safety for high-ranking delegations, as well as for trade, investment, studies and tourism activities in each country.
He thanked Sri Lanka for backing Viet Nam's bid for a seat on the United Nations (UN) Human Rights Council from 2014 to 2016, UN Economic and Social Council from 2016 to 2018, and on the UN Security Council from 2020 to 2022.
The host suggested mutual support at regional and global forums for peace and stability in the region and the world.
Nanda Mallawaarachchi informed Phuc of the outcome of his working session with the Vietnamese Ministry of Public Security.
He expressed the hope that ties between the two ministries would go a long way for the sake of both nations.
Vietnam builds houses for Cambodian soldiers
Construction of a US$147,000 residential facility for Royal Cambodian Army (RCA) soldiers funded by the Vietnam Ministry of National Defence (MoND) got underway in Kandal province on July 21.
The two-storey building is being erected on an area spanning 420 sq.m and should be completed within 8 months. Once completed, it will provide much needed housing for RCA officers and soldiers.
Speaking at the ground-breaking ceremony, General Mak Sarun, Deputy Commander-in-Chief of the Royal Cambodian Army, expressed his sincere thanks to Vietnam for its assistance, emphasising the Vietnamese-funded project epitomizes the fine friendship relations between the two armies.
Vietnam helped Cambodia escape from the Pol Pot genocide and continues to support the country in the current construction and development process, Sarun said.
Last year, he added the Vietnamese Government and defence ministry helped the RCA train human forces, offered techniques, finances, and medical checks-up and built social projects for Cambodia.
Under a cooperation agreement between the two sides, the MoND will provide around US$21.6 million in official development assistance (ODA) for the RCA this year, of which US$2.4 million is for capital construction.
CPV experience to help Dominican leftist movement
The leadership experience of the Communist Part of Viet Nam (CPV) will help the United Left Movement of Dominica (MIU) enhance its role in the Dominian Republic's political system, a senior party official says.
During a four-day visit (July 15-18) to the Caribbean island nation by a CPV delegation, MIU General Secretary Miguel Mejia also affirmed his party's constant support to Viet Nam in its cause of national construction and development.
Hoang Binh Quan, head of the CPV Central Committee's Commission for External Relations who led the visiting delegation, hoped the two sides would continue working closely with each other to accelerate development of bilateral relations between Viet Nam and the Dominican Republic.
Referring to recent East Sea developments, Quan said China's action in placing an oil rig in Vietnamese waters seriously violated Viet Nam's sovereignty, infringed international law and threatened maritime security and safety.
He said Viet Nam was determined to safeguard its sovereignty and legitimate rights in accordance with international law, and demanded China not to repeat such illegal actions.
Mejia pledged continued efforts to foster friendship and co-operation between the two parties and peoples, as well as bilateral ties in economics, trade and investment. The CPV delegation paid a courtesy call to Vice President Margarita Cedeno de Fernandez and attended a special session of the Dominican Congress, and met with speakers of the Senate and the Chamber of Deputies of the Dominican Congress.
President: island needs to address infrastructure issues
President Truong Tan Sang has told authorities on the offshore district of Bach Long Vi Island to solve the shortage of electricity and fresh water.
The president was visiting the island district 133km from the northern city of Haiphong on July 21 to review socio-economic development and defence.
He said that the district played an important role on defence, seafood processing, fishing logistics and search and rescue operations for northern and central coastal regions.
The president said that given its limited budget, the province should focus on investment to avoid wasting money on petty projects and invite more private financial sources into developments.
He also urged local authorities to prepare to receive foreign fishermen who needed to shelter from storms.
The president also visited local Regiment 952, the Radar Station, Bach Long Vi Sea Border Station and the local Volunteer Youth Group.
He praised the staff and soldiers for overcoming difficulties to protect the island.
Noting the complicated situation in the region and the sea, Sang asked local staff and soldiers to closely work together and be prepared to act in any circumstances.
He requested them to tell local fishermen to fish only in Vietnamese waters as well as following international law.
Bach Long Vi Island District lies in the Bac Bo (Tonkin) Gulf. It takes about six to eight hours to reach by ship.
Founded in 1993, the district is one of the eight biggest fishing grounds in the gulf. It is home to nearly 500 residents and hundreds of fishing boats.
The district's growth rate averages 12% annually. Per capita income of residents has reached about VND40 million (US$1,900).
In Haiphong City, the president urged the High Command of Military Zone 3 to work closely with other forces to protect the country's sovereignty.
Later in the day, the President visited the LG Electronics Vietnam, the GE Company and the military-run Hong Ha Shipbuilding Company.
VNA to step up information sharing with Thai PR department
The Vietnam News Agency (VNA) and Thailand's Public Relations Department (PRD) yesterday committed to further exchange information on their country's preparations for ASEAN integration by the end of 2015.
This was decided by VNA Deputy Director General Le Duy Truyen and PRD Deputy Director General Paitoon Hiranpradith at the 11th Joint Technical Committee (JTC) meeting in Ha Noi.
The two sides reviewed the results of the implementation of their Memorandum of Understanding (MoU) on co-operation in information and news exchange and discussed measures to improve their coordination in the future.
PRD proposed that the VNA Bangkok-based bureau train PRD staff in the Vietnamese language. The proposed course will last at least 30 hours, enabling them to communicate in basic Vietnamese.
Deputy Director General Truyen agreed in principle to PRD's proposal.
VNA was in the process of working out its development strategy until 2020 with a vision for 2030, Truyen said, adding that he hoped PRD would share its assessment and forecast of media development in the future, particularly in the aspects of radio service and social media.
At the conclusion of the meeting, both sides signed a letter of transmittal for the 2014-2015 period. The 12th JTC meeting will be held in Bangkok in May 2015.
Party leader congratulates ruling Indian party chief
Party General Secretary Nguyen Phu Trong has sent congratulations to Amit Shah on his election as President of the ruling Bharatiya Janata Party of India.
VNA/VNS/VOV/VNN