Australian Governor-General praises Vietnam's development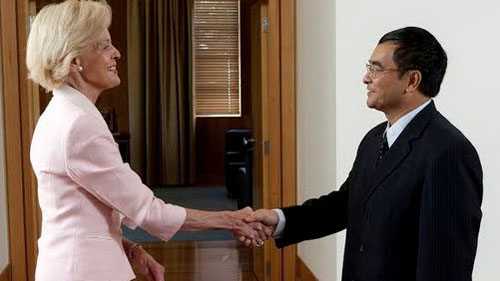 Australian Governor-General Quentin Bryce has expressed her admiration for Vietnam's recent socio-economic development achievements.
Bryce noted the accomplishments while receiving outgoing Vietnamese Ambassador Hoang Vinh Thanh at a February 7 ceremony.
She highlighted the productive relations between Australia and Vietnam over the past four decades, affirming the remarkable contributions of the overseas Vietnamese community to strengthening bilateral ties.
She recalled the warm welcome she received from Vietnamese leaders and people during her visit to the country in May 2011.
Governor Bryce praised the ambassador for his tireless dedication to the two countries' comprehensive cooperation, advancing united efforts in politics, economics, culture, education, tourism, and national security and defence.
Thanh recommended increasing the frequency of senior leader visit exchanges to bring the two countries closer.
He reported two-way trade turnover exceeded AUD6 billion in 2013, a dramatic improvement from 2009's AUD3.3 billion.
Australia allocated an estimated AUD160 million in official development assistance (ODA) to Vietnam, funding major projects including Dong Thap province's Cao Lanh Bridge construction late last year.
The diplomat also urged both sides to boost investment cooperation to fully tap their potential.
President launches tree-planting festival in Thanh Hoa
President Truong Tan Sang on February 7 launched a tree-planting festival at a temple dedicated to Vietnamese heroic mothers and martyrs in the Ham Rong relic site in central Thanh Hoa city.
Addressing the event, President Sang said Vietnam is one of the countries hardest hit by climate change, adding the country has suffered from strong storms and floods in recent years, which caused huge human and property losses.
Describing deforestation and eco-system destruction as one of the leading causes of the problem, he said tree plantation, forestation and forest protection have become an urgent priority in both the short and long terms.
He called on the entire population to enthusiastically respond to the planting campaign, which has become an annual event every spring since President Ho Chi Minh initiated the activity in 1959, while actively engaging in forest protection.
Together with local officials, the leader offered incense in memory of Vietnamese heroic mothers and martyrs and planted trees at the Ham Rong historical relic site.
The same day, a tree-planting festival was held at a temple in commemoration of martyrs in Cao Phong district, the northern mountainous province of Hoa Binh, in the presence of Vice National Assembly Chairwoman Tong Thi Phong.
Addressing the event, Bui Van Tinh, Secretary of the provincial Party's Committee and Chairman of the provincial People's Committee, said despite unfavourable weather conditions, the locality planted 8,860 hectares of forest.
The province will strive to plant another 8,560 hectares in 2014 and protect 89,098 hectares.
According to the Ministry of Agriculture and Rural Development, as many as 227,000 hectares of land nationwide were covered with green trees and 4.2 million hectares of forest were protected in 2013.
Ambassador confident of stronger NZ-Vietnam ties
New Zealand ambassador to Vietnam Haike Manning has said Vietnam is New Zealand's key trade partner in Southeast Asia and one of its 20 leading export markets globally.
Manning made the remark in his published article celebrating New Zealand's 174th public holiday (Waitangi) on February 6.
He said bilateral relations are faring well in all areas, on the back of enhanced trust and friendship through reciprocal visit exchanges.
He recalled 2013 Vietnam visits by NZ Governor Sir Jerry Mateparae and Defence Minister Dr Jonathan Coleman, and a historic NZ visit by Defence Minister General Phung Quang Thanh.
Both countries have signed a number of key agreements including those on double tax avoidance and aviation, to facilitate business and people-to-people links.
In 2014 the embassy will prioritise promoting the New Zealand Story in Vietnam themed "Our open hearts, open minds and open spaces" - an initiative to build a strong, consistent profile for New Zealand in international markets.
Manning revealed a host of cultural, trade, tourism and education activities will be held in Vietnam to mark 40 years of diplomatic ties in 2015.
The ambassador also extended best wishes to Vietnamese people on their Lunar New Year (Tet) holiday.
NA leader pays New Year visit to state offices
Chairman of the National Assembly (NA) Nguyen Sinh Hung paid New Year visits to some state offices and agencies on January 6, the first working day of the Year of the Horse.
Visiting the NA Office, the Supreme People's Court, the Supreme People's Procuracy, the Ministry of Justice and the Bank for Investment and Development of Vietnam, he wished all officials and staff a happy and peaceful year.
He praised the efforts and important contributions of the NA Office's staff, lauding their good performance in 2013.
In 2014, the office's greatest task is to promote the implementation of the newly amended Constitution, he said, calling on staff to exert further efforts.
At the Supreme People's Court, the NA leader spoke highly of the court's endeavour to handle important cases, contributing to ensuring political security, social safety and order, and creating favourable conditions for the country's socio-economic development.
He also asked the court to enhance its judgement quality, while improving the competence of its personnel.
Recognising the performance of the Supreme People's Procuracy in preventing and combating crime, NA Chairman Hung emphasised that 2014 is the first year the new Constitution will be implemented, and that the Supreme People's Procuracy should focus on building and adjusting relevant legal documents to suit the amended Constitution.
VNA/VNS/VOV