The 41st General Assembly of the ASEAN Inter-Parliamentary Assembly themed "Parliamentary Diplomacy for a Cohesive and Responsive ASEAN Community" entered into its second working day on September 9, with important issues under discussion.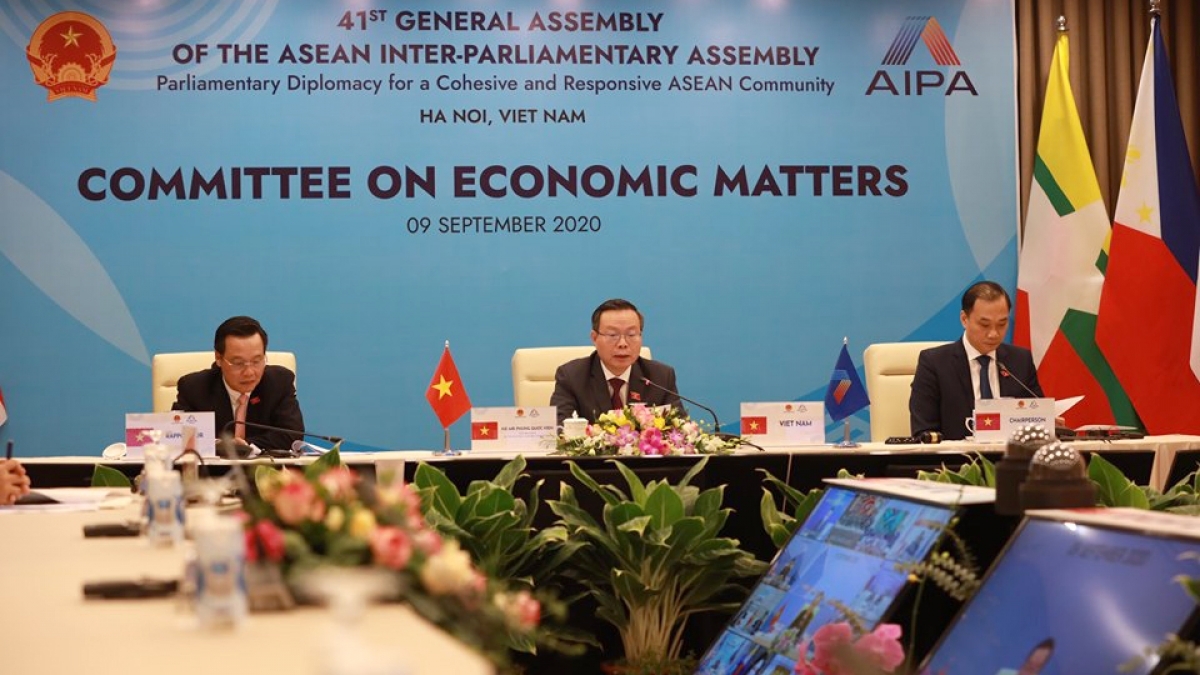 In his welcoming remarks to delegates, Vietnam National Assembly (NA) Vice Chairman Phung Quoc Hien emphasised that economic co-operation in the AIPA remains a key issue as it has a profound impact on various areas of co-operation in the region and the ASEAN economic community. The theme of the conference is therefore practical and urgent for all AIPA member nations, he noted.
NA Vice Chairman Hien expressed his hope that the AIPA Economic Committee will put forward recommendations for AIPA countries in order to share experience in responding to emergency situations and propose solutions aimed at enhancing connectivity for post-pandemic economic recovery.
COVID-19 reverses decades of economic development
A representative from Brunei stressed that the novel coronavirus (COVID-19) pandemic has caused an unprecedented impact on people's livelihoods, negatively affecting the socio-economic development of countries, although it has also created opportunities for ASEAN member states to unite to adapt and take a range countermeasures.
Within this context, the AIPA needs to collaborate to demonstrate the role of both parliaments in general and parliamentarians in particular to support the stability of the regional economy. Brunei therefore believes that the recovery plan should prioritise initiatives aimed at swiftly overcoming the negative effects of the pandemic, including easing travel restrictions throughout the region in order to recover and deepen regional economic integration, whilst also promoting regional trade and investment.
In the spirit of cohesion and adaptation, countries must approach a multidisciplinary and multilateral community in order to solve the multifaceted challenge posed by COVID-19. In addition, greater attention must be paid to promoting the digital environment and regional businesses.
"We support AIPA's tireless efforts to stabilise the regional economy in a spirit of cohesion and active adaptation. No country can overcome the pandemic alone. ASEAN should redouble efforts to maintain resilience and unite parliamentarians who play an active role in this process," the representative from Brunei emphasised.
A Cambodian representative also affirmed that the COVID-19 pandemic has caused a global health crisis and has turned into an unprecedented socio-economic crisis that has yet to be fully understood. As the global economy faces negative growth, a growing number of people are falling into extreme poverty. The COVID-19 pandemic has therefore reversed decades of economic development.
"In a globalised world, no country can survive alone, especially in the current crisis", the Cambodian representative stated, calling on ASEAN to strengthen cohesion so it can take on the role of an important area in the world and meet the aspirations of its citizens.
ASEAN needs to step up co-operation in COVID-19 response
A representative from Singapore noted that COVID-19's widespread reach and enormous devastation not only killed many people but also ruined the lives of many others.
Each country may have imposed different measures in an effort to deal with the problem, but from there it is also possible to learn lessons from each other, as well as discovering other effective counter measures.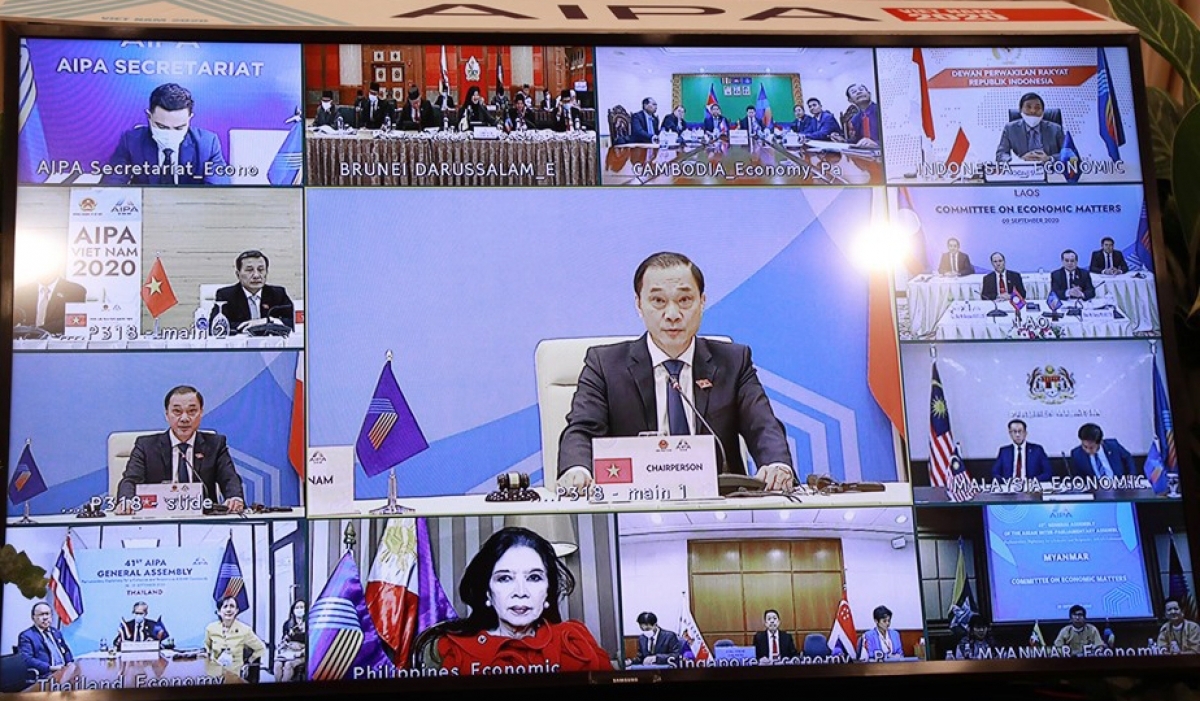 According to a representative from Indonesia, the current context requires a unified and proactive approach aimed at adapting to a new phase, meaning that ASEAN must be stick together as a united community. The AIPA is responsible for promoting actions on common solutions that ASEAN offers in response to the concerns of the masses and large groups of people severely affected by the COVID-19 pandemic.
Emphasising the impact of the pandemic, a representative from Malaysia said that this represents an unprecedented challenge. Therefore, the bloc must step up co-operation to face these challenging times.
In his remarks, Nguyen Manh Tien, Vice Chairman of the NA's Committee for Foreign Affairs and Head of the Vietnamese NA's Delegation, suggested continuing to review and perfect relevant legal frameworks as a way of promoting trade facilitation to ensure the uninterrupted circulation of goods and supply chains throughout the ASEAN region.
Tien stated that recent months has seen ASEAN countries take their own measures to control the COVID-19 pandemic, as well as respond in different ways to the negative economic impacts of the pandemic. However, the COVID-19 pandemic is not merely a medical crisis, but also a crisis for growth due to the disruption caused to international trade and supply chains.

Upon facing up to the current situation, the Vietnamese delegation has expressed its deep concerns about the significant losses caused by the COVID-19 pandemic in ASEAN countries, Tien said. Indeed, he went on to add that the impact of the COVID-19 pandemic have caused a great hindrance to the various economies of ASEAN, as well as their internal and external trade activities.

Furthermore, economic integration through promoting growth and the recovery of ASEAN member states, coupled with the competent implementation of digital economic activities, will be of profound importance moving forward. Indeed, it will play an important role in strengthening ASEAN economic integration as well as the bloc's readiness to respond to challenges caused by the COVID-19 pandemic.
In light of this, Tien therefore recommends that the ASEAN community unify in order to implement a series of breakthroughs and feasible solutions.
During the meeting, delegates praised the Vietnamese NA's efforts to hold the 41st General Assembly of AIPA via a teleconference due to the COVID-19 pandemic making it impossible to hold an international event in person.

Representatives discussed measures aimed at mitigating the impact of COVID-19 while also fine-tuning legal frameworks to promote economic recovery once the pandemic is fully brought under control.

Moreover, participants also affirmed the importance of economic connectivity, including maintaining supply chains, to promote ASEAN the economic growth and comprehensive recovery of member nations.
They also called for co-operation among AIPA member parliaments to build new legal frameworks aimed at institutionalise national preparations and response mechanisms against COVID-19 and future pandemics.
Following the discussion, delegates agreed to approve a draft resolution on the role of parliaments in promoting ASEAN economic cohesiveness and economic recovery moving past COVID-19. VOV