Border guards of Lao Cai and border management officers of the Hekou entry-exit check point of China's Yunnan province held a joint patrol on February 27-28 to boost law enforcement and COVID-19 prevention.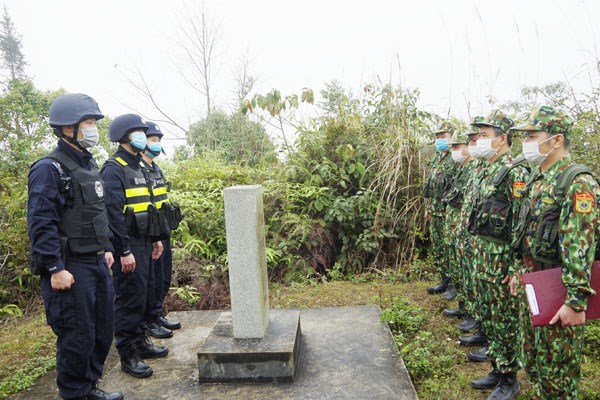 Border forces of Lao Cai and Yunnan meet to dicuss the patrol plan (Photo: baolaocai.vn)
The two sides patrolled from marker No. 87 in Y Ty commune of Bat Xat district to marker No. 167 in Pha Long commune of Muong Khuong district, Lao Cai province.
They also set up nine patrol teams, met to have quick information exchange for 38 times, distributed over 2,000 leaflets providing COVID-19-related information, and directly disseminated relevant knowledge to more than 500 border residents.
The border forces of Lao Cai and Yunnan agreed that for the time ahead, they will continue coordination in managing the shared border and fighting smuggling, illegal exit and entry, and other violations.
They will also increase communications to boost border residents' adherence to law and awareness of the disease. Particularly, they will resolutely prevent illegal entry and exit so as to prevent the spread of COVID-19.
Vietnam and China has a total border length of over 1,400 km, including on land and water. Lao Cai province shares more than 180km of borderline with Yunnan./.VNA