Bulgarian Ambassador to Vietnam Marinela Petkova sends a message to celebrate the National Day of the Republic of Bulgaria and the 70th anniversary of diplomatic relations between Bulgaria and the Socialist Republic of Vietnam.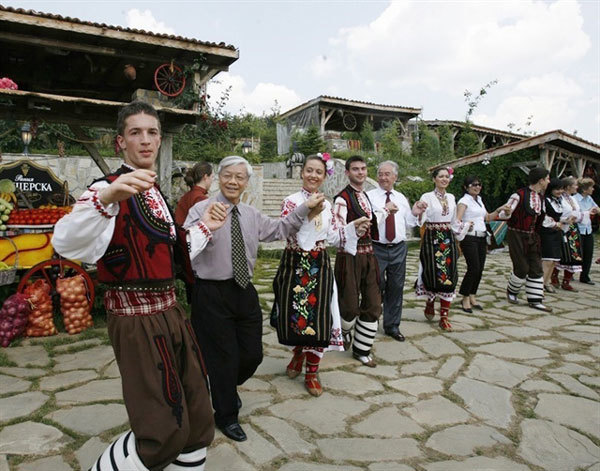 Secretary General Nguyen Phu Trong, former President of the National Assembly of Vietnam, visiting Bulgaria in 2008. — VNA/VNS Photo Tri Dung
Bulgaria's National Day (March 3), marks the liberation of the country from Ottoman rule. On this date in 1878 the Treaty of San Stefano was signed, which restored Bulgarian statehood after continuous struggles for liberation that lasted almost five centuries.
The celebration of the National Day of Bulgaria in Vietnam this year coincides with the 70th anniversary of the establishment of diplomatic relations between our two countries that took place on February 8, 1950. Bulgaria was among the first countries to recognise Vietnam's independence. Ever since our relationship has been carefully cultivated and many of our leaders, starting with the historic visit of President Ho Chi Minh to Bulgaria a few years after, and we've worked to build a co-operation of value and purpose.
Bulgaria's long and difficult road to national liberation and unification helped us to better understand Vietnam's position as a newly independent state, facing a number of political and economic challenges. Bulgaria continuously provided comprehensive assistance to Vietnam to establish and strengthen its national capacities, and later on in post-war reconstruction. Vietnam, for its part, shared a strong understanding of the priorities of the Bulgarian foreign and domestic policy at the time, voicing support for important initiatives, such as a nuclear-weapon-free Balkan Peninsula.
Development co-operation was extended to encompass Bulgaria's assistance for design, engineering and construction of many industrial and social sector sites in Vietnam, such as the urban planning of Thai Binh, a city hospital, school and a bridge; to the healthcare sector through training of pioneer medical professionals; and the construction of about 130 other sites in Vietnam, including food processing factories, refrigerator warehouses, forage and ceramic workshops.
In the first few decades of Bulgaria - Vietnam relations, education was a paramount field of co-operation, bearing our shared understanding of its vital importance to national consolidation and prosperity. During the 1980s, Bulgaria provided scholarships for Vietnamese students and PhD candidates, and for technical vocational education. By the late 80s, over 30,000 Vietnamese citizens had received higher or professional education in Bulgaria. In addition, the Bulgarian Studies Department at the Institute for Foreign Languages in Hanoi (Hanoi University) trained over 650 students and 90 PhDs in the Bulgarian language, culture and history. Bulgaria was also among the pivotal foreign contributors to introduce information technology and computer sciences to Vietnam, again in the 1980s, supplying computers to youth associations and organising training courses in programming, programming languages and computing.
In the spirit of mutual understanding and goodwill, the leaders of the two countries continue to hold regular comprehensive dialogues and take concrete steps to strengthen bilateral co-operation.
Nowadays, this active political dialogue boasts multidimensional sectoral co-operation. Vietnam is a priority partner for Bulgaria in Southeast Asia. Bilateral turnover has increased steadily, but yet to meet its full potential. In recent years there has been a positive trend of increasing bilateral trade in higher value-added goods such as machinery, medical equipment and apparatus and pharmaceuticals. Boosting all-encompassing people-to-people relations, and crosscutting through the fields of education, tourism, culture, business relations and labour mobility is currently also in focus.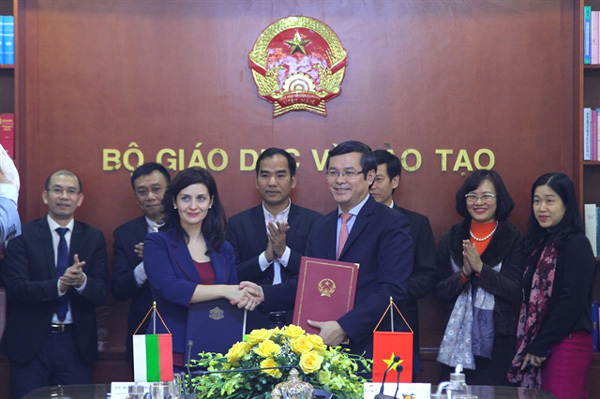 Ambassador Marinela Petkova and the Deputy Minister of Education and Training of Vietnam Nguyen Van Phuc signed an Intergovernmental Agreement for Cooperation in the Field of Education in 2019. Photo courtesy of the embassy

Today Bulgaria is a proud witness not only of Vietnam's impressive pace of socio-economic development and its accomplishments to reform with international integration, but also of its strengthened global role and posture, culminating in 2020 during Vietnam's role as ASEAN Chair and a non-permanent member of the UN Security Council (2020-2021). The respective membership of Bulgaria and Vietnam in two of the world's leading political and economic entities, the EU and ASEAN, brings further added value to bilateral co-operation. The dynamic upsurge of EU - Vietnam co-operation with the EVFTA and EVIPA, both concluded in 2019, creates even greater potential for business-to-business and people-to-people exchanges, based on shared political priorities.
Celebrating the 70th anniversary of Bulgaria - Vietnam relations bears a very special significance since ours has always remained a partnership rooted in goodwill and mutual respect, genuine and people-centred. Reflecting the accomplishments of seven decades of close friendship, Bulgaria and Vietnam will also look ahead and adapt towards a world of new dynamics and perceptions, of constant innovation, fast mobility and growth, where geographical distances pose little to no barriers between willing and motivated partners on the world stage.
Striving to keep up and take full advantage of present-day opportunities, Bulgaria and Vietnam are exploring new avenues for co-operation in advanced technologies, sustainable models of development, and green economies, while measuring the success of our state-to-state collaboration though the opportunities it generates for the people of Bulgaria and Vietnam. —VNS

Deputy Prime Minister and Foreign Minister Pham Binh Minh held bilateral meetings with officials from the foreign ministries of Romania, Kazakhstan, Spain, Ireland and Bulgaria within the framework of the ASEMFMM14 in Madrid, Spain on Monday.

Vietnam always treasures relations with the European Union (EU), and is willing to discuss with the bloc issues of mutual concern, said Deputy Prime Minister and Minister of Foreign Affairs Pham Binh Minh on December 15.