The Party, State, and local administrations nationwide have organized a broad range of activities to ensure a happy Tet for people nationwide, especially disadvantaged people.
Vietnam's steady economic growth has resulted in an improvement of people's lives. But more attention should be paid to the elderly, social beneficiaries, the poor, and disadvantaged people to improve their living conditions.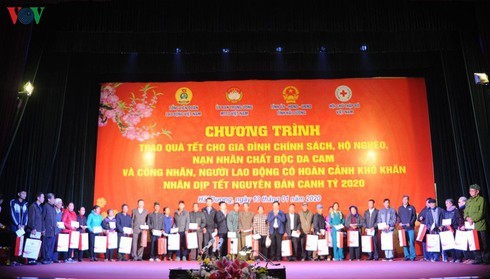 During the days before the traditional Lunar New Year festival, leaders of the Party, State, government, and National Assembly paid visits and presented gifts to people in need.
At a meeting with social beneficiaries and poor workers in Can Tho city, Prime Minister Nguyen Xuan Phuc said the Party and State always pay attention to workers and policy beneficiaries and want to give them a happy Tet.
Deputy Prime Minister and Foreign Minister Pham Binh Minh visited the poor and victims of Agent Orange/dioxin in Hai Duong province.
He called for more efforts to help people live better lives: "Hai Duong leaders of all levels and sectors need to pay more attention and mobilize more resources to help victims of Agent Orange, the poor, social beneficiaries, and disadvantaged workers to improve their lives."
Vice President Dang Thi Ngoc Thinh presented Tet gifts to social beneficiaries and disadvantaged children in Long An province. Deputy Prime Minister Truong Hoa Binh paid a Tet visit to the Cham ethnic people in Ho Chi Minh city.
There are more than 7,500 poor and disadvantaged people in Lang Son province receiving gifts from the President on the occasion of the traditional lunar New Year. Lang Son province also gave 10,000 gifts to local social beneficiaries and disadvantaged people.
Nguyen Quang Tuan, Director of the provincial Department of Labor, Invalids and Social Affairs, said, "This year we are giving gifts worth 25 USD in cash and kind to each poor household. Our gifts include vermicelli, green bean cakes, sticky rice, and green beans to help them make Chung cakes. The donation is mobilized from the State budget and enterprises. The Provincial Trade Union and Red Cross are two organizations helping workers have a happy Tet."
More than 130,000 social beneficiaries, war invalids, heroic mothers, and poor people in Quang Nam province have received Tet gifts.
Huynh Tan Trieu, Director of the Provincial Department of Labor, Invalids, and Social Affairs, said, "Provincial leaders have visited and presented Tet gifts to local disadvantaged people. All the gifts were delivered before the 20th of the 12th lunar month. They show the Party and State's special attention to improving people's life."
The Navy Command of Region 4 paid a Tet visit to soldiers in the Truong Sa archipelago. Boxes of rice, dong leaves, green bananas, grapefruits, pigs, chickens, fresh flowers, ornamental trees, dried fruits, and confectionery are making Tet cosier and happier for the island soldiers.
VOV