Defence Minister General Ngo Xuan Lich hailed Thailand's role in promoting defence cooperation among ASEAN member states at his meeting with Thai Defence Minister General Prawit Wongsuwan in Bangkok on July 10.
Defence Minister General Ngo Xuan Lich (L) and Thai Defence Minister General Prawit Wongsuwan 


Lich is leading a Vietnamese delegation to attend the ASEANDefence Ministers' 13th Meeting (ADMM-13) in Bangkok.

During the meeting, he congratulated Thailand on its successful organisation ofthe general election and establishment of the new government.

Heexpressed his belief that under the reign of King Rama X and the newgovernment's administration, Thailand will continue to stably develop and the bilateralcooperation will be more effective and practical.

Minister Lich also congratulated the Thai Ministry of Defense on successfullyorganizing a series of defense-military meetings, stressing that he believes thenext events organized by Thailand will contribute to maintaining solidarity andtaking its leading role promoting military-defense cooperation within ASEAN.

Vietnam supports Thailand's initiatives during its term as the Chair of ASEAN,including discussion of illegal, unreported and unregulated (IUU) fishing, the roleof armed forces and defense agencies; a draft of ADMM initiatives to ensuresubstantive cooperation; the role of defense agencies and armies of ASEANmember nations in supporting border management.

For his part, Prawit thanked Vietnam for itssupport for his country as the Chair of ASEAN, affirming that Thailand willstrongly support Vietnam to assume the ASEAN Chairmanship in 2020.

The Thai new government will continuously attach importanceto strengthening cooperation with Vietnam across fields, including defencebond, he stressed.

The Ministers agreed that the two sides should fully tap existing cooperationmechanisms and further promote ties in logistics, peacekeeping, tackling post-war bomb and mine consequences, military medicine, and law enforcement atsea.

Regarding multilateral cooperation, the two sides agreed to coordinate,strengthen consultations, and support each other in multilateraldefense-military mechanisms that the two sides are members.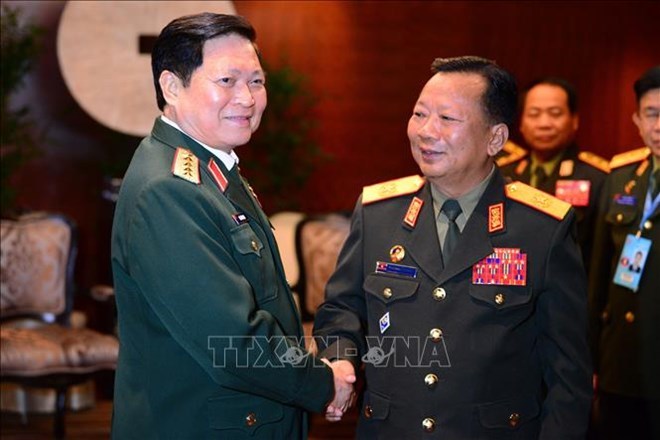 Defence Minister General Ngo Xuan Lich (L) and Defence Minister of Laos General Chansamone Chanyalath
Defence Minister General Ngo Xuan Lich has affirmed that the Party, State, army of Vietnam always treasure ties with Laos.
He made the statement during a bilateral meeting with General Chansamone Chanyalath, Defence Minister of Laos in Bangkok, Thailand on July 10 within the framework of the 13th ASEAN Defence Ministers' Meeting.
Chanyalath affirmed that Laos supports Vietnam in its role as ASEAN Chair 2020.
Both sides stressed that the strengthening of bilateral defence ties at present is vital to the two nations' revolutionary cause.
As the two countries will review the implementation of the Protocol for the 2015-2019 period and devise another one for 2020-2024 this year, they will point out existing shortcomings so as to make defence ties a pillar in bilateral relationship.
Apart from effectively tapping existing cooperation mechanisms, the two ministers vowed joint work to raise public awareness of traditional friendship and special solidarity between the two nations and armies.
They agreed to assign the two nations' general political departments to build plans to hold major events during the year, pay attention to repairing, maintaining and building works that are symbols of the two countries and armies.-VNA