Deputy Prime Minister and Foreign Minister Pham Binh Minh has granted an interview to press agencies on foreign affairs, on the occasion of the traditional lunar New Year.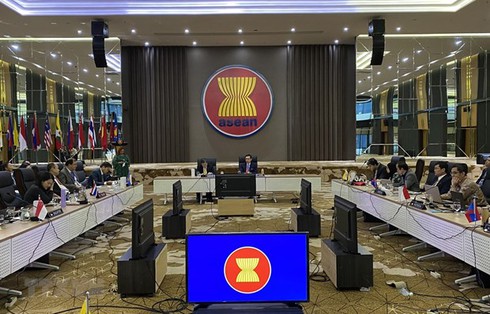 Vietnam chairs the first meeting of the Committee of Permanent Representatives to ASEAN (Photo: VNA)
Reviewing the world's situation in 2019, Minh said the global economy experienced the lowest growth of 2.9-3 percent (according to the International Monetary Fund) since the global financial crisis in 2008-2009.
One of the reasons behind this was the slow growth of developing countries, the implementation of trade protection policies, and the trade competition between China and the US.

Furthermore, uncertainties are increasing, especially in hot spots such as the Middle East, Minh said, referring to the terrorism fight and the strategic competition between powers.

Regarding the East Sea issue, the violation by Chinese survey vessel group Haiyang Dizhi 8 of Vietnam's exclusive economic zone complicated the situation, Minh said, adding that 2020 will continue to be a tough year with a lot of unpredictable developments.
Despite these headwinds in 2019, Vietnam achieved significant external activities, Minh stressed, pointing out that Vietnam has developed sound relations with powers as well as neighbouring countries.

To date, Vietnam has set up strategic and comprehensive partnership with 30 countries, he stressed.

In addition, the country also brought into full play the role of multilateral diplomacy as stipulated in the Party Central Committee's Secretariat's Directive No.25- CT/TW.

The hosting of the second DPRK – USA Summit in Hanoi at the beginning of 2019 is a vivid illustration for Vietnam's readiness to join global efforts to bring peace and stability to the Korean peninsula. In other words, Vietnam is willing to play the role as a conciliator, he said.
Winning a non-permanent membership at the UN Security Council for the 2020-2021 tenure has affirmed Vietnam's increasing position in the international arena as well, he highlighted, adding as this year Vietnam also plays the role as the ASEAN Chair, more efforts must be exerted to enhance the country's role as well as deepen its relations with other nations.
The Deputy PM and FM said being a member of the UN Security Council is an honour and also a responsibility for Vietnam, as it raises the country's role in addressing the world's major issues.

It is not the first time Vietnam won a seat at the UNSC, he said, adding that the country used to be there from 2008 – 2009. But this time, the country takes on much heavier responsibility as the world is seeing complicated developments and at the UNSC, the differences on interests remains large, the Deputy PM noted.

But joining the UNSC at a difficult time will offer Vietnam an opportunity to promote its role and responsibility, he asserted.

In the first month in the new position, Vietnam became the UNSC President and the topic proposed by Vietnam in an open UNSC debate saw a record number of 110 countries participating in.

Taking the dual role as the UNSC Presidenct and the ASEAN Chair, Vietnam has initiated to provide the UNSC with information about ASEAN to beef up relations between the two sides. This is the first time such a work is done, thus raising the role and image of the regional grouping. VNA