Lawmakers at a National Assembly (NA) session in Hanoi on Tuesday called for more effective measures to scrutinize asset declarations by public officials in an effort to tackle corruption.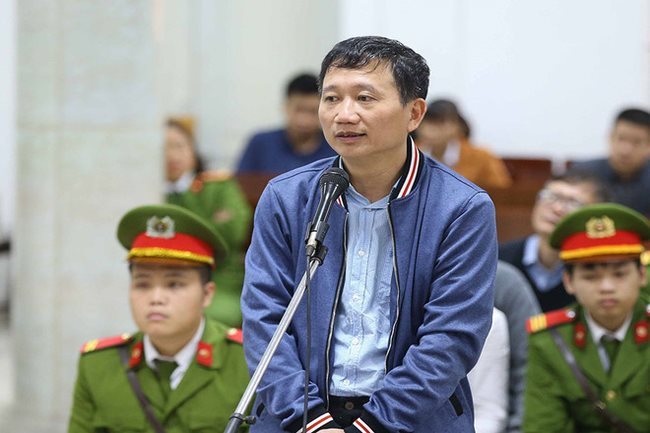 Trinh Xuan Thanh, former chairman of PetroVietnam Construction, is found guilty of economic misconduct and embezzlement of assets. Legislators call for more measures to scrutinize the assets of public officials – PHOTO: VNA
Police agencies have investigated 423 cases and detained 1,073 people on charges of corruption so far this year.
As a result, over VND9.4 trillion (US$407 million), together with other assets, have been seized, Deputy Bo Thi Xuan Linh, a representative of Binh Thuan Province in south-central Vietnam, remarked, citing a government report.
Corruption remains rife in many sectors, so action needs to be taken to root out corruption, Linh stated.
For example, it is necessary to increase accountability and set an exemplary example among Party units, regulatory authorities and leaders.
Asset declarations by public officials need to be made more transparent, while administrative reforms need a boost to reduce petty corruption.
She added that measures need to be adopted to prevent the formation of vested interests and systematic corruption.
The lawmaker also urged regulatory agencies, such as the Government Inspectorate, the Ministry of Public Security, the Supreme People's Procuracy and the Supreme People's Court, to speed up their work on economic and corruption cases, especially those that have captured the public's interest.
Deputy Nguyen Lan Hieu from the Mekong Delta province of An Giang cited a report by the NA's Justice Committee, indicating that among more than one million people who have made asset declarations so far this year, only 10 individuals were found to have committed fraud, up by two people compared with the previous year.
He noted that honesty in asset declarations remains questionable, so more measures are needed to monitor the wealth of declarants, including publicizing their sources of income and income taxes, especially among senior leaders.
Meanwhile, Deputy Nguyen Tien Sinh from the northern province of Hoa Binh urged the Government and the NA to institutionalize the Politburo's regulations on power control in human resources and the prevention of lobbying for high-ranking positions.
Also, he pointed out that regulatory systems need to be fine-tuned to scrutinize assets and incomes among public officials and their relatives.
On the sidelines of a workshop late last year, Francesco Checchi, an expert from the United Nations Office on Drugs and Crime, told the Hanoi Times that a lack of specific analyses of conflicts of interest, together with unsubstantial asset declarations, challenges Vietnam's anti-corruption drive.
He suggested Vietnam should build a system that closely monitors asset declarations by senior civil servants to make the country's efforts against corruption more effective.
Civil servants should be required to add more items to the declaration form, such as loans and debts incurred when building or buying homes, and should file a report on additional income with unclear origins, he remarked.
Vietnam introduced asset declarations in 2005 as part of its Anti-Corruption Law. The process, which includes verification, follows a decentralized model.
Personnel departments of State bodies, Party committees and administrative units collect these declarations each year.
At the same time, several hundred inspection units in charge of these agencies are responsible for the verification of compliance with submission requirements.
Inspection units have the power to review the financial balance of declarations and to conduct an in-depth audit. SGT
Van Ly

The Supreme People's Procuracy has prosecuted 21 people involved in the high-profile corruption case relating to Phan Van Anh Vu (also known as Vu Nhom), the agency said on October 18.

Vietnam is winning the war on corruption – albeit gradually. Government Inspector General Le Minh Khai addressed the ongoing 37th session of the National Assembly (NA) Standing Committee on Thursday.