Chairman of the Hanoi People's Committee Chu Ngoc Anh and Ambassador Giorgio Aliberti, head of the European Union Delegation to Vietnam, discussed the building of the European Management University in Hanoi during their meeting on June 16.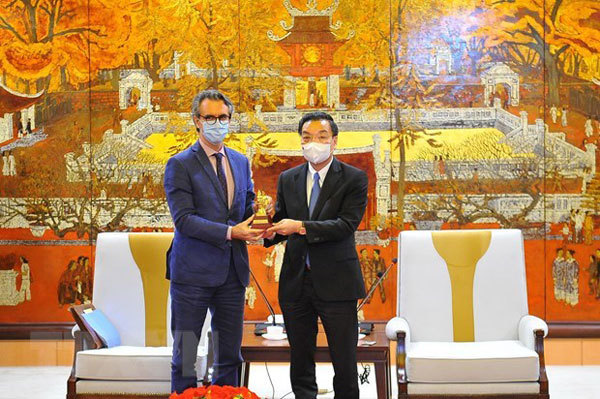 Chairman of the Hanoi People's Committee Chu Ngoc Anh (R) and Ambassador Giorgio Aliberti at the reception. (Photo: VNA)
Anh said cooperation with the EU has assisted Hanoi in comprehensive development over the past years. Under the 2021-2025 development plan and vision for the next decade, Hanoi targets becoming a green, beautiful, civilised and modern capital. Accordingly, the authorities advocated administrative reform to create favourable conditions for businesses and economic community, including European partners.
He expressed his hope that Hanoi and EU partners will continue stepping up bilateral projects for the sake of common prosperity.
Aliberti hoped that the municipal authorities will offer support to the project in the near future.
A representative from the project said with the participation of nine EU educational establishments, 20 leading European universities and several Vietnamese educational agencies, the project aims to build a European-standard university in the capital, majoring in economics, sustainable and green development, and business administration, contributing to human resources development in the locality.
The host also vowed all possible support for the project in the immediate future.
Source: VNA

Vietnam and the EU have experienced fruitful cooperation in various sectors over the course of the last three decades, 

Ton Duc Thang University in Ho Chi Minh City has become the first university in Vietnam entering Academic Ranking of World Universities' top 1,000, reported the VN Government Portal.